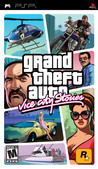 Summary:

Vice City, 1984. Opportunity abounds in a city emerging from the swamps, its growth fueled by the violent power struggle in a lucrative drugs trade. Construction is everywhere as a shining metropolis rises from foundations of crime and betrayal. As a soldier, Vic Vance always protected his

Vice City, 1984. Opportunity abounds in a city emerging from the swamps, its growth fueled by the violent power struggle in a lucrative drugs trade. Construction is everywhere as a shining metropolis rises from foundations of crime and betrayal. As a soldier, Vic Vance always protected his dysfunctional family, his country, himself. One bad decision later and that job is about to get much harder. Kicked out onto the streets of a city between glamour and gluttony, Vic is faced with a stark choice - build an empire or be crushed. [Rockstar Games]

…

Expand
Developer:

Rockstar Leeds

Genre(s):

Action Adventure

,

Modern

,

Modern

,

Open-World

# of players:

No Online Multiplayer

Cheats:

On GameFAQs

Rating:

M
Please enter your birth date to watch this video:
You are not allowed to view this material at this time.
Grand Theft Auto: Vice City Stories Official Trailer 1
Official Playstation 2 Magazine UK

Not only is this the greatest game on PSP, it also leaves a large percentage of the PS2 back catalogue looking ordinary. But it right now. [Dec 2006, p.76]

Grand Theft Auto: Vice City Stories doesn't attempt to reinvent the formula, but it does offer you a fantastic action/adventure game full of memorable characters, fun missions and great music.

Vice City Stories is an amazing game, and one I would wholeheartedly recommend, (a lot of work has gone into it, despite the fact that the city has undergone few changes from the original) but I hope that for the upcoming (if you can wait a year) "GTA IV" we see enough of a change to refresh the genre and franchise, because the games are great, but starting to seem quite samey.

This game is a ton of fun, and feels like a definite improvement to some of GTA's core elements. Rather than just smush a GTA game onto the PSP, it seems like some thought was put into this one specifically to make it a great handheld game.

What VCS does to make things a bit more interesting when off the beaten path of the core story missions is to introduce a new gameplay dynamic in the form of an Empire building system.

Vice City Stories is a much richer and well-rounded experience than its predecessor, though the addition of Wi-Fi Infrastructure mode is something that the series is crying out for.

The pressure of following in the footsteps of one of the console's greatest successes seems to have removed any sense of humour from the game.
Compared to "Liberty City Stories" this GTA title feels like a full packed GTA, in the style of "GTA San Andreas". For a portable game, the

Compared to "Liberty City Stories" this GTA title feels like a full packed GTA, in the style of "GTA San Andreas". For a portable game, the world has a great design and exploring it is really entertaining, because you can use machines like cars, trucks, motorbikes, bmx, helicopters, jetskis, motorboats, golf carts etc. and in GTA VCS you have the ability to swim. All of this is very important to get that in-game feeling of total freedom, which makes GTA titles great (besides Rockstar's dark humor and missions). I think GTA VCS' physics are better than in GTA LCS, which is also very important, since you'll drive a lot (often fast and crazy). The story is way more interesting than in LCS and the ending was satisfying. The radio stations offer a well picked selection of 80s songs. Overall you always got something to do, without being annoyed by it.

…

Expand

This is the best PSP game ever and the most underrated GTA game. The characters are fun, the missions are very replayable, the Vice City

This is the best PSP game ever and the most underrated GTA game. The characters are fun, the missions are very replayable, the Vice City aesthetic looks even better here than in the original Vice City and the soundtrack might be the best ever. I just love this game overall

…

Expand

This is one of the best games on the PSP because it has so much to do. The missions are so great that you'll want to replay the missions more

This is one of the best games on the PSP because it has so much to do. The missions are so great that you'll want to replay the missions more than once. The open world is also large and fun to explore.

…

Expand

This is the best game you can but on the psp im still thinking how in the world did Rockstar squeeze this much juice ino the psp to make GTA

This is the best game you can but on the psp im still thinking how in the world did Rockstar squeeze this much juice ino the psp to make GTA look this good on what is already ageing hardware overall stop reading this review and get this game you wont be disappointed

…

Expand

Story - 8/10
Gameplay - 8/10
Graphics - 7/10
Soundtrack - 9/10
Levels - 9/10
Replay value - 9/10

I will keep this short. If you have a PSP you should give this one a try. It's cheap and easy to find, just plain fun and crazy. Could hook

I will keep this short. If you have a PSP you should give this one a try. It's cheap and easy to find, just plain fun and crazy. Could hook you for dozens of hours on the go.

Not the greatest GTA title, but still a pretty good GTA game.

…

Expand

Nie wiem czy to jest to możliwe to proszę o informację czy to jest z tym nie znam
| | |
| --- | --- |
| 4 | |
| 1 | #1 Most Discussed PSP Game of 2006 |
| 1 | #1 Most Shared PSP Game of 2006 |