Publisher:

Atlus

Release Date:

Jul 31, 2012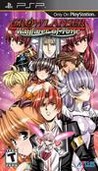 Summary:

Never before released outside of Japan and widely considered the best entry in the long-running franchise, this PSP system iteration of the fourth chapter in the Growlanser saga delivers visuals remastered for PSP system's 16:9 widescreen, a vastly expanded script with tons of new characters

Never before released outside of Japan and widely considered the best entry in the long-running franchise, this PSP system iteration of the fourth chapter in the Growlanser saga delivers visuals remastered for PSP system's 16:9 widescreen, a vastly expanded script with tons of new characters to meet and quests to complete, a wealth of new ending possibilities, and much more, making it the first and only version of the game North American fans will ever want!

…

Expand
Developer:

Career Soft

Genre(s):

Role-Playing

,

Strategy

,

Turn-Based

,

General

,

General

,

Tactics

# of players:

No Online Multiplayer

Cheats:

On GameFAQs

Rating:

T
Please enter your birth date to watch this video:
You are not allowed to view this material at this time.
Growlanser: Wayfarer of Time Opening Video
Growlanser has flaws, sure, but the scope of the story and the complexity of the world beneath it really are fantastic. Don't give up on the game in the first hour or two, it continues to improve and impress as you play.

Tight, strategic combat and a good variety of mission objectives keep battles feeling fresh, while the story holds surprising depth and well-written characters. Growlanser: Wayfarer of Time emerges from a bygone epoch no worse for the wear.

With a lengthy, compelling story, a variety of endings, and a number of optional activities to engage in, Growlanser is a meaty and fulfilling JRPG to play.

While it sometimes loses focus, and at other time frustrates, Growlanser: Wayfarer of Time is an engaging, rewarding PSP SRPG. But, again, give it some time. There's a big world, a solid story with crazy plot twists, some great key battles and hours of gameplay to be found here. You'll just have to work through a couple of hours of dull and limited introductory play first.

The battle system in Growlanser: Wayfarer of Time isn't really at fault here, it's the numbers game behind it that seems to be rigged in the computer's favor that makes playing this game a chore. The slow story pacing will also require a lot of patience from prospective gamers.

A unique blend of turn based and real time battles is squandered on bland battles and a pacing that is far too slow.

It's worth some time to play through if you enjoy a more tactical battle system than you're likely to find in a more well-known franchise, but unless that's enough to hold your attention, methinks you're going to be disappointed with this latest Growlanser.
Great game. I suppose the bad critics were from people who played like one hour of the game and then moved on.

To say it clearly. One ofGreat game. I suppose the bad critics were from people who played like one hour of the game and then moved on.

To say it clearly. One of the best rpgs on the psp. Anyone who likes to have a party full of interesting characters (and romance options;) ), branching story lines, an epic story with some twists, will surely love this game.

…

Expand

Growlanser Wayfarer of Time is the last English entry into one of the most original jrpg franchises you will ever be able to play: its deep

Growlanser Wayfarer of Time is the last English entry into one of the most original jrpg franchises you will ever be able to play: its deep plot focuses on politics, war, famine and the mystery surrounding the angels and their struggle against humankind. While the story is indeed well written and really enjoyable and the characters are some of the best seen in the last years, the real greatness of this game is its battle system, a fantastic mix of real time battles, tactical combat and traditional explorations that will satisfy every kind of jrpg fan. With tons of choices during dialogues, you will be able to play the game countless times and witness different events, ranging from some characters' deaths or survival to one of the three main plots to over 40 possible endings. This game is probably the best Japanese RPG on PSP alongside the Trails in the Sky series, and it's a great swan song for this platform's rpg lineup.

…

Expand

This review contains spoilers

, click expand to view

.

Being a fan of the PlayStation 2 Growlanser games, I preordered WoT and got it some days before the official release date... since then, I have spent almost thirty hours on the game, and I have enjoyed it immensely. The mix between rts, rpg and Satoshi Urushihara's art direction is wonderful, and the choices you make during the game have a deep impact upon the storyline's progression. The story, yeah it has to be the best I have seen in a rpg in a long time, and other developers should look at it when trying to write up a war drama. I cannot thank Atlus enough for localizing this masterpiece. CollapseBeing a fan of the PlayStation 2 Growlanser games, I preordered WoT and got it some days before the official release date... since then, I have spent almost thirty hours on the game, and I have enjoyed it immensely. The mix between rts, rpg and Satoshi Urushihara's art direction is wonderful, and the choices you make during the game have a deep impact upon the storyline's progression. The story, yeah it has to be the best I have seen in a rpg in a long time, and other developers should look at it when trying to write up a war drama. I cannot thank Atlus enough for localizing this masterpiece. CollapseBeing a fan of the PlayStation 2 Growlanser games, I preordered WoT and got it some days before the official release date... since then, I have spent almost thirty hours on the game, and I have enjoyed it immensely. The mix between rts, rpg and Satoshi Urushihara's art direction is wonderful, and the choices you make during the game have a deep impact upon the storyline's progression. The story, yeah it has to be the best I have seen in a rpg in a long time, and other developers should look at it when trying to write up a war drama. I cannot thank Atlus enough for localizing this masterpiece. Collapse

…

Expand

growlancer is truly a fantastic game, every psp owner should buy it and enjoy one of the greatest experiences the j-rpg genre has provided

growlancer is truly a fantastic game, every psp owner should buy it and enjoy one of the greatest experiences the j-rpg genre has provided this year. the battles are a fresh take on strategy combat, and are so enjoyable and deep you won't be able to drop the game till your battery runs out, just like me. Urushiara's art may not be for everyone, but it surely adds another layer of uniqueness to the game, helping it to stand out even more.

…

Expand

Being a fan of the PlayStation 2 Growlanser games, I preordered WoT and got it some days before the official release date... since then, I

Being a fan of the PlayStation 2 Growlanser games, I preordered WoT and got it some days before the official release date... since then, I have spent almost thirty hours on the game, and I have enjoyed it immensely. The mix between rts, rpg and Satoshi Urushihara's art direction is wonderful, and the choices you make during the game have a deep impact upon the storyline's progression. The story, yeah - it has to be the best I have seen in a rpg in a long time, and other developers should look at it when trying to write up a war drama. I cannot thank Atlus enough for localizing this masterpiece.

…

Expand

Sweet story, fluid gameplay, nice pacing. The strongest points are the intricate plot and varried lovely characters. One of the best

Sweet story, fluid gameplay, nice pacing. The strongest points are the intricate plot and varried lovely characters. One of the best adventures out there.

…

Expand

This is the first time I played this series and I had my doubts... for the first 15 minutes that is. This game is awesome, almost flawless.

This is the first time I played this series and I had my doubts... for the first 15 minutes that is. This game is awesome, almost flawless. The backgrounds are detailed, colorful and pump up the atmosphere, the characters personas are detailed to the max, the plot is... how should I say this... I started to play yesterday around 16:00 and it just sucked me in, I put down my precious around 01:00 and I was like... "duuude".
The MC is like Charlie Chaplin, never gets in in any conversation, well not without us, players. I noticed around the second hour of playing that he only speaks when we make him so.
The other thing is the Familiar... I poked around approx. half and hour loading the game again and again back at the familiar-constructing part, and it really is great. The body, the personality and the skills and perks depends on your answers only. Tie me up and call me Jebediah, but I loved this part of the game.
The battle system is detailed and flexible, you need to observe the whole battlefield, count on every situation, I'm very satisfied with it and I should know it, I'm quite picky about this part as a Disgaea lover.
The soundtrack is ok, nothing extraordinary, fits in the game perfectly. The cutscenes are beautiful, all the anime-fans will adore it as a gem on a crown. I can't get enough of this game, I know I will not find my place in the world when I finish it... oh well, I'll just start it over again after a little break.

…

Expand
| | |
| --- | --- |
| 4 | |
| 3 | #3 Most Discussed PSP Game of 2012 |
| 3 | #3 Most Shared PSP Game of 2012 |