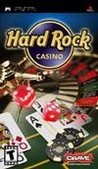 Summary:

Become a high stakes roller at The Hard Rock Casino! Challenge your luck at over 20 different casino games including Black Jack, Roulette, Craps, Pai Gow, Let It Ride, Texas Hold'em and more. 4 uniquely themed casinos, each with different house rules, table limits and games.
Over 20Become a high stakes roller at The Hard Rock Casino! Challenge your luck at over 20 different casino games including Black Jack, Roulette, Craps, Pai Gow, Let It Ride, Texas Hold'em and more. 4 uniquely themed casinos, each with different house rules, table limits and games.
Over 20 different casino games: 9 Table Games; 5 Machine games (10+ varieties); 4 Poker Room Games; 4 Sports to Bet on. Game Tutorials that will give basic instructions, winning strategies and tips for each game. 3 different Tournaments to participate in, including Slots, Poker, Black Jack and other Table Games. Fully customizable player characters that offer many of options. Game Sharing via wireless play with one disc PSP system. [Crave]

…

Expand
Developer:

Farsight Studios

Genre(s):

Miscellaneous

,

Parlor

,

Gambling

,

Gambling

# of players:

8 Online

Cheats:

On GameFAQs

Rating:

T
This is a great time-killer – the kind of game you can pick up and enjoy for 30 seconds without feeling the need to make a 10 or 20-minute commitment.

Hard Rock Casino shouldn't be a terrible game, but it is.

Mixing a ton of casino games into one package and then tying a goal-based story around it certainly works on paper, but when you use low-budget implementations of each and every game to put it together, the whole thing falls apart.

In summary, I just can't recommend this because it has virtually no purpose and is horribly tedious - it says a lot that Sam Fox Strip Poker on the ZX Spectrum from 1986 actually had more of a point to playing it, even if that point was just to see an awful, monochrome drawing of a pair of oversized norks.

Official Playstation 2 Magazine UK

Too many games that involve no skill. [Aug 2007, p.98]

Quantity over quality, this suite of gambling games fails to capture the thrill of throwing all your money away on the single spin of a wheel.

It's an exercise in frustration and annoyance, and the payoffs aren't worth it - nothing you unlock makes this game any fun.