Publisher:

Natsume

Release Date:

Apr 26, 2010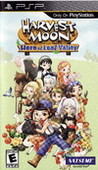 Summary:

The tranquil town of Leaf Valley is scheduled for demolition! The heartless Funland Corporation is going to bulldoze the town and replace it with an amusement park unless its citizens can find a way to stop them! You'll need to grow crops, raise animals, and mine ores and gems to help save

The tranquil town of Leaf Valley is scheduled for demolition! The heartless Funland Corporation is going to bulldoze the town and replace it with an amusement park unless its citizens can find a way to stop them! You'll need to grow crops, raise animals, and mine ores and gems to help save Leaf Valley and your family farm. With a branching storyline and multiple endings, how you choose to save the town is up to you! [Natsume]

…

Expand
Developer:

Marvelous Entertainment

Genre(s):

Strategy

,

Breeding/Constructing

,

General

,

Management

,

Breeding/Constructing

,

Business / Tycoon

# of players:

No Online Multiplayer

Cheats:

On GameFAQs

Rating:

E
Hero of Leaf Valley is by far the best offering on the PSP to date. It's too bad it is marred by some awful load times and another cookie cutter story without any novel ideas to keep even that afloat. Interestingly enough, the gameplay is tweaked in just enough ways to warrant this game an overall winner.

Despite the fact that a loading screen pops up every other minute, the controls can be frustrating at times and the mini-games get stale after a while, I had a hard time putting down Harvest Moon: Hero of Leaf Valley.

Like all Harvest Moon games, there is considerable depth to the farming/livestock element, and the relationship sim aspects can add some replay value for committed individuals.

Harvest Moon: Hero of Leaf Vally is, hands down, the best Harvest Moon ever to have appeared for the PSP. It is a shame it has so long loading times, which cast a shadow over the game dynamics.

Playstation: The Official Magazine (US)

Still, whenever we need a break from all the shooters out there, Hero of Leaf Valley is a charming way to sit for a spell and watch our crops grow. [Aug 2010, p.85]

For those who were disappointed by the previous Harvest Moon offerings on the PlayStation Portable, this one is sure to delight, though it's not without a few flaws.
My 2nd favourite game. I really love the story, its very replayable. There are multiple endings and you can marry harvest goddess.

I loveMy 2nd favourite game. I really love the story, its very replayable. There are multiple endings and you can marry harvest goddess.

I love the relaxing music. the guitar is very relaxing. I love the part time jobs especially the mining part. I love the festivals

…

Expand

This is possibly been one of my favorite Harvest moon games yet. Playing a lot like "Save The Homeland." The characters are interesting, the

This is possibly been one of my favorite Harvest moon games yet. Playing a lot like "Save The Homeland." The characters are interesting, the farming is addicting and indepth. The farming is slightly more complex than ones like A wonderful life, but that honestly makes it more interesting. The biggest difference between this one and Save the Homeland is that you can marry, and once you've completed the main game you have 2 more years of play. The graphics are crisp. My biggest complaint is the sound. The music gets repetitiveand the foot steps started to drive me crazy at one point.

…

Expand