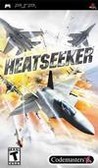 Summary:

Designed to be an incredible lock-on/shake-off experience, Heatseeker reinvents missile combat to give gamers a massive rush of destruction. Featuring collection of current and near-future military fighter jets, Heatseeker's arsenal includes the stealthy F-22 Raptor, the classic F-15 Eagle,

Designed to be an incredible lock-on/shake-off experience, Heatseeker reinvents missile combat to give gamers a massive rush of destruction. Featuring collection of current and near-future military fighter jets, Heatseeker's arsenal includes the stealthy F-22 Raptor, the classic F-15 Eagle, the cutting-edge F35 Lightening II, and the aerodynamically advanced Russian SU-47 Berkut. Heatseeker straps players into the pilot's seat and deliver a white-knuckle ride that'll have them clutching the joypad as they engage in face-melting 6G turns and fight against a seemingly-impossible amount of airborne enemies. And when gamers launch a strike, they follow their missiles as they ruthlessly hone in on their targets via the Impact Cam. Delivering cinematic 3rd-person camera cutaway scenes, the Impact Cam reveals the results of attacks in all their devastating glory from all kinds of dynamic angles, complete with jaw-dropping explosions and smoke trails. With missions across the U.S., down to the Caribbean, across Antarctica and into the Far East, it's high-velocity combat all the way that'll see players constantly switching from predator to prey as an enemy missiles lock on. [Codemasters]

…

Expand
Developer:

IR Gurus

Genre(s):

Simulation

,

Flight

,

Modern Jet

,

Modern Jet

,

Combat

# of players:

1-4

Cheats:

On GameFAQs

Rating:

T
Please enter your birth date to watch this video:
You are not allowed to view this material at this time.
Heatseeker Official Movie 1
Official Playstation 2 Magazine UK

A once-fine example of dogfighting laid low by its transition to PSP, Heatseeker isn't bad, but neither is it anywhere near brilliant. [July 2007, p.93]

Up to four players, each with a copy of the game, can have more fun with the five multiplayer modes.

It's not a very deep game; it's kind of ugly, and the story is flat out stupid. But Heatseeker can be fun in small doses--especially if you don't mind taking down wave after wave of enemies, level after level.

If you're a wannabe pilot who doesn't mind navigating through a storm of mediocrity, you could do a lot worse. But you could also do a lot better. That, friends, is blandness in a nutshell.

Exciting enough in short sorties, Heatseeker can't really compete with the big boys due to repetitive action, limited multiplayer options and outdated presentation.

It's not that Heatseeker is a horrible game; it just never aspires to be anything more than an average one.

Dogfights are relatively basic, as you'll usually be able to target and obliterate enemy fighters well before they're in range, and when you do get into heated fights it can be a bit of a pain due to the PSP version's less-maneuverable feel.
| | |
| --- | --- |
| 96 | |
| 72 | #72 Most Shared PSP Game of 2007 |