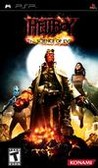 Summary:

Hellboy provides players with fresh adventures featuring the acclaimed comic book's unmistakable fusion of action, atmosphere and humor. On the trail of a crazed witch, Hellboy uncovers a Nazi plot for world domination and must rush to defeat the crazed Hermann Von Klempt before he can exert

Hellboy provides players with fresh adventures featuring the acclaimed comic book's unmistakable fusion of action, atmosphere and humor. On the trail of a crazed witch, Hellboy uncovers a Nazi plot for world domination and must rush to defeat the crazed Hermann Von Klempt before he can exert his evil will upon a hapless world. As a visceral brawler, the game lets players unleash Hellboy's superhuman abilities as they smash their way through hordes of enemies with contextual use of the environment for added destructive power and strategy. An original storyline set in the Hellboy universe, filled with classic characters from the comic book. Explosive battle system with contextual grappling commands lets players experience Hellboy's supernatural might as he unleashes the Right Hand of Doom on his enemies. Use strategy to take down hordes of enemies - toss a straggler into the crowd or manipulate the environment to create more manageable groups of enemies. Play as series favorites Abe Sapein and Liz Sherman in cooperative multiplayer modes. [Konami]

…

Expand
Developer:

Krome Studios

Genre(s):

Action

,

Action Adventure

,

Beat-'Em-Up

,

Beat-'Em-Up

,

Linear

Cheats:

On GameFAQs

Rating:

T
Please enter your birth date to watch this video:
You are not allowed to view this material at this time.
Hellboy (working title) Gameplay Movie 1
It could have been a contender, but The Science of Evil is merely above average, and leaves a sour reminder that the cynicism we harbor toward licensed games isn't exclusive to the people playing them. It's a real shame.

A hastily made, not much fun, not worth the money movie add-on. You're better off buying a box of Hellboy Cornflakes.

I was a little disappointed with the length of the game. It was about an hour too short.

I can not recommend Science of Evil on the PSP, if you want a good Hellboy experience pick up a comic, or check out the film.

The game feels unfinished and sloppy from start to finish with a terrible story to back it up and greatly varied presentational merits.

Thankfully, the game is nice and short. I know that when I put thirty bucks down for a game, four hours is right on the money as I have things to do, man. I'm like, important. Unfortunately that's still about three hours and fifty minutes longer than you'd want to play this game, but at least when you're done you can watch the interviews and look at the concept art, and maybe try and figure out how the concept art could look so good, but the game could be so bad.
The game is prety good. I did not finish it,but the story is interesting and,for a PSP game,the controls are actually good. The gameplay is

The game is prety good. I did not finish it,but the story is interesting and,for a PSP game,the controls are actually good. The gameplay is alright,feels a little boring after a while from all that fithing. I think the game would be really good if the game was overall longer,with more gchapters,but lesser gameplay in a chapter. It just feels boring and it makes me tired after a bunch of fighting in a chapter. If the gameplay was more polished,the game would be extremley good.

…

Expand

Hellboy: The Science of Evil is your basic brawler, nothing new or original but still an entertaining game for at least one play through,

Hellboy: The Science of Evil is your basic brawler, nothing new or original but still an entertaining game for at least one play through, graphics are okay, the sound effects are repetitive, the music is okay however, and there is no voice acting, the controls are great, the story is just tagged on to have one, all in all while nothing that new it is still an o.k. game from beginning to end.

…

Expand

This game is definitely better than that Hellboy game for PlayStation one. But by no means a masterpiece. Gameplay is somewhat repetitive,

This game is definitely better than that Hellboy game for PlayStation one. But by no means a masterpiece. Gameplay is somewhat repetitive, very long and long stages are part of the weaknesses. The game's graphics are extremely excellent and beautiful, which is one of the positive points.

…

Expand

This game is very average. The fighting is repetitive, bad lighting is everywhere, and there is too much frustration at almost every corner. I

This game is very average. The fighting is repetitive, bad lighting is everywhere, and there is too much frustration at almost every corner. I could have been better if there were more moves available in combat.

…

Expand

This review contains spoilers

, click expand to view

.

I do not have to say anything more. But i need to write one hundred and fifty characters. i think my score can describe it............................

…

Expand

Verry poor game . graphicly awfully low polys , textures are smears , akin to wow but even worse , gameplay is jsut bad , controls are a bit

Verry poor game . graphicly awfully low polys , textures are smears , akin to wow but even worse , gameplay is jsut bad , controls are a bit clunky , soem bosses are rediculassly hard while minions are mindnumbingly easy , by difficut bosses i meen thay wil 3 shot u m not that it requires stratgie , i wanted to like this game as hellboy is one of my favoirt things :P and to have a portable game was dream coem trew , but it feels more liek the beta of deathjr then it does hellboy.

…

Expand

This is the worst PSP game I have ever played. The graphics are below par and the controls are weird. The concept is boring and it's one

This is the worst PSP game I have ever played. The graphics are below par and the controls are weird. The concept is boring and it's one of those same-old same-old games that you get over after half an hour. This is not worth the pricetag!!! I would have given it a higher rating if the game didn't cost so freakin' much! I could have used that money to buy something way cooler than this.

…

Expand
| | |
| --- | --- |
| 49 | |
| 12 | #12 Most Discussed PSP Game of 2008 |
| 17 | #17 Most Shared PSP Game of 2008 |