Publisher:

SCEA

Release Date:

Oct 12, 2010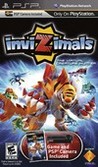 Summary:

There are invisible creatures everywhere - and only your PSP Camera can see them. Track down the mysterious Invizimals, lay down your magical trap and try to capture as many of them as possible. Your Invizimals can face off in exciting battles using magic and special moves to defeat their

There are invisible creatures everywhere - and only your PSP Camera can see them. Track down the mysterious Invizimals, lay down your magical trap and try to capture as many of them as possible. Your Invizimals can face off in exciting battles using magic and special moves to defeat their opponents. Watch as they learn new attacks and evolve, becoming even more powerful. Make amazing discoveries on your own or enjoy multiplayer action via Ad Hoc and Infrastructure Mode. Trade Invizimals with your friends and build up your own personal collection of fantastic creatures. [SCEE]

…

Expand
Developer:

Novarama

Genre(s):

Strategy

,

Miscellaneous

,

Turn-Based

,

Card Battle

,

Puzzle

,

Puzzle

,

General

,

Card Battle

# of players:

2 Online

Cheats:

On GameFAQs

Rating:

E10+
As its designer says, Invizimals is about bringing back your inner child spirit. And the game clearly has that special touch, that we could define as 'magic'.

InviZimals is a sort of monster collection game just like Pokémon, but in this game you have to find the monsters with de PSP GO!Cam in your room, kitchen or garden. The monsters are everywhere and once you've collected them you can train them and let them battle against other monsters.

Playstation Official Magazine UK

It's a fighter that also satisfies your OCD side. [Christmas 2009, p.112]

As it sits now though, the bigger question in the end is whether it's fun or not. In short bursts, the answer is certainly yes, especially for the pre-teen set. But, if you are looking to spend hours living the mantra "gotta catch them all", then Invizimals is one catch you'll want to let back into the wild.

While Invizimals' technology can't quite deliver on its ambition, it works enough of the time avoid condemnation. The real issue is the restrictiveness of the mission structure and ultimate lack of real depth to the critter combat.

Invizimals is a great idea perhaps realised too soon. It never feels as cohesive as it should due to technology limitations, and for that reason it's hard to promote it as a well constructed gaming experience. But we'd sure love to see a sequel that irons out the bugs.

Invizimals really wants to be Pokémon, but takes away everything that was great about it.
Very innovative gameplay modes. A truly unique experience, using the psp as it had an accelerometer or inclinometer is quite surprising. The

Very innovative gameplay modes. A truly unique experience, using the psp as it had an accelerometer or inclinometer is quite surprising. The combat is deeper than it seems at the beginning, as it becomes more complex as you keep playing. Overall a great new experience, you should have seen the face of my children.

…

Expand

I played this for ages when I first got my PSP. it had pretty good graphics compared to other games on its system, and its gameplay was also

I played this for ages when I first got my PSP. it had pretty good graphics compared to other games on its system, and its gameplay was also fun. It may have been just walking around your house and doing mini games, but that's all Mario Party is practically. I highly recommend this game if you like games like Pokemon.

…

Expand

Excellent. Excellent. Excellent. These rare pearls are the ones that keep hooked to the game world. This is the first of many games that will

Excellent. Excellent. Excellent. These rare pearls are the ones that keep hooked to the game world. This is the first of many games that will come with extended interface.

…

Expand

This game was very innovative, i enjoyed this game more than any other game on PSP. I also played the second and the third one and they just

This game was very innovative, i enjoyed this game more than any other game on PSP. I also played the second and the third one and they just got better. The evolution of the creatures was very nice and was a great sand mode game. This game isn't just for kids, it is very fun to play and evolve your creatures and the story wasn't that bad.

…

Expand

Just like Pokemon for the Sony PSP! Just a bit more revolutional touch like a bit of A.I working ( Sometimes the Invizimal near you can't even

Just like Pokemon for the Sony PSP! Just a bit more revolutional touch like a bit of A.I working ( Sometimes the Invizimal near you can't even recognise you ).

…

Expand
| | |
| --- | --- |
| 34 | |
| 19 | #19 Most Discussed PSP Game of 2010 |