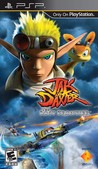 Summary:

Hero Jak and his mischievous sidekick Daxter are back together and for the first time-ever they've joined forces on PSP. Get set for the latest addition to the smash-hit Jak and Daxter series, Jak and Daxter: The Lost Frontier from Sony Computer Entertainment Europe. Prepare for non-stop

Hero Jak and his mischievous sidekick Daxter are back together and for the first time-ever they've joined forces on PSP. Get set for the latest addition to the smash-hit Jak and Daxter series, Jak and Daxter: The Lost Frontier from Sony Computer Entertainment Europe. Prepare for non-stop action and adventure as the duo travel across mysterious lands and take to the sky on a mission to save their planet from destruction. Take this incredible adventure with you anywhere on your PSP, or play it at home with PlayStation 2. Picking up from where the original Jak and Daxter trilogy left off, Jak and furry friend Daxter team up with their friend Kiera on her quest to become a Sage and save their world from the threat of darkness. As the environment of their planet slowly dies, our two worldly heroes embark on a mission to protect their world from the threat of "dark eco". Beginning on foot, you'll run and jump across undiscovered lands, before taking flight in one of five different aircrafts. With cheeky Daxter and our serious Hero Jak together on the adventure, fun and laughter is never far away. Blast airborne enemies and battle sky pirates with your powerful Gunstaff - a brand-new weapon that can transform into other new weapons. [Sony]

…

Expand
Developer:

High Impact Games

Genre(s):

Action

,

Action Adventure

,

Fantasy

,

General

,

Platformer

,

Fantasy

,

3D

# of players:

No Online Multiplayer

Cheats:

On GameFAQs

Rating:

E10+
Jak and Daxter: The Lost Frontier is an action-packed platforming romp that punches above its weight and connects effortlessly. A Christmas must-have for young and old gamers alike.

Another brilliant PSP release. [Feb 2010, p.76]

Playstation: The Official Magazine (US)

Even with the PSP's imperfect analog nub, the controls are tight and responsive, making the fight combat levels (nearly half the game) a white-knuckle joy. [Holiday 2009, p.80]

The return of an explosive duo delivers a thrilling platform experience. Unfortunately, aerial sections are repetitious and some camera issues spoils the fun.

Jak & Daxter are back on another great adventure. An adventure that should have stuck with the fighting and platforming that defines Jak & Daxter, instead of all the unnecessary extra gameplay elements. Not the great comeback we had hoped it to be.

This Playstation Portable game is more a throwback to the original games with a few new twists and turns, only not as solid.

I hate to say it, but this is not a good game. Not in a "for a Jak game" sense, but in the most all-encompassing way I can mean it. To see this franchise fall so far after redeeming itself with Jak 3 hurts.
This review contains spoilers

, click expand to view

.

Sinceramente no entiendo porque a la gente no le gustó esta parte. Quizás muchos no lo quieren llamar jak 4 por lo mismo. Pero profundizan un poco el tema de el eco y como este mismo es la fuente de vida de la mayoría de cosas que existen en ese universo xd los diseños quizás estén meh pero es lo que hay

…

Expand

Maybe it's because i'm new to the Jak series, but i love this game! Its really fun and the eco powers are very cool. Also love the

Maybe it's because i'm new to the Jak series, but i love this game! Its really fun and the eco powers are very cool. Also love the great variety of customization and power ups, really enjoyed customizing the planes and the sidequests.

…

Expand

It's a good game but doesn't come close to the quality of any other Jak game

Jak fans like myself will find this a disappointment. The camera is poor, flying is too repetitive, story is not exciting nor the characters,

Jak fans like myself will find this a disappointment. The camera is poor, flying is too repetitive, story is not exciting nor the characters, graphics are average. There are some good platforming aspects and some cool eco powers. But really, it's just not good enough.

…

Expand

Jak and Daxter: The Lost Frontier is a piece of crap not made by Naughty Dog. Plays pretty well, but it's a mess in terms of inconsistent

Jak and Daxter: The Lost Frontier is a piece of crap not made by Naughty Dog. Plays pretty well, but it's a mess in terms of inconsistent narrative and structure that was known for in the PS2 era.

…

Expand

The Game wasn't even close to what it was before! Naughty Dog were not involved in the making of this game, so the replacement developers for

The Game wasn't even close to what it was before! Naughty Dog were not involved in the making of this game, so the replacement developers for this game had absolutely no idea what they were doing. They could have left the series on a high note but this is everything wrong wih jak and daxter all together. Awful, Awful, Awful game

…

Expand

This game is very deserving of a zero BUT here's why. The Jak and Daxter series is a series looked at very highly upon due to story,

This game is very deserving of a zero BUT here's why. The Jak and Daxter series is a series looked at very highly upon due to story, creativity, gameplay, and much much more. This is because the original developers, Naughty Dog are very talented at what they do. When this game was announced which its fans had been waiting very patiently for a new installment, they expected to get a return of their favorite heroes to continue the amazing story and adventure from Jak 3. This is not at all the case being that the new developers High Impact Games had made it a spin off which has nothing to do with anything the fans of the series had loved it for. This caused mass hatred towards High Impact Games because despite it being a poor installment in the series, it was a poorly crafted game, from the mechanics to gameplay. It also took away the open world and key features such as dark and light Jak which had been an iconic aspect to Jak since Jak II. This game was very linear and the only way to 100% it is the first time around. The actual game itself taking out all elements of the Jak series would receive a 5 but because it takes away everything from what the series was, it was a disaster. There were many poor ideas crafted into the game such as Dark Daxter which feels as if they were taken from a webpage filled with illogical requests to put into the game from a fan that didn't quite understand the reason behind the previous games story. They all have no correlation to the story and what is set as reality in the game. This series has been in high demand by its true fans for a while now and even now after this game had ruined the name of what Jak and Daxter is, we want a Jak game made by Naughty Dog to satisfy our disappointment from this game. This is a precious series and should not be made for the sake of it, but rather by people who understand what the series is about and what is supposed to happen in the story that coincides with the previous games story. I was very disappointed to have gotten my hopes up for this game back in 2009 and i hope that one day, Naughty Dog decides to make a new Jak and Daxter game to continue the great story that many people have been intrigued by for years and want their questions to be answered through amazing gameplay and story!

…

Expand
| | |
| --- | --- |
| 33 | |
| 13 | #13 Most Discussed PSP Game of 2009 |
| 12 | #12 Most Shared PSP Game of 2009 |