Publisher:

SCEA

Release Date:

Aug 21, 2007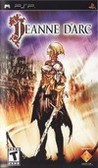 Summary:
The Jeanne d'Arc story begins far in the past, when a great war was waged by mankind against demonic armies attempting to invade the human world. During that time, five brave heroes created armlets to restrain the demon gods. In a quest to turn back the rueful army, a young crusader named Jeanne is commanded by mysterious voices to use the power of the magical armlet to seal away the demon king and recover her homeland once and for all. Set among sprawling fields, battle-torn villages, and intricate dungeons, Jeanne d'Arc unfolds through more than 40 expansive and highly detailed environments, where players will engage in the pursuit of France's resurgence. Players control up to 14 characters throughout the journey, including humans and beasts, as they battle a variety of enemies in the quest to turn back the English domination. Jeanne d'Arc delivers a strategic, turn-based battle system where players engage in unique team attacks and defensive schemes, using multiple characters' skills in combination to create devastating strikes. Further adding to the depth of play, each character has access to one of eight weapon types that are also upgradeable as players' progress through the game. Additionally, players can customize their characters with more than 150 different skills and abilities throughout the game. [SCEA]
| | |
| --- | --- |
| Rating: | T |
| Official Site: | http://www.us.playstation.com/Jeannedarc/ |
| Developer: | Level 5 |
| Genre(s): | Strategy, Turn-Based, Historic, Historic, Tactics |
| Number of Players: | 1 Player |
| ESRB Descriptors: | Alcohol Reference Fantasy Violence Mild Language |
Designer/Producer/Programmer credits provided by
GameFAQs
.
If you contributed to this game and feel you should be credited, please read our
FAQ
.
| | |
| --- | --- |
| 2 | |
| 5 | #5 Most Discussed PSP Game of 2007 |
| 5 | #5 Most Shared PSP Game of 2007 |