Publisher:

Atlus

Release Date:

Nov 10, 2009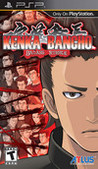 Summary:

Kenka Bancho: Badass Rumble puts players in the role of a high school student on a class trip to a historic Japanese city, and includes no shortage of fist-to-face and knee-to-gut action all in the name of pride and bragging rights. You've got seven days to make a name for yourself. How you

Kenka Bancho: Badass Rumble puts players in the role of a high school student on a class trip to a historic Japanese city, and includes no shortage of fist-to-face and knee-to-gut action all in the name of pride and bragging rights. You've got seven days to make a name for yourself. How you choose to spend your time and how you manage to rise to the top is up to you! [Atlus USA]

…

Expand
Developer:

Bullets

Genre(s):

Action

,

Beat-'Em-Up

,

Beat-'Em-Up

,

3D

Cheats:

On GameFAQs

Rating:

T
While Kenka Bancho: Badass Rumble for the PSP really could have used a few camera controls, its mix of RPG and brawler elements is difficult to fault, even if its release timing may be second only to releasing on Boxing Day. Nonetheless, the game definitely qualifies as nicely shibui and is worth picking up.

Kenka Bancho: Badass Rumble is the brawler that most old school gamers have been hoping will come out. Sadly at the current price point most of them aren't going to even make an attempt to pick it up.

Pleasantly surprised at not only the game's tongue-in-cheek presentation, but it's fun and oftentimes wacky on-screen antics.

Kenka Bancho: Badass Rumble is a fun, bizarre and hilarious throwback to a time when games where about saving girlfriends and kicking ass, and is only marred by slow combat and weak sound effects.

Kenka Bancho: Badass Rumble offers a pretty good ride, but it doesn't really hold up that well when you factor in that it'll cost you $40 for what you get.

Because Badass Rumble is so quirky, has enjoyable high school sim elements and plenty of replay value, I think a good number of gamers will still enjoy it. I only wish that the fundamental combat felt as refined as some of its modern day brawling counterparts.

Even something that's a little comparable, like God Hand, has a more interesting combat system involved than Kenka's basic attacks and options, regardless of whether the game was actually lacking any polish or not. Kenka nails the theme, setting, and humor that I expected, but actually fails at being particularly fun to play.
| | |
| --- | --- |
| 33 | |
| 33 | #33 Most Shared PSP Game of 2009 |