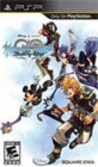 Summary:

Long before Sora was chosen by his Keyblade, the worlds' safety lay in the hands of the true Keyblade Masters. Three youths - Terra, Ventus and Aqua - have been training long and hard under Master Eraqus to prove that they, too, exhibit the Mark of Mastery. But they will soon find themselves

Long before Sora was chosen by his Keyblade, the worlds' safety lay in the hands of the true Keyblade Masters. Three youths - Terra, Ventus and Aqua - have been training long and hard under Master Eraqus to prove that they, too, exhibit the Mark of Mastery. But they will soon find themselves in the middle of a crisis affecting worlds far beyond their own - just as another Keyblade Master, Xehanort, goes mysteriously missing. Three friends, three destinies. Everything will link back to the beginning.

…

Expand
Developer:

Square Enix

Genre(s):

Role-Playing

,

Action RPG

,

Action RPG

# of players:

No Online Multiplayer

Cheats:

On GameFAQs

Rating:

E10+
Please enter your birth date to watch this video:
You are not allowed to view this material at this time.
Kingdom Hearts: Birth by Sleep Exclusive Trailer
Exploiting the PSP capabilities nicely, Kingdom Hearts: Birth by Sleep offers a long ride, with the three crossing adventures of its three heroes, and those new, subtle innovations integrated in the gameplay (especially alchemy and the fury moves). This episode is an enchanting one, with a beautiful atmosphere and dynamic gameplay... even though you need need to be in touch with the child within yourself to fully appreciate it.

Kingdom Hearts: Birth By Sleep is a beautiful Square Enix's RPG, which includes the Disney's magic in the style of Final Fantasy.

With its deeply satisfying series of campaigns, solid battle and progression systems, and a worthwhile multiplayer component, you'd be foolish to pass this one up.

Playstation Official Magazine Australia

The graphics are as strong as the combat. While everything's very simple it all runs smoothly and everything's nicely animated. Cutscenes tend to drag, though, and some of the voice acting will have you cringing, but we're truly impressed by the size of the game and the direction. [Oct 2010 p78]

Playstation Official Magazine UK

Jan 13, 2011

"Quotation Forthcoming"

A great game that will keep fans busy until Square Enix finally makes the long awaited Kingdom Hearts 3.

The potential for a great game is here, but the repetitive questing, arcane plotting and thoughtless battles means its never properly roused into action.
Best game of the series. Great gameplay, very good story, a little repetitive in the worlds, and fhey aren't the best worlds in the series,

Best game of the series. Great gameplay, very good story, a little repetitive in the worlds, and fhey aren't the best worlds in the series, but good, very good final boss fights, very good characters.

…

Expand

Anyone who says this game is just some Kingdom Hearts spinoff is so wrong! This game is probably the most important of the Kingdom Hearts

Anyone who says this game is just some Kingdom Hearts spinoff is so wrong! This game is probably the most important of the Kingdom Hearts games, as it ties the whole saga, and gives us a hint of what Sora needs to do in the future!

…

Expand

Square Enix does a great job with this Kingdom Hearts title. Birth By Sleep has improved its battle system and did a great job to create

Square Enix does a great job with this Kingdom Hearts title. Birth By Sleep has improved its battle system and did a great job to create something new. Soundtrack - - The music is excellent as usual with the talents of Yoko Shimomura reprising her role. Graphics - - For a PSP title you can't really complain about the graphics as it does look great for a portable title. Gameplay - - Gameplay is fun and exciting with probably the best battle scheme in the series, along with a few fun mini-games and multi-player options.
Story - - An interesting past about characters from before the events of the first game and how it all started makes you want to more about what is happening as you progress (Unless you have read spoilers)

Overall this game is one of the best PSP titles and one of the more Interesting KH titles.
If you haven't played the series before this is probably a great start as it is a prequel to the original.
If you're a Kingdom Hearts fan then you will definitely love this one.

…

Expand

Combat's fun, and story's great, yet the world's aren't very good, and are often bland. The butler said that "The guests were starting to

Combat's fun, and story's great, yet the world's aren't very good, and are often bland. The butler said that "The guests were starting to enjoy themselves." When there's NO ONE THERE. Even in Olympus Colosseum, someone was cheering, yet the stands were empty. Also there's a huge lack of Final Fantasy characters, just Zack. Although it's flawed, I still like BBS

…

Expand

A wonderful job for the PSP standarts, fun and re playable. It adds so much depth to the kingdom Hearts lore... A shame that in future games

A wonderful job for the PSP standarts, fun and re playable. It adds so much depth to the kingdom Hearts lore... A shame that in future games it all went down.

…

Expand

Kingdom Hearts Birth By Sleep
a Step closer to perfection.
Birth by Sleep is a prequel to the original kingdom hearts that reveals theKingdom Hearts Birth By Sleep
a Step closer to perfection.
Birth by Sleep is a prequel to the original kingdom hearts that reveals the importance of sora, rikku, and kairi...
Here you actually play as 3 different characters.
Terra, Vents, and Aqua.
3 wannabe key blade masters
you get to choose which order you play their stories in, I suggest playing them in order from top to bottom.
Each of their stories last around 8 hours each bringing this game to around 24 hours not including the secret ending which getting to could take you beyond 30 in total
And while each of the 3 characters revisit the same locations, they each not only see different sections of the worlds you visit, but they meet different characters and all have their own unique story lines and cut scenes making the journey through all 3 characters stories fresh and well worth it…
Even better Birth By Sleep actually feels stand alone as it introduces new Disney worlds and characters, really only revisiting 3 places from past games..
It feels just as fresh as the kingdom hearts to kingdom hearts 2 jump…
And remember how I said I'd love to see a marriage between kingdom hearts 1 and 2 in kingdom hearts 3... Well that marriage is here...
Not only is there a straightforward path and a great indication of where to go to progress the story, but the combat is more skill based like the original kingdom hearts rather than hack and slashy like kingdom hearts 2…
Things are a bit different though as they kind of took a page out of the chain of memories books where you have to build a deck of special attacks and magic…
which adds another layer of strategy… you can do normal attacks all you want, but you have to quickly scroll through your special attacks and items in a deck of limited slots…
you pick up new spells and attacks from enemy drops, chests and stores…
And a combination of these attacks can put you into 1 of various super saiyan type forms called command styles that temporarily boosts your attacks and allows you to try and build up to a power move.. as well as a cool shotlock system where you can lock onto enemies and release a pulse of attacks, really useful for bosses that fly across the screen and groups of smaller enemies…
And you're also on your own here for the most part.. No Donald and goofy by your side... but some characters will occasionally but rarely join your party...
The bosses and encounters are miles better than kingdom hearts 2, going back to the routes of epic showdowns and dodging and blocking incoming attacks...
But in kingdom hearts fashion there are insanely annoying difficulty spikes towards the end of each of the characters stories…
The game never wants to end and it just throws boss after boss at you who are 1 million times harder than anything you fought the entire game and kills all flow…
Normally I don't mind as much.. I still mind... but its worse here because again... you're playing through the story 3 different times to piece it all together….
The boss encounters are all different… but each character goes through this insane difficulty spike at or near the end…
especially aqua… her toughest boss isn't even the final one. It's before the final showdowns and was the first time in kingdom hearts history I had to step away and go grind a few levels and come back…
difficulty spikes are annoying and the spikes here really left a bad taste in my mouth of what otherwise is a really cool and charming Disney and kingdom hearts adventure…
It doesn't quite take the crown from kingdom hearts 2 as the series best game.. .but it came pretty close, and even put its finger on the crown a few times towards the credits…
Birth by sleep is a must play.
I Give Kingdom Hearts Birth By Sleep
an 8.5/10

…

Expand

Oscuridad en el interior del castillo de Vlotho (Alemania).
La oscuridad u obscuridad1​ es la ausencia de luz visible.
Aunque la oscuridadOscuridad en el interior del castillo de Vlotho (Alemania).
La oscuridad u obscuridad1​ es la ausencia de luz visible.

Aunque la oscuridad como ausencia total de luz percibida o visible para los seres humanos es relativamente fácil de alcanzar, la oscuridad pura o total desde un punto de vista científico, no existe, porque la definición científica de luz incluye no solo la luz del espectro visible, sino todo el espectro electromagnético, y una cierta cantidad de radiación existe en cada lugar del universo, aunque sea imperceptible al ojo humano. Así pues, la oscuridad total es solo teóricamente posible en condiciones de cero absoluto, o en las proximidades de un agujero negro.

La respuesta emocional a la ausencia de luz ha inspirado diversas metáforas en literatura, en simbolismo y en las artes.

Anteriormente en la historia, fue vista en ocasiones como sustancia por derecho propio, y aparece en esta forma en un poco de literatura de fantasía. Otro nombre para la oscuridad en este contexto es sombra.
Caith paga Los bacalaos , Primer aviso

…

Expand
| | |
| --- | --- |
| 5 | |
| 4 | #4 Most Discussed PSP Game of 2010 |
| 6 | #6 Most Shared PSP Game of 2010 |