Publisher:

Namco

Release Date:

Mar 21, 2006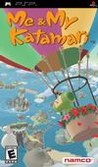 Summary:

Taking a break from celestial construction, the King of All Cosmos takes the royal family on vacation to a tropical island paradise, where they become tasked with the responsibility of creating new katamari islands for homeless animals. An epic undertaking of this time, earthly proportions,

Taking a break from celestial construction, the King of All Cosmos takes the royal family on vacation to a tropical island paradise, where they become tasked with the responsibility of creating new katamari islands for homeless animals. An epic undertaking of this time, earthly proportions, the King calls upon his pint-sized son, the Prince, and all of his cousins for help. New features found in Me and My Katamari include: Wireless play for up to four people on the PSP system; A cast of playable characters that includes the Prince and his cousins – a mix of familiar faces and new additions; A host of customization options for player characters, including new masks and headgear, as well as the ability to wear them on the head, face and body; A new island interface that highlights player options and the different stages represented by animals in need of new homes. [Namco]

…

Expand
Developer:

Namco

Genre(s):

Action Adventure

,

Fantasy

,

General

,

Fantasy

# of players:

1-4

Cheats:

On GameFAQs

Rating:

E
The title, although a bit short in the level variety, certainly is worth its price in other content, including one of the best senses of humor to be found in a game.

There is no real feeling of "competing for the conclusion" that most games have. This is really just mindless, goofy fun.

Official U.S. Playstation Magazine

Perhaps a bit less imaginative than its PS2 counterparts, the game's still a quirky example of pure fun. [May 2006, p.93]

Weird and funny. It suffers from clunky controls and PSP's small screen. The special missions are a nice addition, but overall thte game is too repetitive. [Aug 2006, p.53]

This is a Katamari game in all its glory, only a bit truncated. It doesn't have the longevity or the broad appeal of its predecessors, but it has the basic spirit, which is what counts.

With the most bizarre humour you're ever likely to see in a videogame, the same simple premise, the strangely hypnotic tunes and a functional stab at getting the basics right, Me & My Katamari is a thoroughly recommended title for fanatics and newcomers alike.

The lack of variety in the levels was a major factor. But even more so was the constant loading and unnatural, abrupt transitions.
Totally addicting...unique control scheme.

This is my first exposure to Katamari after hearing about it so much. I love it!!! It is so original and whimsical, and fun!!! When people

This is my first exposure to Katamari after hearing about it so much. I love it!!! It is so original and whimsical, and fun!!! When people throw around the criticism that it is repetitive, they are themselves reacting in a repetitive and conventional fashion. It's a game, not life (which can be multifaceted) All games happen to be repetitive in some way or another. If it happens to be a repetition one likes then more often than not, the reviewer doesn't mention the crirticism of repetition. The review can only be as competent as the human being doing the reviewing. They can't all be Da Vincis and Einsteins!!! Trust me. Read my 2008 review of Speed Racer, the movie.

…

Expand

A pretty darned good conversion of the console game. The controls take a while to get used to, but it's a really fun game.

Great game, one of my favorite PSP games. I'm a huge fan of the series. However, the game has several annoying slowdowns and is not

Great game, one of my favorite PSP games. I'm a huge fan of the series. However, the game has several annoying slowdowns and is not always responsive to the controls during these slowdowns. Still, incredibly fun to play.

…

Expand

One of my favorite PSP games. Like the first, many people will be bored by the lack of level varity, but upon a good search of each level, it

One of my favorite PSP games. Like the first, many people will be bored by the lack of level varity, but upon a good search of each level, it is clear they are very unique (the small level in particular).

…

Expand

Music is fantastic, graphics design very colorful and pleasant, lot of collectables. Overall really well designed game made with lot of love.

Music is fantastic, graphics design very colorful and pleasant, lot of collectables. Overall really well designed game made with lot of love. But unfortunately controls are ridiculous for me... Controls are completely ruining the experience. I didn't liked unclear explanation what object for example is sweet and what is glamor. I guess that it is really hard game but it's difficulty is based on unclear descriptions of rolled islands and painful controls.

…

Expand

This review might sound negative but there's still a lot of good in this game. A lot of that good however is simply due to what's left over

This review might sound negative but there's still a lot of good in this game. A lot of that good however is simply due to what's left over from the original games. Overall, this game reuses a lot of ideas from the previous games, and doesn't do heaps to really advance the gameplay. It's very clear that they were struggling for new ideas, which is a shame because I adore this series.

Right of the bat the biggest difference about Me & My Katamari is the PSPs absence of two analogue sticks. The two previous games in the series were both released on the PS2, and utilized a very unique and effective control scheme using both of the controller's analogue sticks, due to the PSPs lack of analogue sticks however you will now use the button pad and the d-pad instead. This change is awkward at first, and ultimately worse to control, but I got used to it pretty quickly – it isn't really the biggest issue in the game. Apart from this, some other commands where given slightly different prompts and all in all it handles pretty well for a handheld game.

Instead of rebuilding stars, this game has you rebuilding islands for different animals. Animals request islands made up out of specific object types such as heavy, glamorous, cold and loud objects. As long as your Katamari meets the size requirement by the end of the time limit, it doesn't matter what score you Katamari receives, meaning you'll pretty much never lose. This new level design combines the two major level formats of the original game. In the original game, you would either have to roll a Katamari to a certain size before the time limit runs out, or roll up as many of one object type as possible before the timer runs out. There were a few other level variants in the original that are now missing, and there's about two or three levels in this that have unique gimmicks.
The biggest problem with this design change is that levels are not adapted for it. What I mean by that is that you will play on the same maps over and over again across all types of level objectives, whereas in the original game the entire contents of the level would change depending on the level objective. For example; in Katamari Damacy there is a level in which you must roll up swans, this level uses the same map as previous levels, but the entire contents of the level is changed, so you end up playing the level entirely differently to before. Whereas in this game, it doesn't matter what mission objective you have, because the game keeps reusing the same maps with the same objects layout (the game does change up the appearance and layout of the available maps, but these end up being reused anyways leading to the same problem). This not only makes the game very repetitive, but it makes the levels lose a lot of personality and replayability. I found myself repeating stages countless times in the original, but once I had seen all of the maps in this game I just got sick of it. Including map variants, there's probably tenish maps in the game which span over about twenty-five levels. Now that mightn't sound so bad, but there's more to this problem, and it intertwines with some of the PSPs hardware limitations.

The Katamari games might have simplistic visuals, but they more than make up for it with the sheer amount of objects in the games world at once. This game needed to make some work arounds however to make sure the game would be able to run decently, this lead to some significant downgrades such as:

- Frequent frame drops, which get pretty bad at times
- Smaller objects rolled up into the Katamari will disappear as you roll up more objects
- When your Katamari increases in size, some smaller items will disappear from the world so as to help the games performance, and to also stop huge Katamaris from rolling up thousands of barely visible items that don't matter anymore. This is far worse and more noticeable in this game however, pretty much every time you increase in size heaps of items (that aren't even that small) disappear right in front of you. Far less subtle than the original.

And the biggest problem with the game is definitely the amount of times gameplay is interrupted. Every time you increase to a certain size in a level, the game will pause and load. In most levels you'll reach a certain point where your Katamari is so big that you'll teleport to a new area, and this occurs after another loading screen. There are levels where you're interrupted like this upwards of eight times, and it never stops taking you out of the experience. And coming back to the re-use of levels, now knowing that you might go through up to four maps per level, it isn't hard to see how this reuse of maps gets repetitive very quick.

So overall, this game is a decent hand-held Katamari game for the time, but it certainly doesn't hold up now, and the previous two games are much better played on their own instead of experiencing this game simply mimic them.

…

Expand
| | |
| --- | --- |
| 43 | |
| 45 | #45 Most Discussed PSP Game of 2006 |
| 67 | #67 Most Shared PSP Game of 2006 |