Publisher:

SCEA

Release Date:

Sep 13, 2005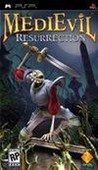 Summary:

One hundred years have passed since the evil Sorcerer Zarok was defeated at the Battle of Gallowmere, heroically cut down by a mortally wounded Sir Daniel Fortesque. Or at least, that's what the people were told; in fact poor Sir Dan was a bit of a coward, falling in the very first wave of

One hundred years have passed since the evil Sorcerer Zarok was defeated at the Battle of Gallowmere, heroically cut down by a mortally wounded Sir Daniel Fortesque. Or at least, that's what the people were told; in fact poor Sir Dan was a bit of a coward, falling in the very first wave of arrows. Now Zarok has returned, turning day into night, and raising an undead army to conquer the land. As a side effect Dan has also been resurrected... now, he has the chance to defeat Zarok and in death become the hero he never was in life. Follow Dan's quest across the magical land of Gallowmere, taking in oodles of varied levels, gazillions of combat moves and bucketloads of weapons. As the enchanting storyline unfolds, become enthralled in the MediEvil universe; a weird and wonderful place bursting with action and boundless humour. Two handfuls of multiplayer mini-games, with WiFi compatible multiplayer support. In-game help system in the form of the Voodoo Witch and in-game manual located in Dan's crypt. [SCEE]

…

Expand
Developer:

SCEE

Genre(s):

Action Adventure

,

Fantasy

,

General

,

Fantasy

# of players:

1-2

Cheats:

On GameFAQs

Rating:

T
Please enter your birth date to watch this video:
You are not allowed to view this material at this time.
Really easy to pick up and play. The controls are very easy and responsive. The mini puzzles that are presented to the gamers are easy enough to understand yet still provide a nice challenge.

Official U.S. Playstation Magazine

A quirky, lighthearted third-person action-adventure that's a fun and engaging diversion - ideal for the PSP. [Oct 2005, p.109]

The camera issues and combat problems complicate this version of Sir Dan's adventures, making this one less than perfect, but more than adequate as a basic platformer.

It looks pretty and the controls work well, but overall MediEvil lacks in excitement and is slow to get good. You'd only buy because there aren't any other decent action adventures around yet. [GamesMaster]

MediEvil Resurrection nails a whole lot of things, but doesn't quite get a handle on its most important aspect – gameplay.

It's a sluggish game, but its brief moments of brilliant designs make it worth a look.

I honestly do think that Sir Daniel Fortesque is a good character with potential, but I would have much rather seen an all-new game with a nod towards current methodology than a rehash of something that honestly wasn't all that great in the first place.
It's fun to play it good humor!

I like this game a lot. The graphics are wonderful, the humour is great, just a overall good game that's lots of fun to play!

un buen remake de un buen juego falto que conservaran algunas cosas del juego original y el idioma español pero aun asi no le quita lo bueno

un buen remake de un buen juego falto que conservaran algunas cosas del juego original y el idioma español pero aun asi no le quita lo bueno ya que tiene un monton de cosas nuevas que destacan que el juego sea bueno y la llegada de minijuegos entre otras cosas

…

Expand

A witty and accomplished adventure, most people would have fun with this.

Lo positivo es que puede jugarse en portátil. Desgraciadamente el diseño tanto estético, como de niveles, es considerablemente peor que el del

Lo positivo es que puede jugarse en portátil. Desgraciadamente el diseño tanto estético, como de niveles, es considerablemente peor que el del juego original.

…

Expand
| | |
| --- | --- |
| 45 | |
| 16 | #16 Most Discussed PSP Game of 2005 |
| 8 | #8 Most Shared PSP Game of 2005 |