Publisher:

Konami

Release Date:

Mar 21, 2006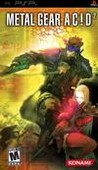 Summary:

Metal Gear Acid 2 features 3D visuals for the first time on the PSP. Utilizing the innovative new "Solid Eye" technology, key areas of the game's comic book style cell-shaded graphics explode off the PSP system screen in 3-D. To ensure that the 3D effects are the most technologically

Metal Gear Acid 2 features 3D visuals for the first time on the PSP. Utilizing the innovative new "Solid Eye" technology, key areas of the game's comic book style cell-shaded graphics explode off the PSP system screen in 3-D. To ensure that the 3D effects are the most technologically advanced available in the marketplace, each game is be packaged with a state-of-the-art 3D viewing peripheral that is designed to make the effects realistic and eye-popping. The pioneering visuals are complemented by a card based strategic gameplay structure that is enhanced across the board with a complete tutorial mode, intuitive interface incorporating card based strategy and real-time gameplay, new Arena mode and more than 500 cards to use. Rounding out the package is the popular multi-player mode where players can use personalized decks to battle foes via the PSP system's wireless capabilities. Arena Mode – Fight classic boss enemies from previous Metal Gear games. Multiplayer Versus Mode – determine who the best MGA2 player is using the PSP system's wireless capabilities. Improved strategic gameplay, including card weapon upgrades and more 500 cards for use. Tutorial Mode – familiarizes novice players with the strategic gameplay in Metal Gear Acid 2. Import cards from the previous version of Metal Gear Acid. Game connectivity with MGS3: Subsistence – players can import photographs taken in MGS3: Subsistence and view them in 3D on the PSP system. [Konami]

…

Expand
Please enter your birth date to watch this video:
You are not allowed to view this material at this time.
Metal Gear Acid 2 Gameplay Movie 4
While the turn-based card battlin' combat might sound like the antithesis of edge-of-your-seat gaming, give Ac!d 2 a couple of hours of your undivided attention and I guarantee you'll be up to your eyes and ears in white-knuckle action.

While it was easy to shut off the first game only to come back later and forget where you were, MGA2 keeps the objectives close by and your motivation memorable.

A stylish and unqiue game definitely worthy in the highly successful franchise. Its frustrating, yet successful card system, combined with challenging gameplay, excellent visuals, and funky soundtrack make a satisfying package for fans of the original Acid, strategy games, or something completely different.

While the game still strays from its console roots, the good story, interesting characters and fun extras are enough for returning gamers to go back for more.

Metal Gear Ac!d 2 is a not only a sequel that is better than its predecessor, it is also one of the better games on the PSP.

Alas, I guess if they removed the Metal Gear from this [game], then we wouldn't feel badly for calling it what it is: a decent, card-based strategy game that moves quickly and feels good, but is missing that real "x factor" to take it to the next level.

Metal Gear Acid 2 is over the top, with its visuals and substance. Fans of the original will like the new additions and expansiveness over the first, but there isn't enough here to draw haters of the first game to try it.
Beautifully done tactics game. It doesn't need a job system like FFT; the gameplay is that fun, deep and good. The graphics are

Beautifully done tactics game. It doesn't need a job system like FFT; the gameplay is that fun, deep and good. The graphics are beautiful and the idea to go with a comic book style was brilliant. Also, it's ideal for portable gaming, as it's a turn based affair, and it's packed with content, including cinematics from Snake Eater as well as a 'quick-play' duel, where you can take on enimies from past iterations if you only have a few minutes and you don't want to start a new mission. Plus, there're multiple difficulty settings; the game is very replayable. On a side note, after Old Snake dies in MGS4, there's no reason why David Hayter can't live on as Snake in the side-story Acid series. I loved Metal Gear Solid: Portable Ops, but I'm all for Metal Gear Acid 3.

…

Expand

The game looks great, I've beaten the first one and it took a long time to get used to it, but Acid2 has easier controls and better

The game looks great, I've beaten the first one and it took a long time to get used to it, but Acid2 has easier controls and better options, I would recomend it.

…

Expand

Wow is the word for it, I liked the first one, but I love the second one. There is much more life in it, the story is better and there are

Wow is the word for it, I liked the first one, but I love the second one. There is much more life in it, the story is better and there are more options then ever. Already played it over 100 hours now, And I stil play it, course it's a lot of fun, and the grafic is strange, but makes the game look beautiful, easier, better and well made. Almost 3 times better then the first MGA game.

…

Expand

For all those people who missed out on the first, the second is a much more playable Metal Gear adventure that maintains the strategic

For all those people who missed out on the first, the second is a much more playable Metal Gear adventure that maintains the strategic gameplay and addictive deck-building of the first. A must-play for any longtime Metal Gear fan.

…

Expand

A great tactics game. seventy-five characters seventy-five characters seventy-five characters

This review contains spoilers

, click expand to view

.

Same as metal gear acid 1. Kojima has nothing to do with it but still nice. I do not have to say anything more. But i need to write one hundred and fifty characters. i think my score can describe it.

…

Expand
| | |
| --- | --- |
| 20 | |
| 52 | #52 Most Discussed PSP Game of 2006 |
| 68 | #68 Most Shared PSP Game of 2006 |