Publisher:

Konami

Release Date:

Jun 13, 2006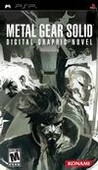 Summary:

Metal Gear Solid Digital Graphic Novel brings the renowned Metal Gear Solid comic book series to life on the PSP, complete with stylized animation, thrilling music and explosive sound effects. Experience Metal Gear Solid in a whole new way through animated digital comics with a dynamic score

Metal Gear Solid Digital Graphic Novel brings the renowned Metal Gear Solid comic book series to life on the PSP, complete with stylized animation, thrilling music and explosive sound effects. Experience Metal Gear Solid in a whole new way through animated digital comics with a dynamic score and exhilarating sound effects. Story based on comics from IDW Publishing - written by Kris Oprisko and artwork by acclaimed artist Ashley Wood. Memory Building Simulation Mode - Highlight different items, characters, and plot points during comic viewing to unlock a history and library of all things Metal Gear Solid. [Konami]

…

Expand
Please enter your birth date to watch this video:
You are not allowed to view this material at this time.
Metal Gear Solid: Digital Graphic Novel Official Trailer 1
The end result feels more groundbreaking than it sounds: It's a delicate dance of images and sounds that should woo anyone interested in digital art, comic books or the game series.

After years of seeing Konami pump out game after game in the MGS universe, it's a pleasant surprise to see them use the franchise in a wholly unique way.

The way Konami has transformed Ashley Wood's artwork into a highly-navigable, multimedia presentation is is nothing short of awesome.

It's a new, fully-realized medium of entertainment that I predict we're going to see a lot of in the future, especially on handheld systems.

The interactive elements don't exactly move mountains, but the rest of the content and overall experience is a trip every Metal Gear Solid fan should take.

In the end buying the Metal Gear Solid Digital Graphic Novel is like buying the $70 dollar collector's edition of game when you could get it for 49.95. Sure the extras don't really matter but they are cool guilty pleasures that you just have to own.

Ultimately though it is one long drawn out cutscene cut up by little bits of gameplay that do not seem to fit in as well.
More than a comic, less than a game.

First off: if you're thinking of getting this to fill a narrative gap in the MGS series, don't. TheMore than a comic, less than a game.

First off: if you're thinking of getting this to fill a narrative gap in the MGS series, don't. The PSone classic itself is only $10.00 on the PSN, so for two dollars more, you can actually replay the best PS1 game ever, in lieu of reading the comic.

If you're here because you adore Metal Gear, here's what you need to know:

Presentation:
The beautiful Ashley Wood artwork has been fully animated. This means character's limbs move, weapons fire, snow falls, etc. You can hop to any page at any time, and the "Memory Building" mode allows you to zoom in and reveal new and hidden images. It's more than just a comic.

Graphics:
Beyond animation, the neat difference between this and the printed version is all the new and hidden images. Pressing [] lets you move around a comic panel, zooming in and out of layers to uncover and identify new images and elements. A simple example: zooming into Vulcan Raven's tank reveals the interior: Snake's grenade bearing down on two enemy soldiers. Even cooler: when "Deepthroat" first calls, zooming past Snake reveals a stealth-camo'd Gray Fox hiding behind him.

Sound:
The MGS sound effects are here, but inexplicably most of the music is not. It might have to do with recent plagiarism accusations, but either way it's a disappointment. No voice acting either.

Gameplay:
There's a surprising amount of "game" in here, if you're interested. There are ~400 hidden "memory elements" to acquire through the aforementioned pan-and-scan method. Because much of this exposes hidden comic panels and new perspectives, it's definitely a fun mode to explore. The additional memory-cube is overwhelming at first, but as a connect-the-dots puzzle can be quite compelling. The cube is unlocked piece by piece, and - thankfully - if you've hit a roadblock, the game tells you what element to look for next. It's usually not too difficult to then guess where it might be found. (i.e. look for "Katana" during the Gray Fox battle, or "Save the Hostages" during the opening briefing.)

Lasting Appeal:
All told, watching the comic takes a couple hours, then searching out all elements and building memory cube sans guide probably 6 or so more. [Minor spoilers] It IS worth it to seek out all elements, because as you get closer to the end, you'll uncover some pretty interesting revelations.

Closing Comments:
For fans only, a great adaptation of the comic, with plenty of new and hidden material to be found.

…

Expand

It's all right. The artwork is great and the cutting is cool. I had only one complaint: They based too many parts of it on Twins Snakes

It's all right. The artwork is great and the cutting is cool. I had only one complaint: They based too many parts of it on Twins Snakes and added some rediculous stuff such as Psycho Mantis talking to Gray Fox, Sniper Wolf making Meryl watch Snake being tortured. All in all if the choice is between this or Metal Gear Ac!d, go with this.

…

Expand

``El Gameplay´´
Eso, es lo que este juego es. Un simple Gameplay (juego visualizado para vivir una experiencia cinematográfica sin necesidad``El Gameplay´´
Eso, es lo que este juego es. Un simple Gameplay (juego visualizado para vivir una experiencia cinematográfica sin necesidad de usar los controles) en forma de historieta.
Evaluemos por lo que es y no por lo que pudo haber sido.

´Metal Gear Solid: Digital Graphic Novel´ relata en forma de cómic todos los acontecimientos y cinemáticas del primer juego para la PS1. Algo así como todo el juego pero ilustrado en forma de historietas. El diseño se ve fenomenal, respeta mucho el estilo artístico del juego, los planos y dirección en general son muy decentes y acertados.
Sin embargo, como este juego deja a un lado totalmente la parte de la jugabilidad, esto hace que nuestra atención se enfoque principalmente en la historia y personajes, y es aquí donde cae el primer error: El Guión.

Mientras el primer juego mantenía una narrativa llena de suspenso, pistas bien posicionadas, giros argumentales muy bien justificados, diálogos casi perfectos y memorables. En esta adaptación explican TODO lo que no debería ser explicado, los personajes se encargan de ´Guiar´ al espectador a través de escenas que creen puedan parecer confusas, exponiendo ellos mismos unsignificado superficial en cada uno de ellos.

Se supone que todo esto ya es trabajo del jugador o espectador, el poder captar, y descubrir las intenciones ocultas, referencias, Easter Eggs, y diálogos con múltiples interpretaciones. Pero cuando los personajes en si se encargan de explicártelo, pierde toda la gracia.
A parte de eso, hay diálogos que parece que fueron escritos por un fan apasionado sin medir la delicadez y profundidad de la situación e historia. Ejemplo: Hay algunos momentos donde Snake exclama lo ´genial´ que son cierto tipo de armas, como si fuera un niño pequeño quien hubiera escrito dicha escena. Esto hace que se pierda la seriedad y credibilidad del personaje, el cual en las entregas anteriores nos lo describen como un hombre frío, solitario, estratega, de pocas palabras, pero que cada una de ellas da para múltiples reflexiones.

En resumen, esta entrega me pareció un agradable y aceptable tributo al primer juego de ´Metal Gear Solid´ cuyo único problema cae en los diálogos lo cual resta mucho, ya que es una de las cosas más importantes de la entrega original. Pero aparte de eso, la construcción, cinematica y en conjunto como tal es una obra de gran entretenimiento, y la recomiendo para aquellos que desean experimentar el primer juego desde un punto de vista diferente.

-Guión: 6/10
-Personajes: 9/10
-Diseño: 10/10
-Entretenimiento: 8.5/10

…

Expand
| | |
| --- | --- |
| 25 | |
| 70 | #70 Most Discussed PSP Game of 2006 |
| 50 | #50 Most Shared PSP Game of 2006 |