Publisher:

Konami

Release Date:

Dec 5, 2006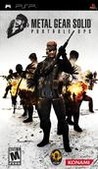 Summary:
An all-new action game in Hideo Kojima's legendary Metal Gear Solid series, Metal Gear Solid: Portable Ops jumps into the stealth action genre on the PSP system with an original storyline that follows the events of "Metal Gear Solid 3: Snake Eater" and innovative online play that lets gamers recruit their own comrades to form a unique fighting force. Providing the missing pieces to the puzzle of the Metal Gear saga, players learn more about their favorite characters and how the events of later Metal Gear games were set into motion while experiencing breakthrough online play that lets gamers utilize all aspects of the PSP systems' infrastructure functionality. [Konami]
| | |
| --- | --- |
| Rating: | M |
| Official Site: | http://www.konami.jp/gs/game/mpo/ |
| Developer: | Kojima Productions |
| Genre(s): | Action Adventure, Modern, General, Modern |
| Number of Players: | 1-6 Players |
| ESRB Descriptors: | Animated Blood Suggestive Themes Violence |
| Connectivity: | Game Sharing Online Wi-Fi |
| Number of Online Players: | 6 Players Online Up to 6 Players |
Designer/Producer/Programmer credits provided by
GameFAQs
.
If you contributed to this game and feel you should be credited, please read our
FAQ
.
| | |
| --- | --- |
| 3 | |
| 2 | #2 Most Discussed PSP Game of 2006 |
| 12 | #12 Most Shared PSP Game of 2006 |