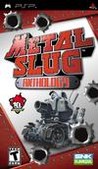 Summary:

SNK Playmore, in celebration of the 10th Anniversary of their classic arcade franchise Metal Slug, releases the greatest array of Metal Slug titles ever assembled for the PSP including Metal Slug, Metal Slug 2, Metal Slug X, Metal Slug 3, Metal Slug 4, and Metal Slug 5. The METAL SLUG

SNK Playmore, in celebration of the 10th Anniversary of their classic arcade franchise Metal Slug, releases the greatest array of Metal Slug titles ever assembled for the PSP including Metal Slug, Metal Slug 2, Metal Slug X, Metal Slug 3, Metal Slug 4, and Metal Slug 5. The METAL SLUG COLLECTION is a "perfect translation" of the arcade classics and features Wireless support for intense two-player action. [SNK Playmore]

…

Expand
Developer:

Terminal Reality

Genre(s):

Miscellaneous

,

Compilation

,

Compilation

# of players:

1-2

Cheats:

On GameFAQs

Rating:

T
Please enter your birth date to watch this video:
You are not allowed to view this material at this time.
Metal Slug Anthology Gameplay Movie 2
Fantastic fun converted perfectly to Sony's handheld. All the Metal Slug you could ever want. [Issue #150, p.86]

If you are the type of person to get easily flustered, stay away from the Metal Slug Anthology because it will eat you and your entire family for breakfast and pass you all by lunch.

For good or for bad, it is the small price we must pay for getting what is otherwise such a great collection of games in convenient travel size. [Jan. 2007, p.80]

Official Playstation 2 Magazine UK

Still as fun as it was in the arcades years ago; although it has minor technical niggles, all of those are forgivable if you've got the 'Slug in your blood. [Apr 2007, p.99]

When all is said and done SNK has done a remarkable job of bringing seven of the greatest arcade games ever created into one neatly organized package and made it affordable.

It's entertaining, amusing and its screen-filling boss battles are impressive, but it's completely throwaway. [Dec 2006, p.96]

Metal Slug Anthology was supposed to be one of the portable system's A-list titles. Instead, due to reasons that probably couldn't have been helped, it ends up being one of the system's biggest jokes.
Fans of Metal Slug should be happy with this collection of different Metal Slug titles. PSPwise the controls are smooth and you'll get your

Fans of Metal Slug should be happy with this collection of different Metal Slug titles. PSPwise the controls are smooth and you'll get your typical Metal Slug action. People who don't know Metal Slug might dig the lovely pixel artwork/animations and that it's basically a jump 'n' run game, just with a selection of heavy weapons which are weaker or stronger, yet all of them fun. Overall the game with its soundtrack aged well. Beginner or pro, the difficulty options make sure you'll get your challenge.

…

Expand

Metal Slug Anthology on the PSP is a perfect port from the PS2 version. Seven games all bundled in on one ultimate Metal Slug collection. The

Metal Slug Anthology on the PSP is a perfect port from the PS2 version. Seven games all bundled in on one ultimate Metal Slug collection. The best part of this version is that you get to take it on the go and play it everywhere.

…

Expand

This is a perfect port to PSP, controls are nice, and has a great nostalgic value.

An excellent collection for PSP showcasing some of arcade gaming's finest moments. a great value package including seven games which can

An excellent collection for PSP showcasing some of arcade gaming's finest moments. a great value package including seven games which can be saved at any time-despite additional loading times this is brill.

…

Expand

A must have for any Metal Slug fan. The collection includes Metal Slug 1 - 6 and Metal Slug X. The only downside is the fact, that the games

A must have for any Metal Slug fan. The collection includes Metal Slug 1 - 6 and Metal Slug X. The only downside is the fact, that the games are emulated, rather than being ported. As a result, some slow-down and load screens are to be expected. However, slow-downs aren't common and don't last for too long.

…

Expand

I love Metal Slug, and this is a fine collection of all the games. But nothing beats Metal Slug on old Arcade Machines, were you had to pay

I love Metal Slug, and this is a fine collection of all the games. But nothing beats Metal Slug on old Arcade Machines, were you had to pay for every time you died.

…

Expand

This is great fun to play and reminds me so much of the enjoyment I used to have in the arcade. It also amazes me at how much money, as kids,

This is great fun to play and reminds me so much of the enjoyment I used to have in the arcade. It also amazes me at how much money, as kids, we must have pumped in to these machines. The main problem with this game is that after a while you stop caring about how to survive an enemy and just die to get hand grenades back to kill them quicker. This is because the levels are just too hard to complete without dying and the aim of trying to survive whole levels in order to save the captives is just ridiculous. I would love to see how to how the creators thought it was possible to kill the bosses without dying at least 5 or 6 times. Overall I think this is great button crunching fun but after you have finished each game the liklihood of replaying them is very low.

…

Expand
| | |
| --- | --- |
| 21 | |
| 35 | #35 Most Discussed PSP Game of 2007 |
| 33 | #33 Most Shared PSP Game of 2007 |