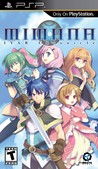 Summary:

Mimana Iyar Chronicles blends the traditional RPG elements of vast map exploration and treacherous dungeon spelunking. Engage in fast-paced battles in a quasi-3D environment where you control the character's movement and actions, and strategically command your party to turn the tide of

Mimana Iyar Chronicles blends the traditional RPG elements of vast map exploration and treacherous dungeon spelunking. Engage in fast-paced battles in a quasi-3D environment where you control the character's movement and actions, and strategically command your party to turn the tide of battle. Your actions dictate how the story unfolds, through numerous fully-voiced event sequences. [Aksys Games]

…

Expand
Developer:

GungHo

Genre(s):

Role-Playing

,

General

,

General

Cheats:

On GameFAQs

Rating:

T
Please enter your birth date to watch this video:
You are not allowed to view this material at this time.
Mimana Iyar Chronicles Trailer
With so many high-quality mainstream and indie titles on the gaming landscape this season, PSP RPG players would be best advised to skip Mimana Iyar Chronicle in favor of something better like Valkyria Chronicles 2 or Hexyz Force.

Lazy. Generic. Simple. Nostalgic. A light-hearted throwback to 90s gaming. Depending on your viewpoint, Mimana Iyar Chronicle is any or all of those things.

There's not much to say: one of the worst titles in the already-not-so-good PSP JRPG lineup. Annoying combat, a going-nowhere story and flat characters is enough to stay away from Mimana Iyar Chronicles.

This is a game that doesn't belong anywhere, and no amount of solid translation and voice work can save that.

I like old-school RPGs on the PSP, I really do, but even games released over a decade ago have more going on in terms of gameplay and inherent charm than Mimana Iyar Chronicle.

This slapdash role-playing game shows some promise early, but quickly becomes tedious and frustrating.
Mimana Iyar Chronicle is a fun game with interesting characters and a fun battle system. I enjoyed the soundtrack and story a lot. It feels

Mimana Iyar Chronicle is a fun game with interesting characters and a fun battle system. I enjoyed the soundtrack and story a lot. It feels like a less polished Tales game, is a bit short, and the random battles can get obnoxious along with the loading times, but I enjoyed the experience a lot in the end. Side note, the voice acting is well done.

…

Expand

Mimana Iyar Chronicle is a rather good game. The graphics aren't top notch, but they aren't horrible either. The voice acting has many

Mimana Iyar Chronicle is a rather good game. The graphics aren't top notch, but they aren't horrible either. The voice acting has many memorable voice actors from other JRPGs, so it's sort of an all-star cast. The plot does take some time to start up, but once it gets going you get a sort of invested feeling (some time around the third dungeon). The characters may seem rather flat and one dimensional, but as with most JRPGs there is an underlying subtlety to their interactions with the main character. The battles are fun, but the loading times are a pain (usually takes 40-45 seconds to load a fight).

Over all it's a good JRPG if you're willing to stick with it, and actually ENJOY the JRPG genre. (Better than Final fantasy, more original than Tales of)

…

Expand