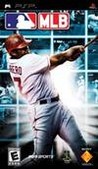 Summary:

Features all-new Branch Point Technology, which provides seamless fielding transitions and smooth base running; the all-new Playmaker Fielding Marker that brings together a player's attributes with the gamer's skill level in order to make the play; and the all-new Release Point Pitching with

Features all-new Branch Point Technology, which provides seamless fielding transitions and smooth base running; the all-new Playmaker Fielding Marker that brings together a player's attributes with the gamer's skill level in order to make the play; and the all-new Release Point Pitching with Confidence Meter, which helps determine a gamer's ability to hit spots in the strike zone. Supporting up to two players via wireless multiplayer connectivity , gamers can compete against the Artificial Intelligence or go head-to-head against another player. By providing an unmatched broadcast presentation that brings together on screen gameplay, cut scenes, animation and sound, MLB for the PSP provides an engrossing authentic baseball simulation. [SCEA]

…

Expand
Developer:

989 Sports

Genre(s):

Sports

,

Traditional

,

Team

,

Baseball

,

Sim

,

Sim

# of players:

2 Online

Cheats:

On GameFAQs

Rating:

E
It is well rounded, filled with features that you wouldn't expect in a handheld, and it is a blast to play.

It is the best handheld baseball game I have played. This is due in large part to the easy pickup and play nature of the game.

MLB may stumble a bit rounding first, but it easily makes the turn at second and barrels into third with big league-style graphics and intuitive gameplay.

989 Sports has done a bang-up job bringing its flagship sports franchise to PSP. [June 2005, p.136]

989 Studios may have had to axe some graphical nuances and memory-intensive play modes (namely the mega-deep franchise mode) from the PS2 version of MLB 2006 in order to cram it onto the PSP, but everything else was brought across relatively intact.

An excellent baseball experience, and it's a full $10 less than "MVP Baseball" from EA Sports. Hard to go wrong here.

While I still prefer MLB's game play, the wealth of options and visual flare that "MVP" is bringing makes Sony's game a bit stale.
I've had my PSP for a few months now, Tiger Woods, Lumines and Wipeout have come and gone but I'm still playing MLB. This from a

I've had my PSP for a few months now, Tiger Woods, Lumines and Wipeout have come and gone but I'm still playing MLB. This from a South African who knows as much about baseball as Americans know about cricket! The graphics are good, commentry never gets too repetitive and the load times are never too long, but the game just has that one vital ingredient that so many PSP games are missing, it's fun!!!

…

Expand

I think this is a great game with amazing graphics and I give it a ten.

I truly enjoy the sport of baseball and the nuances of the game in it's many different forms.This game gives such a grand experience

I truly enjoy the sport of baseball and the nuances of the game in it's many different forms.This game gives such a grand experience with great flow graphics and feel as well as an incredible realism and playability. Of all the baseball games i have played this would rate near the top. It may not look as flashy as the Xbox versions of baseball but for the console it was built to be used on all i have to say is thank you for the wonderful entertainment and well done. Keep up the good work!

…

Expand

Fair graphics and gameplay, though the game has glitches on me a couple of times and lag will sometimes delay a swing until the pitch is in

Fair graphics and gameplay, though the game has glitches on me a couple of times and lag will sometimes delay a swing until the pitch is in the mitt.

I've played through 73 games as the 05 Yankees so I obviously enjoy it having rediscovered my PSP in 2020. Some other problems include the announcers' script being played at inappropriate times, such as "Derek Jeter steps to the plate", for some reason when the other team is batting. Frequent pitches going to the backstop when selecting breaking pitches is extremely annoying. On one occasion, I hit a one out, two run home run and the announcer script played for a home run, and then the game counted it as a foul ball, instead. Weird stuff like that.

But, a game like this, especially in the year it was released and for a handheld? Pretty good.

…

Expand

Great graphics with decent commentary. The detail on ballparks and players is perfect for this great handheld game.

Playing against the computer works great, but weak AD HOC and infrastruture mode are horrific and slow. Not even worth owning if these modes

Playing against the computer works great, but weak AD HOC and infrastruture mode are horrific and slow. Not even worth owning if these modes remain weak! If I hear MVP AD HOC mode works fine making the switch for sure.

…

Expand
| | |
| --- | --- |
| 14 | |
| 26 | #26 Most Discussed PSP Game of 2005 |