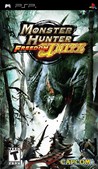 Summary:

The Monster Hunter world is always changing and you will need to be ready for anything - but killing and trapping monsters will always be most important part of your duty. Monster Hunter Freedom Unite is the biggest game of the series so far, letting you adventure with up to three friends

The Monster Hunter world is always changing and you will need to be ready for anything - but killing and trapping monsters will always be most important part of your duty. Monster Hunter Freedom Unite is the biggest game of the series so far, letting you adventure with up to three friends through over 500 hours of gameplay. In MHFU you can battle previously unseen monsters in new environments, not to mention the many new weapons and armor sets available. From devising the strategy to executing the attack, team play with your friends is going to be key to hunting down the ferocious beasts. MHFU rewards considered tactics and well-executed combat sequences so plan and work together and you will prosper. [Capcom]

…

Expand
Developer:

Capcom

Genre(s):

Role-Playing

,

Action RPG

,

Action RPG

# of players:

No Online Multiplayer

Cheats:

On GameFAQs

Rating:

T
Freedom Unite is a huge game, and, naturally, a little intimidating. But not only are you getting the best installment of the Monster Hunter franchise so far (though Monster Hunter 3 will no doubt be just as grand), you're getting an enormous action RPG that gives you a lot in return for putting a lot in. And it can potentially keep you attached to your PSP longer than you ever thought.

An insanely addictive action RPG.

It's incredibly addictive. A great upgrade for Freedom 2 and one of the best PSP games today.

Monster Hunter Freedom Unite is a quality product. It offers a thorough and interesting gameplay - albeit not so various - thanks to a considerable amount of collectibles and monsters. It does have some minor glitches here and there, but technically speaking it is worth the money. It also boasts an excellent co-op mode worth hours of shared fun.

Monster Hunter Freedom Unite is an excellent update to the already impressive Freedom 2 and features an unbelievable amount of new content and end-game potential. [Aug 2009, p.116]

It isn't perfect, but despite a number of shortcomings and some control foibles, there is undoubtedly something about Monster Hunter- Freedom Unite to keep you going back for more punishment.

It may be big in Japan but there's little here that is new, in this still deeply flawed mini-MMO.
This is a game for the gamers. Casual gamers may also get sucked in, but if you are the type of person who checks up a games score on

This is a game for the gamers. Casual gamers may also get sucked in, but if you are the type of person who checks up a games score on metacritic, chances are this game is for you. Extremely rewarding, and lasts longer than any other game in recent time. It is a little steep in terms of learning curve, and that is why many reviews gave it a lower score, but if you have the ability then, this game deserves a higher score. To summarise, in the case of Monster Hunter Freedom Unite, score should correlate to your level of gaming ability.

…

Expand

Monster Hunter Freedom Unite is part of the 'Monster Hunter' series where you take on the role of a hunter of one of two Archetypes, Hunter or

Monster Hunter Freedom Unite is part of the 'Monster Hunter' series where you take on the role of a hunter of one of two Archetypes, Hunter or Gunner. In your quest, you are tasked with both defeating hulking beasts and collecting resources to be used for doing so. Monster Hunter has deep game-play and the weapon you choose greatly effects how things will play out. Each weapon totally changes how the game plays and what you will need to take with you. This game may have a steep learning curve, but as soon as you overcome the difficulty, you will find this game to be both an excellent purchase and a heap of fun. This game is widely based around co-op (See 'Unite' in title) and becomes a lot more fun if you played with 1-3 friends, The solo play is very fun, but the game truly shines in co-op.

…

Expand

A steep learning curve probably scared away the reviewers. If you are new to Monster Hunter, this game will be very difficult at first. I was

A steep learning curve probably scared away the reviewers. If you are new to Monster Hunter, this game will be very difficult at first. I was new to it with MHFU. However if you can find people with this game to play with, you'll understand that it is actually a very rewarding experience after you've spent upwards of 50 to 100 hours of your life figuring it out. The gameplay is simply 3rd person combat as you roam around the map to kill various monsters, harvest materials, and more. Each monster has different weaknesses and attacks. What works with this game that doesn't in others is that it doesn't focus on experience levels and stat increases that suddenly make your hunter godly - rather the game focuses on creating weapons and YOUR skill as a player. After you figure out that you have to grind not for levels - but to get the correct items for weapon/armor creations - you'll get sucked in to the game. Also, the atmosphere of the game is great. The town, cat people, the maps - it's pretty fun and a revolutionary game for its genre.

…

Expand

Monster Hunter Freedom Unite is excellent by the amount of monsters, his challenging difficulty and his great arsenal of weapons available for

Monster Hunter Freedom Unite is excellent by the amount of monsters, his challenging difficulty and his great arsenal of weapons available for creation besides the free choice in the class of the character being able to change in the course of the game

…

Expand

Its sad that so few reviewers gave this game the time of day it deserves. Yes it has a strict learning curve. But if master the camera with

Its sad that so few reviewers gave this game the time of day it deserves. Yes it has a strict learning curve. But if master the camera with your left index, if you master the controls to fluidity, this game will reward you with the greatest gaming experiences. The only real criticism i have for Monster Hunter is that it makes all the great games you used to play, boring.

…

Expand

As much as I hate to do it, I'm giving it a 9. I love the game, looks amazing, controls perfectly, and is fast, skillful and responsive. I'm

As much as I hate to do it, I'm giving it a 9. I love the game, looks amazing, controls perfectly, and is fast, skillful and responsive. I'm only reviewing this from singleplayer experience, because the only other person I met with the game was a HR2, and I'm HR6. The difficultly curve is a steady 45 degree angle, until you try the G-Rank (ultra high rank) quests, where it's cranked up to 80 degrees. Playing solo, with some of the best armor and weapons high rank can offer, I can take out one of the two monsters you have to kill-in 40 out of the 50 minutes. Other complaints I have are that some of the monsters are either really annoying with **** attacks, or just boring. The Tigrex falls into the former, with a **** rage mode, that had me standing on the top of a mountain for 5 minutes waiting for it to calm down. The Gravios or Lao Shan Lung fall into the latter, with both having **** overpowered attacks, and a giant health bar. I can safely ignore Lao for a while, but in order to get my armor, I needed to grind-solo- high rank Gravios for something their tail dropped 11% of the time.
I love the game, but the grind needs to be cranked down some, and you need a better way to collect Honey.
Other things I can complain about is the lack of an actual story, you're set up as being sent to a village to protect it from really tough monsters, armed with almost nothing. The Tigrex tosses you off the mountain, and you have to climb up to kill it. It appears twice really early on in unavoidable quests, and as they're both easy gather quests, it made it a bit more fun (also a good way to farm Tigrex Tails). After you kill it, there's really no story until the Akantor in the middle of the game.
Something I can take satisfaction with is that I can have lots of trouble with one monster early on, then come back a long time later and slaughter it in less than a minute, truly the ultimate "F**K YOU!" in any game.

…

Expand

Broken hitboxes everywere. They are soo bad that it ruined the game for me. It's playable but very annoying. Other than that it's a good game

Broken hitboxes everywere. They are soo bad that it ruined the game for me. It's playable but very annoying. Other than that it's a good game where the basics are alright.

…

Expand
| | |
| --- | --- |
| 13 | |
| 2 | #2 Most Discussed PSP Game of 2009 |
| 2 | #2 Most Shared PSP Game of 2009 |