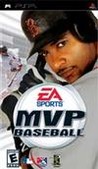 Summary:

Dominate from Wire to Wire: Take your team all the way from opening day to the World Series in Season mode. Wireless Head-to-Head Gameplay: Challenge friends sitting next to you or across the room to an Exhibition Game, Homerun Shootout, or Pitcher Showdown. Party Play: Four players can

Dominate from Wire to Wire: Take your team all the way from opening day to the World Series in Season mode. Wireless Head-to-Head Gameplay: Challenge friends sitting next to you or across the room to an Exhibition Game, Homerun Shootout, or Pitcher Showdown. Party Play: Four players can compete in Batting and Pitching mini-games using one PSP unit. EA Pocket Trax: This new feature designed for PSP allows you to listen and watch music content via this built in player. [Electronic Arts]

…

Expand
Developer:

EA Canada

Genre(s):

Sports

,

Traditional

,

Team

,

Baseball

,

Sim

,

Sim

# of players:

1-2

Cheats:

On GameFAQs

Rating:

E
Unfortunately, there isn't a Franchise mode in MVP, but there is a great season mode, as well as an addictive Homerun Showdown. [May 2005, p.71]

Sure you'll miss the features found on the bigger boys (Owner Mode or even Spring Training Mode) but there's just no denying how good this game feels in your hands.

MVP's a solid game that does a nice impersonation of a PS2 title, but its got a number of flaws and missing features that make 989's "MLB," not MVP, the baseball game to have for the PSP this year.

Those expecting a full-on console version on the handheld will be disappointed, as EA serves a stripped-down game plagued with needlessly frustrating controls.

EA has some great ideas that are just poorly implemented, and it would've been nice to see them rework it for next year.

Official U.S. Playstation Magazine

A castrated version of its console counterpart. [Aug 2005, p.89]

One look at the out-of-date rosters (frozen in time at the original release date) will show you how little attention was paid to the development of this game.
Great game, it was worth the wait. The graphics are amazing and the game play is solid.

This is way better than MLB. Besides you can't trust MLB look at Gretzky NHL. It's not all there! This game is so sweet. Buy it!!!!

I bought MLB to hold me over but it just didn't cut it. This game is much better. MLB is a really good baseball game, don't get me

I bought MLB to hold me over but it just didn't cut it. This game is much better. MLB is a really good baseball game, don't get me wrong but EA did it right with MVP. The only gripes i have about the game is that it doesnt have all the features in MVP 2005. It is more like MVP 2004. There isnt the mini-games i was hoping for or the hitters eye and ability to move in the batters box [Ed: Indeed!] and other features not included in 2005. Other things that are a bit frustrating are the controls taking some getting used to with the lack of a second analog and only 2 shoulder buttons. In all, with its short comings, it is better than MLB, but not by too much. But it offers gameplay that MVP fans are familiar with and its easier to play a game you are familiar with, similar to learning a new language. Anyone can do it with practice and when forced to, but most people just stick to what they know.

…

Expand

Game is great and graphics are the best this game rocks.

The game is awsome and by far the best I have bought for my psp. However, there is nothing worse than getting into the top of the ninth, with

The game is awsome and by far the best I have bought for my psp. However, there is nothing worse than getting into the top of the ninth, with a 1 run lead and 1 out away from a big winand Bam! the game freezes. I have had it happen too many times to count. I had to get used to waiting for the scrren to flash, which signals me that the game is done with the substitution. Then proceed with the game play. I shoudn't have to spend my time trying to read the screen so I don't lose my 3 homerun performance. Other than that, I love this game.

…

Expand

This game is great fun when it works, and were it not for the bug described below, I'd give it an 8. The first copy I had worked great

This game is great fun when it works, and were it not for the bug described below, I'd give it an 8. The first copy I had worked great for about an hour, then started locking up the system whenever the CPU made a substitution. Now my second copy has started locking up when substitutions are made after about 3 hours of gameplay. This is the first EA Sports title I've ever bought, and it'll probably be the last. For a company to charge $50 for a piece of software with obvious bugs like this is unforgivable. Kiss my butt, EA sports. I'll be dropping this turd of a game off at your headquarters tomorrow and asking for my money back from you personally, since the store I bought it from won't give refunds on open software.

…

Expand
| | |
| --- | --- |
| 44 | |
| 31 | #31 Most Discussed PSP Game of 2005 |
| 32 | #32 Most Shared PSP Game of 2005 |