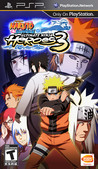 Summary:

Naruto Shippuden: Ultimate Ninja Heroes 3 puts players' fighting spirits to the test with intense and frantic battles while using one of more than 50 characters. New characters include Young Kakashi and Obito Uchiha from the Naruto Shippuden special, Kakashi Chronicles. For the first time

Naruto Shippuden: Ultimate Ninja Heroes 3 puts players' fighting spirits to the test with intense and frantic battles while using one of more than 50 characters. New characters include Young Kakashi and Obito Uchiha from the Naruto Shippuden special, Kakashi Chronicles. For the first time in the series' history, Naruto Shippuden: Ultimate Ninja Heroes 3 expands upon the series' trademark fighting engine and updates it for four-player brawls. Team up with a partner to unleash a devastatingly powerful Jutsu team attack on opponents, or interrupt an enemy's Ultimate Jutsu to help or hinder another player. [Namco Bandai Games]

…

Expand
Developer:

CyberConnect2

Genre(s):

Action

,

Fighting

,

Fighting

,

3D

,

3D

# of players:

No Online Multiplayer

Cheats:

On GameFAQs

Rating:

T
This game is pretty balanced: Action, tactics and dexterity team up with each other for your pleasure. There are some beat 'em up levels, jump 'n' run passages and a really long lasting appeal.

Thanks to this game, I have a renewed interest for the Nine-Tailed Fox kid and his little world of Ninjas. I can still see some room for improvement, especially considering that the same developer created a more worthy current gen console release with an amazing visual impact and likeness to the source material.

The Ultimate Ninja Heroes series for the PSP has improved with each game, but not enough to keep itself fresh.

Though there is plenty to explore in the game's story mode, the story is all well-tread ground and there aren't any supporting modes other than an ad-hoc multiplayer mode.

In terms of presentation, Naruto Shippuden: Ultimate Ninja Heroes 3 is a fine entry to the franchise. However, series stalwarts will begin to see the seams showing in the game's tepid storyline and bland gameplay mechanics.

This is already the third part in the franchise and it's sad to see that the quality is a lot poorer than before. The game has nice graphics and a nice story, but the gameplay is repetitive and the controls are a bit crappy. The die-hard fans will get some fun out of it, but that's all.

Perhaps developers should focus more on quality over quantity and start heading in a different direction before they tire out their fans with sequels.
Don't trust any other reviews of the game. If you're a fan of the show, you'll love the game. Simple as that. Good mechanics, wide

Don't trust any other reviews of the game. If you're a fan of the show, you'll love the game. Simple as that. Good mechanics, wide selection of jutsu, and lots of battle customization options. You cannot go wrong with this amazing game.

…

Expand

Definitely the best game in human history. I played on an emulator and seemed to return to my early childhood, in which I rejoiced at every

Definitely the best game in human history. I played on an emulator and seemed to return to my early childhood, in which I rejoiced at every victory in the game.
This is definitely the best Naruto game ever.

…

Expand

Good story from anime, good filler-arch, cool fighthing. Many people in fighting-mode.

Had a lot of fun with this game despite plenty of issues the game is a stable entry into the PSP collection.
Graphics: 6
Gameplay:7Had a lot of fun with this game despite plenty of issues the game is a stable entry into the PSP collection.
Graphics: 6
Gameplay:7
Presentation:7
Lasting Appeal: 6

…

Expand

This is a big step within both the Ultimate Ninja Heroes and Ultimate Ninja series. 4 player battles? WOW! New game mechanics? This is

This is a big step within both the Ultimate Ninja Heroes and Ultimate Ninja series. 4 player battles? WOW! New game mechanics? This is unbelievable!!!! New story?? YES!!?! Well, the story mo... (ahem) "MASTER MODE" in this game does have it's problems. Pacing, and Filler (ie. do these unnecessary, uncanonical missions or you will never progress to the canonical missions.... wtf?). These two issues can really get under your skin but you'll get used to it, Kishimoto will get you to like it. Trust in Kishimoto and he will make your 10/10 to a "95"

…

Expand

The most beatiful PSP Naruto game, but also the worst Naruto Ultimate Ninja game ever. It's totally unbalanced, in normal levels, you get hit

The most beatiful PSP Naruto game, but also the worst Naruto Ultimate Ninja game ever. It's totally unbalanced, in normal levels, you get hit from every attacks from simple enemies, kunais and simple attacks ignores your attack, dash or ever jutsu. In battle, mid~late game, enemies have perfect time for everithing, substitution perfectly all the time, cancel your ultra jutsus or attacks with a punch or a kunai. Diferent from others games, kunai is the most strong weapon here, cancels even ultimate jutsus. Stay away from this game, do not spend any money in this, do not even download this for free, even Naruto Heroes 2 is better.

…

Expand
| | |
| --- | --- |
| 50 | |
| 17 | #17 Most Discussed PSP Game of 2010 |
| 5 | #5 Most Shared PSP Game of 2010 |