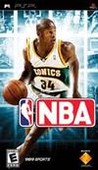 Summary:

The first, real basketball simulation ever created for handheld entertainment systems. NBA for the PSP provides gamers with all the fast-breaks, precision passing, and above the rim action that fans have come to expect from their sport. Supporting multiple players via a Wireless multiplayer

The first, real basketball simulation ever created for handheld entertainment systems. NBA for the PSP provides gamers with all the fast-breaks, precision passing, and above the rim action that fans have come to expect from their sport. Supporting multiple players via a Wireless multiplayer connectivity, NBA for PSP tests the skills of all hoopsters with a variety of gameplay options including an all-new Practice Mode, Play Off Mode and Full Season Mode complete with simulation, trades, free agent lists, injuries and challenging basketball. Additionally, NBA for PSP offers gamers a selection of mini games, including Paint Mode, where gamers compete in a color-the-court challenge, the 989 Sports Skills Challenge Mode, similar to an All-Star type competition, and the 3-point Challenge. During both single and multi-player gameplay, NBA for PSP features the 'Clutch' Shooting Mechanism, where a gamers skill and timing along their ability to pull off spin moves, jukes, pump fakes and other special moves will determine if the shot goes in or clanks off the rim. [SCEA]

…

Expand
Developer:

989 Sports

Genre(s):

Sports

,

Traditional

,

Team

,

Basketball

,

Sim

,

Sim

# of players:

2 Online

Cheats:

On GameFAQs

Rating:

E
Please enter your birth date to watch this video:
You are not allowed to view this material at this time.
I am blown away by the quality of NBA. It's not perfect, and I think going forward, there needs to be some tightening of the computer AI. But other than that and the freaky free-throwing, this is one impressive handheld Basketball game.

This isn't a game that's going to make you want to abandon your big-screen basketball games by any means, but it can be enough to temporarily satisfy a serious basketball jones.

A basic basketball engine that features a unique shooting system. It didn't work out too well, but I'll still thank the developers for trying something new.

And say what you might about "some games require you to learn complicated button schemes," the basic moves always require basic controls, and something as basic as shooting should be treated the same way.

Not even support for the handheld's online network and some decent graphics will be enough to entice anyone to overlook the poorly-implemented controls and minimal sounds in this first-generation disaster.

Official U.S. Playstation Magazine

Although its filled with flaws, this is still a very playable on-the-go b-ball game, even with the occasional bugs and an unthinkably bad free-throw system. [June 2005, p.98]

Shoddy control and rough A.I. mar the gameplay, while the lack of any sort of deeper Franchise system leaves bus-stop managers out in the cold. If it weren't for the online play, 989 should be permanently benched.
This game is super sweet!!!

I think this game is just fine. I was playing it at work and it was to much fun. the graphic are awesome. If you get it i am sure you will like it.

The lack of a franchise mode (multiple seasons) and inability to change the quarter length under season mode was disappointing. But I like

The lack of a franchise mode (multiple seasons) and inability to change the quarter length under season mode was disappointing. But I like the new shooting style, although it did take some time to get used to. However, like a lot of basketball games, the blocked shots are much to frequent and unrealistic. It is an overall good game, but I'm expecting EA to come out with a better basketball game than 989's.

…

Expand

Just rent this game. once you get somewhat good you will win every game by 20-40 points. it seems like they just slapped this game together so

Just rent this game. once you get somewhat good you will win every game by 20-40 points. it seems like they just slapped this game together so it would be ready in time for PSP release. it has one song which gets ANNOYING! they need to add more dificulty levels. this game was fun for the first week or so.

…

Expand

This game does have good graphics and it's fun to play for a few games, but then it just gets boring. No matter what difficulty, the

This game does have good graphics and it's fun to play for a few games, but then it just gets boring. No matter what difficulty, the computer is pretty easy to beat. Once you've beaten a few teams in season mode by 20+ points, you'll realize that there's no point in playing an easy game with a crappy shooting style and free-throw style, and has no franchise mode.

…

Expand

Unacceptable. No Franchise mode and we're in year 2005!? That simply won't do. And 6 game modes total, including options? That is

Unacceptable. No Franchise mode and we're in year 2005!? That simply won't do. And 6 game modes total, including options? That is pathetic! I'm not interested in playing one game, this game has no single player, and long term value at all. The gaming wasn't even that great. I pray that they make improvements.

…

Expand
| | |
| --- | --- |
| 66 | |
| 53 | #53 Most Discussed PSP Game of 2005 |
| 55 | #55 Most Shared PSP Game of 2005 |