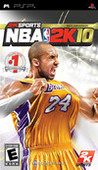 Summary:

MORE Signature Style - Originators of the critically acclaimed Signature Style feature, 2K Sports continues the tradition by adding even MORE Signature Style & tendencies providing gamers with an unbelievably realistic NBA experience. Accurate Rosters - The latest rosters transactions,

MORE Signature Style - Originators of the critically acclaimed Signature Style feature, 2K Sports continues the tradition by adding even MORE Signature Style & tendencies providing gamers with an unbelievably realistic NBA experience. Accurate Rosters - The latest rosters transactions, ratings adjustments, contract lengths, and injured reserve placements continue to make NBA 2K10 as up-to-date as possible. Deeper Association - NBA 2K's super-deep franchise mode gets deeper with the addition of a slick NBA.com interface, development drills, player ambitions, and more. Head-to-Head Online Play - Compete head-to-head via ad-hoc wireless connectivity. [2K Sports]

…

Expand
Developer:

Visual Concepts

Genre(s):

Sports

,

Traditional

,

Team

,

Basketball

,

Sim

,

Sim

Cheats:

On GameFAQs

Rating:

E
Playstation: The Official Magazine (US)

It's not crammed with features, but playing through a franchise--with drills and practice--will keep hoop fans entertained and occupied on the road. [Holiday 2009, p.83]

And yes, while 2K10 doesn't have as many options as The Inside or NBA Live, it's still a worthwhile handheld hoops title that deserves a look.

You may want basketball on the go, but this isn't the game you want for that experience.
Very impressed by the game. Easily the best basketball simulation for PSP so far. However, it seems nearly impossible to slash in to the

Very impressed by the game. Easily the best basketball simulation for PSP so far. However, it seems nearly impossible to slash in to the basket for a layup or dunk and the landing sound of the players can be irritating at times. Overall, it has good graphics and realistic game play. Certainly recommended.

…

Expand

Though I haven't played Live 10 or NBA10:The inside, I think this is a reasonable 1st outing for 2K sports on the PSP. Sure there's

Though I haven't played Live 10 or NBA10:The inside, I think this is a reasonable 1st outing for 2K sports on the PSP. Sure there's a few niggling glitches, I thought the photo of Earvin Johnson as "Magic" Johnson was hilarious. Compared to NBA live09 this was miles better in terms of gameplay. Mini-games don't interest me, so I'd prefer this over the other NBA games. This really was better than I expected as far as handheld basketball experience goes.

…

Expand

A 5 is a good rating for this game. Despite all its problems, it's playable and will keep you occupied on the go. Crappy game though. Atleast

A 5 is a good rating for this game. Despite all its problems, it's playable and will keep you occupied on the go. Crappy game though. Atleast there's different modes..

…

Expand