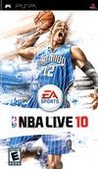 Summary:

Featuring several innovations to the core gameplay experience and online game modes, NBA LIVE 10 is bringing a renewed focus to the long-running EA SPORTS basketball franchise. The groundbreaking Dynamic DNA service, driven by Synergy Sports Technology, makes a return in NBA LIVE 10, with

Featuring several innovations to the core gameplay experience and online game modes, NBA LIVE 10 is bringing a renewed focus to the long-running EA SPORTS basketball franchise. The groundbreaking Dynamic DNA service, driven by Synergy Sports Technology, makes a return in NBA LIVE 10, with significant improvements that allow players to connect their game to the NBA season like never before. [Electronic Arts]

…

Expand
Developer:

EA Canada

Genre(s):

Sports

,

Traditional

,

Team

,

Basketball

,

Sim

,

Sim

# of players:

2

Cheats:

On GameFAQs

Rating:

E
While NBA Live may not be our absolute favorite portable hoops game this fall, it definitely holds its own as a worthwhile investment of $40. Yes, that's 10 more bucks than you'll pay for The Inside or 2K10 (something to consider, for sure), but there's plenty to keep you busy all season long.

NBA Live 10 is a title that EA Sports can use as a building block towards the future. Not everything is fine and dandy with this year's iteration, but the product presented at least is able to keep the attention of the gamer for more than 15 minutes.

With a healthy of dose of gameplay refinement NBA Live 11 could take down NBA: The Inside from Sony next season. For this year, stick with The Inside for your basketball cravings.

NBA Live 10 is not much of an improvement over Live 9. The numerous modes and multiplayer component don't make up for the flawed control scheme. Best rent this game first if you think you can't pass it up.
Definintly improved the gameplay this year. Nice FE as expected from EA, overall a stronger title then last year.

Good NBA live game and probably one of the best. 2k probably won't be as good as this one because it is just the same thing every year

Good NBA live game and probably one of the best. 2k probably won't be as good as this one because it is just the same thing every year with different rosters. The minigames in this game are fun and awesome, and the game is more realistic than the other 'lives'. I preordered this game and I am glad I did. This is the second to best game in the NBA live franchise. (08 is better for PS2)

…

Expand

I actually like this game a lot. For a handheld, it's pretty slick. It seems like turnovers are WAY too frequent, though, both stealing

I actually like this game a lot. For a handheld, it's pretty slick. It seems like turnovers are WAY too frequent, though, both stealing the ball and turning it over. Sliders can be adjusted to change the gameplay, but it's still overdone. The gameplay itself is pretty enjoyable, even though some of the controls take some getting used to. Honestly, it's a lot better of a game than I expected, and I'd recommend it to anyone looking for some hoops on the go.

…

Expand