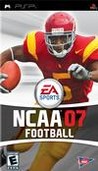 Summary:

Momentum changes everything - now college football's most celebrated videogame turns the tide with NCAA Football 07. Whether battling your biggest rival or playing for the first-ever BCS National Championship Game in Dynasty Mode, success on the field depends on your ability to maintain

Momentum changes everything - now college football's most celebrated videogame turns the tide with NCAA Football 07. Whether battling your biggest rival or playing for the first-ever BCS National Championship Game in Dynasty Mode, success on the field depends on your ability to maintain momentum. Featuring unprecedented graphics that capture every moment in complete detail—from the authenticity of the stadiums, mascots, and marching bands, to the true-to-life look and feel of the players on the field. [Electronic Arts]

…

Expand
Developer:

EA Sports

Genre(s):

Sports

,

Traditional

,

Team

,

Football

,

Sim

,

Sim

# of players:

1 Player

Cheats:

On GameFAQs

Rating:

E
Please enter your birth date to watch this video:
You are not allowed to view this material at this time.
NCAA Football 07 Gameplay Movie 11
NCAA at home or on the go? Now you can truly run the option. [Sept. 2006, p.100]

Even with the crippling "running bug" I had a much more enjoyable time playing NCAA Football 07 on the PSP. Of course my style of play favors the passing play so ground yards aren't a big deal with me. If you like to run the ball you might want to wait for the patch or just play on another system.

Two-player Wi-Fi games are fun, but there's no true online play or career mode. So while you do get all the stats and most of the gameplay, there's none of the pizzazz of the consoles. It's a compromise, but it works.

Even the PSP version is online, but there is some noticeable lag with the game, but it really doesn't kill the gameplay at all.

The unfortunate choice to leave out mini-games, the great Campus Legend mode and some extra goodies is upsetting but what we have here is a football game that doesn't disappoint when it comes to the college football scene.

Official U.S. Playstation Magazine

Load times and controls are excellent by PSP standards. [Sept 2006, p.85; Score corrected in Oct issue]

Online play via infrastructure also feels a little broken, with some frustrating lags and glitches also coming into play during a game.
I bought this game with hesitation a lot because of what I read here. Don't let a few bad opinions keep you away from a solid title.

I bought this game with hesitation a lot because of what I read here. Don't let a few bad opinions keep you away from a solid title. There are tons of teams, options, and depth here. The replays are a nice touch and the overall feel of a huge college game is captured with the momentum meter. Dynasty mode lets you do everything to return a former great to glory or bring new creedance to a long standing whipping boy. If your looking for a alternative to buying this years Madden I highly suggest you check out this game.

…

Expand

Running game sucks, online play slow. Graphics amazing. Gameplay is awesome.

The graphics are great. The load time is even better. I love the feel of college football and NCAA 07 captures that. If this is any

The graphics are great. The load time is even better. I love the feel of college football and NCAA 07 captures that. If this is any indication of what Madden 07 PSP, I wished I had a time machine to go forward in time and play the Madden 07!

…

Expand

This Game is really fun. The running game sucks unless yo run it to the outside. Also, sometimes when u pass the ball, the reciever slows

This Game is really fun. The running game sucks unless yo run it to the outside. Also, sometimes when u pass the ball, the reciever slows down and misses it. But all in all it is a great game, great graphics, freezes once in a while but its extremely fun.

…

Expand

It seems the general consensus that the running game 'bug' utterly ruins the game, but to all those who say "don't buy this

It seems the general consensus that the running game 'bug' utterly ruins the game, but to all those who say "don't buy this game" and that this renders the running game useless haven't taken the time to fully backup their claims. I've had the game since day one and I have noticed the 'bug' and have to say that it is not as bad as everyone makes it out to be (this by no means absolves EA for releasing a faulty product for which I highly doubt that they are going to do anything about it which is even more unforgivable). I've managed to use the running game equally as well as the passing and have noticed that the 'bug' only kicks in when your in the general area of the pocket. Run through the holes or to the outside, break a couple of tackles and you are marked accurately. I've seen inaccurate markings in real football so maybe it's not all that uncommon. Also note, that the bug that affects you also affects the CPU. So it is not like you are getting the short end of the stick. All said, without the 'bug' this game would be a sure 10. Graphics are excellent (especially for a handheld), atmosphere is spot on, load times are brief, gameplay is solid and the online is decent although I haven't had much time with it (EA's registration process is a major chore), but works good (depending on your or your opponents connection strength) with a little lag. The ESPN ticker is accurate and a nifty addition for realtime updates. Too bad about the omission of the mini games and Campus mode, but that doesn't take away from the solid title.

…

Expand

This game is dissapointing. frozen up 3x since i got it a week ago. the tackling is much more inconsistant than it should be, and running the

This game is dissapointing. frozen up 3x since i got it a week ago. the tackling is much more inconsistant than it should be, and running the ball/spot of ball is messed up. i wouldn't recomend this game despite having high hopes and optimism.

…

Expand

There is a huge glitch in this game when you try and run the ball. Instead of marking a player as down once he is tackled, it brings him back

There is a huge glitch in this game when you try and run the ball. Instead of marking a player as down once he is tackled, it brings him back to where first contact happened. So as soon as you're touched it's like you're tackled. To release a game with such a huge bug is unacceptable. Don't buy this game if you ever plan on trying to run the ball.

…

Expand
| | |
| --- | --- |
| 40 | |
| 42 | #42 Most Discussed PSP Game of 2006 |
| 64 | #64 Most Shared PSP Game of 2006 |