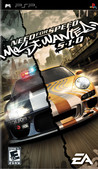 Summary:

Combining the thrill of illicit street racing and tuner customization with the intensity of strategic police pursuits that rivals any Hollywood-style chase scene, Need for Speed Most Wanted challenges players to become the most notorious and elusive street racer. Players instantly feel the

Combining the thrill of illicit street racing and tuner customization with the intensity of strategic police pursuits that rivals any Hollywood-style chase scene, Need for Speed Most Wanted challenges players to become the most notorious and elusive street racer. Players instantly feel the thrill of the ride as they hit the streets in an open world environment where drivers can tune their cars to compete against any class of vehicles or use their wits to out-fox the law to satisfy their need for speed. Need for Speed Most Wanted delivers a unique, fast-paced and gripping ride in the racing genre as players build up their Rap Sheet and street cred to move their way up the Black List to become the most wanted racer on the streets. Players go head-to-head with the top drivers on the scene as well as strategically evade more than half dozen cops at any one time. Also included are a dynamic open world, new gameplay and customization as well as tuners, supercars, muscles and sports cars. [Electronic Arts]

…

Expand
Developer:

EA Canada

Genre(s):

Driving

,

Racing

,

Simulation

,

GT / Street

,

GT / Street

,

Automobile

# of players:

2 Online

Cheats:

On GameFAQs

Rating:

E10+
Please enter your birth date to watch this video:
You are not allowed to view this material at this time.
Need for Speed Most Wanted Gameplay Movie 5
With solid and exciting gameplay, great graphics and sound, and a fully functional online mode, PSP gamers can't expect much more.

Sure the police AI can be highly questionable, the visuals are pretty blah as is the sound, but on the track, 5-1-0 is a good time on the go, and is a marked improvement from "Rivals."

A great all-round package with a definite edge over the PS2 version. And how often do we get to say that? [PSW]

A game with ridiculous physics, hard-to-master controls and a repetitious event scheme.

It controls decently, has some good tracks, and looks and sounds like you'd hope a PSP racer would. The problem is that its main selling point -- the police dynamic -- is as much a negative as it is a positive, leaving it without a real means of distinguishing itself.

Most Wanted 5-1-0 has most of what's needed to make a good PSP racing game, but it lacks the biggest one of all: excitement.

Oddly, Need for Speed: Most Wanted 5-1-0 would have been a better game if they had just left the police back at the donut shop. The combination of badly integrated cops, too few cars, and trammeled car physics keep this game off our most wanted list.
The game is just amazing. I love play this game. For me this game is amazing ! Nothing more to comment because this game is amazing ! I rate

The game is just amazing. I love play this game. For me this game is amazing ! Nothing more to comment because this game is amazing ! I rate this 10/10

…

Expand

I love how the cops chase you and I really like the girls in the cars.

Very good graphics and a renovation of the Blacklist are the main point of this game. Maybe sometimes the phyisic could be better, but who's

Very good graphics and a renovation of the Blacklist are the main point of this game. Maybe sometimes the phyisic could be better, but who's mattering if you can reach 400 km/h with a Lamborghini?
Take a shot on this game, believe me !

…

Expand

free range? most tracks look the same, online mode laks some cheaters good grafx, less modding, turner take down good, if you like need for

free range? most tracks look the same, online mode laks some cheaters good grafx, less modding, turner take down good, if you like need for speed then get it for ps2.

…

Expand

It's an OK game, but good for a PSP game. Found Burnout Legends to be better, but let's talk about this. The blacklist was just a series of

It's an OK game, but good for a PSP game. Found Burnout Legends to be better, but let's talk about this. The blacklist was just a series of random-ass races. Do a few required races and a blacklist member driving a new car challenges you. It gets more stupid when you realize you have to BUY the blacklist car then APPLY the vinyl, which was a big no-no. The car selection was what you see in a PSP game. Limited customization but fair enough. Cops are too OP as the heat level 10 can keep up with your fully tuned Gallardo. Roadblocks are SOLID. No smashing through. Physics though are really funny, as you hit traffic and your car spins on it's tail. Also, a crazy 3,2,1 BUSTED system instead of bar meter. And finally there is a new mode called TUNER TAKEDOWN and it's kinda like Hot Pursuit, with 15 stages. Except when you fail you have to do the whole damn thing again.

…

Expand

Le voy a tener que bajar de un 6 a 4 después de haberlo rejugado. El port esta bien, pero carece de muchísimas características del juego

Le voy a tener que bajar de un 6 a 4 después de haberlo rejugado. El port esta bien, pero carece de muchísimas características del juego original y añadiendo otras no lo compensa. Pero el punto mas negativo es la IA, que arruina el juego (como también ciertos glitches en la misma, ya sea policías que se chocan con todo o solo persiguen al de primer lugar, etc). Si bien las primeras carreras son un chiste, una vez que llegas a Ming el juego pega un salto tremendo en la curva de dificultad. Muchísimas carreras se hacen imposibles aun con el mejor auto! Tampoco tiene historia. Es tan solo carrera tras carrera y en el juego solo hay 10 pistas creo, por lo que se repiten una y otra Y OTRA VEZ!!! Que aburrido! Ademas de que cuando llegue a Ronnie que es el tercero de la blacklist, lo flipe... El tiene el BMW M3 GTR!!! WTF?!!! Y cuando llegue a Razor, sorpresa! Otro BMW M3 GTR! Pero con un vinilo distinto!!! Tan siquiera jugaron al juego original?!!?! Y cuando lo terminas, que esperabas, un final?! NO! Nada! NO HAY NADA POR TERMINAR EL JUEGO! Si bien tengo que reconocer que en parte me entretuvo, y tiene buena personalización de vehículos (dentro de lo que cabe para los estándares de la consola), es terrible. El NFS Carbon para PSP es mil veces mejor. Les recomiendo mejor ese. Por cierto, también le hice una reseña...

…

Expand

need for speed most wanted 5-1-0(psp): this is the worst need for speed game i have ever played with. the unrelenting cop chases sucks all

need for speed most wanted 5-1-0(psp): this is the worst need for speed game i have ever played with. the unrelenting cop chases sucks all the fun right of the game, i want to use cheats and finish the game rather than playing it. Need for speed most wanted (ps2): on the ps2 is more exicted than nfs 5-1-0. on this one is more fun than 5-1-0.

…

Expand
| | |
| --- | --- |
| 35 | |
| 13 | #13 Most Discussed PSP Game of 2005 |
| 6 | #6 Most Shared PSP Game of 2005 |