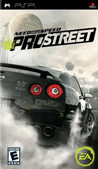 Summary:

Need for Speed ProStreet accelerates street racing culture by providing the ultimate stage for the pursuit of street racing supremacy. It is a game about building the ultimate performance-tuned battle machine, taking it to multi-disciplinary showdowns all over the world and pitting your

Need for Speed ProStreet accelerates street racing culture by providing the ultimate stage for the pursuit of street racing supremacy. It is a game about building the ultimate performance-tuned battle machine, taking it to multi-disciplinary showdowns all over the world and pitting your skills and reputation against the very best street racers. Need for Speed ProStreet boasts impeccable precision and impressively detailed photo-realistic graphics, effectively transporting you to the center of the action. It pushes the Autosculpt technology to a new level, allowing you to directly impact your car's performance for the first time as well as personalize its appearance. Need for Speed ProStreet is a true taste of raw adrenaline and racing with consequences. Every dent, every scratch and every crumpled body panel is a battle scar, proof of your commitment and competitive mettle. With an aggressive and skilled AI system, you become immersed in an unmatched believable race experience. Add in a revolutionary online mode that will redefine the meaning of competitive social play, and Need for Speed ProStreet is the ultimate formula for an emotionally charged street racing showdown. [Electronic Arts]

…

Expand
Developer:

EA Games

Genre(s):

Driving

,

Racing

,

Simulation

,

GT / Street

,

GT / Street

,

Automobile

# of players:

4 Online

Cheats:

On GameFAQs

Rating:

E
Please enter your birth date to watch this video:
You are not allowed to view this material at this time.
Need for Speed ProStreet Official Movie 4
The roar of the engines and the squeals of the tires are almost as impressive as the graphics, even without headphones. All components mesh together like a finely tuned machine.

Need for Speed ProStreet grasped a hold of me and has yet to let go. The game is engaging, competitive, and challenging. Each car is suitable for the game, and every time I unlock a new one, I feel a desperate need to test it out.

Cutting straight to the chase, instead of driving aimlessly in search of an event miles away, was good for consoles, and it's all the better here on the PSP.

Need for Speed ProStreet does very little right on the PSP. If you're in dire need of a racing game, it'll do the job, but there are many more racing titles on the system that are much, much better.

Playstation: The Official Magazine (US)

Despite these impressive visuals, ProStreet doesn't quite pull off the all-important sense-of-speed factor. [May 2008, p.83]

It's dull, it's lacklustre, and it entirely betrays the series' name by having no perceptible sense of speed.
Most underrated "Need for Speed" game. As a PSP game it still holds to it's day in terms of graphics. EA Canada did a great on car models and

Most underrated "Need for Speed" game. As a PSP game it still holds to it's day in terms of graphics. EA Canada did a great on car models and lighting effects which gives a semi realistic look on a mid-sized PSP resolution. additionally it features every soundtrack included into main Prostreet releases.

…

Expand

Its a good game. Better graphics than the previous NFS.
The in-game music is also nice. Gets you in the mood for some high speed driving.Its a good game. Better graphics than the previous NFS.
The in-game music is also nice. Gets you in the mood for some high speed driving.

I give it a 9 because i like it. Other people might take it differently. Its only natural. Look at the reviewers. One gives it a 90. The other a 50.

Bottom line: If you have played previous NFS titles on the PSP, you'll like Pro Street. If you haven't, its still worth a try.

…

Expand

Still worth a try but there are many PSP racing games better than this one: nice graphics (especially for cars) but all is throw away by the

Still worth a try but there are many PSP racing games better than this one: nice graphics (especially for cars) but all is throw away by the system of control and damges. Playing as a NFS those are serious elements.

…

Expand
| | |
| --- | --- |
| 40 | |
| 28 | #28 Most Discussed PSP Game of 2008 |
| 36 | #36 Most Shared PSP Game of 2008 |