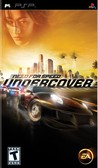 Summary:

Need for Speed Undercover has players racing through speedways, dodging cops and chasing rivals as they go deep undercover to take down an International crime syndicate. The game heralds the return of high-intensity police chases and introduces the all-new 'Heroic Driving Engine' -- a unique

Need for Speed Undercover has players racing through speedways, dodging cops and chasing rivals as they go deep undercover to take down an International crime syndicate. The game heralds the return of high-intensity police chases and introduces the all-new 'Heroic Driving Engine' -- a unique technology that generates incredible high-performance moves at 180 miles per hour during breathtaking highway battles. A mix of computer graphics and live-action movies immerses gamers in the rich world of the Tri-City Bay Area. The city's open-world environment features over 80 miles of roads, including an enormous highway system that sets the stage for highway battles. These high-speed, high-stake chase sequences push players to the limit as they fight off cops and opponents while whipping through traffic at 180 miles per hour. An intelligent new A.I. mechanic delivers a realistic and high-energy action driving experience. Going back to the franchise's roots, Need for Speed Undercover features more aggressive and intelligent cops whose sole purpose is to take down the player quickly and by any means necessary. Need for Speed Undercover also features the series' signature car customization, real-world damage and realistic driving physics. The game includes some of the hottest licensed cars such as the Audi R8, BMW M6 and Lexus IS-F. [Electronic Arts]

…

Expand
Developer:

Piranha Games

Genre(s):

Driving

,

Racing

,

Simulation

,

GT / Street

,

GT / Street

,

Automobile

Cheats:

On GameFAQs

Rating:

T
Watering down an already-diluted franchise isn't going to inspire loyal fans of the series. Weak handling, dumb opponents and basic structure combine to make a very forgettable Need For Speed installment.

There's nothing exciting or notable about Need for Speed Undercover on the PSP whatsoever. The formula is essentially that of an old list-based racer with zero substance or style, faulty controls and piss-poor AI. There's no draw here whatsoever.

The engine sounds are good and the music is even better, but due to the lack of voiceovers and ambient music, the game is filled with lots of uncomfortable dead air.

Quite possibly one of the weakest entries in the Need for Speed franchise, Undercover for the PSP is an unexciting racing game with very little to offer longtime fans of the series.

Playstation Official Magazine UK

Barge-like handing and joyless backgrounds. Pass. [Jan 2009, p.104]

There are a wealth of better options available - pick up "Burnout" or "Wipeout Pure", instead. [Issue#174, p.83]

The worst PSP version of Need for Speed to date, Need for Speed Undercover feels like a muddled attempt to revive the spirit of past glories.
Good story for racing game (especially because on PSP before only Carbon: Own the City from NFS-games have story), very like that here FINALLY

Good story for racing game (especially because on PSP before only Carbon: Own the City from NFS-games have story), very like that here FINALLY warm bright daily summer, when in past games there night or cloudy weather. Good music for me, cars also good.

…

Expand

Not much to say: terrible graphics with always the same storyline: this game does not add anything from the original exept new cars maps.

Not much to say: terrible graphics with always the same storyline: this game does not add anything from the original exept new cars maps. Better the DS version.

…

Expand

This game is SLOW. Forget the crappy visuals (Carbon looks better, LA Remix looks miles ahead), stupid AI (opponent cars crash into incoming

This game is SLOW. Forget the crappy visuals (Carbon looks better, LA Remix looks miles ahead), stupid AI (opponent cars crash into incoming traffic even while cruising at 60 km/h and with plenty space for maneuvering) and awful handling (only pinching the hand break will throw you car of course and the break decreases your turning abilities instead of, you know, increasing them). But it's biggest flaw is that it's slow. The very fist race pits you in a modified GT40 escaping some cops on a Golden Gate-like bridge. And while the speedometer goes as high as 350 km/h (yes, three hundred and fifty) you could swear your doing only about 120 km/h. There's simply no speed in this game, which is a shame for a series built on the desire for speed. Rated 3 because it still looks better than everything on the DS, even though it's crappy by PSP standards.

…

Expand

Horrible. NFS Carbon was the last playable game in this series, and you'd think that after the failure of the last NFS

Horrible. NFS Carbon was the last playable game in this series, and you'd think that after the failure of the last NFS Whatever-it-was-called-because-it-wasn't-worth-remembering that they'd seek redemption. Instead they continued down the wrong path with Undercover, a mess of a game with speeds that evoke 8-bit memories along with graphics not too far from that mark either.

…

Expand

I bought this game when it's came out and it sucks! worst control, unstability cam! and too much bugs! this is worst series! even than The

I bought this game when it's came out and it sucks! worst control, unstability cam! and too much bugs! this is worst series! even than The run! it's **** WORTHLESS! don't even take this game if it is free! donnot! you have been warned!

…

Expand

This game is pretty bad and a quick cash-in for the need for speed franchise. The live action cutscenes are porrly acted, and the gameplay

This game is pretty bad and a quick cash-in for the need for speed franchise. The live action cutscenes are porrly acted, and the gameplay bland. The environments and cars have no life to them at all and it feels like a game from 1999

…

Expand
| | |
| --- | --- |
| 44 | |
| 4 | #4 Most Discussed PSP Game of 2008 |
| 10 | #10 Most Shared PSP Game of 2008 |