Publisher:

EA Games

Release Date:

Mar 14, 2005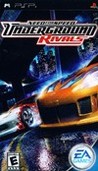 Summary:

Customize and take on the pinnacle Japanese & American tuner cars in a pursuit of total ownership of the street racing scene. A uniquely designed racing game based on the legacy of the hugely successful Underground series. All New Tracks & Environments – Compete against your rivals in 10 all

Customize and take on the pinnacle Japanese & American tuner cars in a pursuit of total ownership of the street racing scene. A uniquely designed racing game based on the legacy of the hugely successful Underground series. All New Tracks & Environments – Compete against your rivals in 10 all new & visually distinct tracks. Each one has been specially designed to maximize the experience on the handheld platform. Japanese Customs vs. American Muscle Cars – Customize and compete against a host of high performance tuner cars from Japan and America. Take on these rivals and find out who's best. Head-to-Head Rivalry – Take on friends and foes in a range of new modes specifically designed for use via Wi-Fi. It's multiplayer gaming in which you earn respect and own the competition. New Ways to Go Underground – Brand new game modes that capitalize on the cutting-edge hardware features of the PSP handheld videogame system and deliver a highly competitive game play experience. [Electronic Arts]

…

Expand
Developer:

Team Fusion

Genre(s):

Driving

,

Racing

,

Simulation

,

GT / Street

,

GT / Street

,

Automobile

# of players:

1-4

Cheats:

On GameFAQs

Rating:

E
The racing here is just flat-out fun, with growling engines, jumps and shortcuts that allow you to smash through fences. But there are thoughtful additions, including Party Play.

After all of gaming sessions with NFSU Rivals, I always found myself going back to "Ridge Racers." Rivals' controls could use a little bit of work along with how the cars look.

Features the same aesthetic and attitude as its renowned predecessors but lacks some of their soul. On the plus side, the game is a heck of a lot better suited to mobile gaming.

The unreliable framerate, quirky controls and "rigged" A.I. certainly detract from what this game could have been, but I have to admit I did have a lot of fun.

7 / 7 / 7 / 7 - 28 [Vol. 846]

The simple tracks and handling might not be all that far removed from NFSU 2, but it's still a game that seems better suited to PSP. If you're after more than the pure thrill of breakneck speed, get this over "Ridge Racer." [PSW]

It just fails to reach the bar set by the best racers on the system, not to mention it doesn't come close to enjoying the level of polish or fun present in the console iterations of Underground.
i love the customization, the overall underground feel, would be nice with storyline.

Very good game. you never get bored of it, it actualy makes you want to beet it. you cant beat that evolution baby.

Impressive graphics, great speed sensation, all the thrills of the full version on PSP!

Best game so far so fun u can play it over and over again sick game i would recomend it to anyone who likes racers.

This is probably the best game for the PSP so far. There is a great selection of hot cars including imports and American muscle cars which

This is probably the best game for the PSP so far. There is a great selection of hot cars including imports and American muscle cars which are beautifully displayed bu the game's great graphics and sound. Plenty of races and has lots of replay value. The Drift mode is the only flaw, which should have been more like the console game's version of the Drift mode.

…

Expand

A great game for street racing type games! Has lots of customization, cars (mostly tuners and a couple of muscle cars), and overall a fun game

A great game for street racing type games! Has lots of customization, cars (mostly tuners and a couple of muscle cars), and overall a fun game to have.

…

Expand

Worst game i bought for psp, i got 3, twisted metal, spiderman and this sh.t. Stupid game. its just not fun. i love the need for speed games

Worst game i bought for psp, i got 3, twisted metal, spiderman and this sh.t. Stupid game. its just not fun. i love the need for speed games on the consoles by the way.

…

Expand
| | |
| --- | --- |
| 25 | |
| 16 | #16 Most Discussed PSP Game of 2005 |
| 10 | #10 Most Shared PSP Game of 2005 |