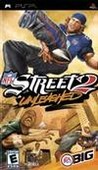 Summary:

Defy gravity and stretch the world of arcade football to the skies with NFL Street 2 Unleashed. NFL players are free from their real-world constraints to dominate the streets one stylin' move and one field at a time. Raise your game to the limits with up-the-wall passes, off-the-wall

Defy gravity and stretch the world of arcade football to the skies with NFL Street 2 Unleashed. NFL players are free from their real-world constraints to dominate the streets one stylin' move and one field at a time. Raise your game to the limits with up-the-wall passes, off-the-wall catches, and highlight-reel wall jukes that are sure to solidify your place as football's greatest urban legend. With New Exclusive Street Events, head-to-head wireless gameplay, NFL superstars and legends playing both sides of the ball, and new PSP-specific content, the time to own the streets is NOW. You won't find Street Events like Street Slalom, Style Standoff, and Style Point Challenge on any other platform. Up to four players use a single PSP unit to compete in game modes including 2 Minute Challenge, Jump Ball Challenge, and more. EA Pocket Trax is a new feature designed for PSP allows you to listen and watch music content via this built in player. [Electronic Arts]

…

Expand
Developer:

EA Tiburon

Genre(s):

Sports

,

Traditional

,

Team

,

Football

,

Arcade

,

Arcade

# of players:

1-2

Cheats:

On GameFAQs

Rating:

E
Please enter your birth date to watch this video:
You are not allowed to view this material at this time.
More or less the PS2 version of the game, and that is not bad at all. You'll have just as much fun with it too. Great single player stuff, and head-to-head multiplayer is ok.

Probably more than any other PSP launch title, Unleashed performs and plays just as well as its bigger PS2 brother. [June 2005, p.82]

It gets its praise being the most addictive arcade-style sports game on the planet.

Feature-rich and full of worthy diversions, Unleashed's major drawbacks are ergonomically taxing controls (more the fault of the hardware), a horrid soundtrack, some less-than-user-friendly considerations in the various modes, and "Legacy of Kain"-esque load times, which is to say they're really long.

One of the least altered, if not the least altered, of all the console games ported to the PSP. And that ultimately works both for and against it.

An admirable port -- a perfect example of how to properly transfer a game to Sony's handheld. With a few control tweaks to take advantage of the hardware, the sport will really shine.

While EA scored big with the original, each successive Street has felt more and more like the repetitive plays in the identical playbooks - rote exercises to be performed in the endless pursuit of bling.
Great graphics and awesome football gameplay! Soundtrack scores a touchdown as well! GOOD!

Good game and I love the graphics -- it truly looks amazing! My only gripe is getting used to the controls. Keep the sports titles coming!

Worst $44 i ever spent. im returning this preowned crap.
| | |
| --- | --- |
| 29 | |
| 62 | #62 Most Discussed PSP Game of 2005 |
| 54 | #54 Most Shared PSP Game of 2005 |