Publisher:

SCEA

Release Date:

Sep 30, 2009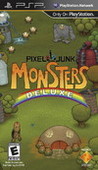 Summary:

The addictive world of PixelJunk Monsters goes on the move with the arrival of PixelJunk Monsters Deluxe. Combining the popular PlayStation 3 original strategy title with its follow-up expansion pack, Encore, PixelJunk Monsters Deluxe boasts all the gameplay of its PS3 counterpart with fresh

The addictive world of PixelJunk Monsters goes on the move with the arrival of PixelJunk Monsters Deluxe. Combining the popular PlayStation 3 original strategy title with its follow-up expansion pack, Encore, PixelJunk Monsters Deluxe boasts all the gameplay of its PS3 counterpart with fresh new content and added portability. Defend your forest brood against an onslaught of monsters by building towers which automatically fire on your enemies. Make sure your placement and strategy is sound, or your helpless children will find themselves as a quick snack for the nasty encroaching creatures. PixelJunk Monsters Deluxe features a new island with 11 stages, unique monsters and bosses, a Medal challenge mode, Medal room (with movie player, gallery and sound player) and more. [SCEE]

…

Expand
Developer:

Q-Games

Genre(s):

Strategy

,

Real-Time

,

Fantasy

,

Fantasy

,

Defense

# of players:

2 Online

Cheats:

On GameFAQs

Rating:

E
If you've already beat the previous two islands, trying to gain medals for each challenge will give you a whole other goal to obsess over, but if you've never played PixelJunk Monsters before, well, there's no better time than now!

PixelJunk Monsters: Deluxe is one game strategy fans should not overlook.

Easily the definitive version of this tower defense game.

A complete version of the PlayStation 3 game with all the expansions. Although the price is very low, you get one of the best PlayStation Network games on your PSP.

If you own a PSP and you enjoy tower defense games then buying PixelJunk Monsters Deluxe is a no brainer.

Q-Games' quirky tower defence title is as competent as it is colourful, and the heap of additional content supplied in the PSP version makes it worthy of the deluxe title. Issues with frustration and repetition aside, the quick and accessible nature of the gameplay makes it a vital addition to the PSP's catalogue.

Despite getting masochistically frustrating at times, there's a certain "je ne sais quoi" that PJM has, and Deluxe is no exception.
The best tower defense game in its ultimate form (all the islands + extras)... please bring the social network edition soon and poprt to

The best tower defense game in its ultimate form (all the islands + extras)... please bring the social network edition soon and poprt to iPad... can't wait to play more of this!

…

Expand

The best PSP game out there, period. Such great replay value, very steep learning curve, perfectly and elegantly balanced and tons of

The best PSP game out there, period. Such great replay value, very steep learning curve, perfectly and elegantly balanced and tons of unlockables and achievements just keep you busy. I've clockked over 150+ playing hours. Go buy the game on PSN to support your game developers!!!

…

Expand

A solid gameplay with variated styles of playing,a lot of level with great difficulty if you are not into Tower Defense games,with a Co-Op

A solid gameplay with variated styles of playing,a lot of level with great difficulty if you are not into Tower Defense games,with a Co-Op Mode to play with friends,and a multiplayer,you have to unlock places,levels and towers to make this a fully game experience for a very cheap price.

…

Expand

This game is so good. I have played it for more than 4 months and am trying to get all the rainbows. It is tough. The Vita is the perfect

This game is so good. I have played it for more than 4 months and am trying to get all the rainbows. It is tough. The Vita is the perfect fit for this game. I can choose to control with the right or left stick and sometimes I switch, it feels very natural to do this. Graphics are crisp and clear, sounds are okay, the game play is where it's at. If a command and conquer comes out for the Vita, I would check that out in an instant. Really recommended!

…

Expand

It is a good game but hard to make each level perfect. Its fub and addictive and i recommend it to psp fans. Ten quid isn't bad.

Hopefully this does not double post, but... This is a great tower defense game, but the online version has become an area where weirdo

Hopefully this does not double post, but... This is a great tower defense game, but the online version has become an area where weirdo pedophiles linger. I do not reccomend that anyone buy this game.

…

Expand
| | |
| --- | --- |
| 3 | |
| 17 | #17 Most Discussed PSP Game of 2009 |
| 17 | #17 Most Shared PSP Game of 2009 |