Publisher:

Capcom

Release Date:

Oct 31, 2006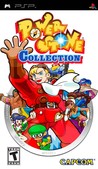 Summary:

A compilation including enhanced versions of "Power Stone" and "Power Stone 2," both originally released for the Sega Dreamcast and arcades. These fast and furious 3D brawlers put a new spin on "last man standing" as characters take each other on in frenzied match ups amidst fully

A compilation including enhanced versions of "Power Stone" and "Power Stone 2," both originally released for the Sega Dreamcast and arcades. These fast and furious 3D brawlers put a new spin on "last man standing" as characters take each other on in frenzied match ups amidst fully interactive environments. Utilizing a simple control scheme, players can execute standard moves such as punches and kicks but the deeper power struggle comes in the form of "power stones." Fighters vie to collect these gems in order to tip the scales in their favor, as nabbing three will allow them to transform into super fighters that can perform devastating power moves. In addition, a variety of zany weapons and the ability to use environments in creative ways allow an incredible level of freedom and depth beyond the typical fighting game. Multiplayer support via the PSP system's ad hoc mode raises the stakes as friends duke it out in frenzied no holds barred battles. [Capcom]

…

Expand
Developer:

Capcom

Genre(s):

Miscellaneous

,

Compilation

,

Compilation

# of players:

1-4

Cheats:

On GameFAQs

Rating:

T
The Power Stone games have always been about grossly over-the-top, exaggerated, and unashamedly indulgent bar-room style brawling. They are, to be blunt, insane, but the good kind of insane. [Issue 145, p.77]

Do your bit for this hugely underrated fighting series and pick up this reminder of why the franchise deserves a sequel. If enough people do just that, Capcom might even think about that third game after all these years.

First-rate conversion of two excellent games that, individually, lose a little of their spark on PSP, although nothing that significantly dulls the overall experience.

Yet another capable classics contraption, but it falls just short of being a must-own for the average gamer.

What once was my favourite Dreamcast game is now a PSP game that is too much of a tease to love.

So honestly if you want to play this game to the fullest grab a Dreamcast, four controllers, and a copy of "Power Stone 1 & 2" as this port isn't worth a damn unless you people to play with.

Having both games together gives some replay value but losing out on multiplayer unless you find someone else who has the game and a PSP and is within 30 feet of you can prove difficult.
| | |
| --- | --- |
| 46 | |
| 33 | #33 Most Shared PSP Game of 2006 |