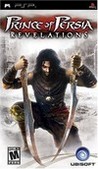 Summary:

One fate. One million ways to defy it. Hunted mercilessly by Fate's demon forces, the Prince must embark on an impossible odyssey to defy his preordained death. Only by unleashing a devastating new combat art can he awaken the warrior within him - and emerge with his life. Extend the epic

One fate. One million ways to defy it. Hunted mercilessly by Fate's demon forces, the Prince must embark on an impossible odyssey to defy his preordained death. Only by unleashing a devastating new combat art can he awaken the warrior within him - and emerge with his life. Extend the epic adventure of Prince of Persia Warrior Within with more than 20 new levels and maps.Devise vicious new combos using melee weapons, projectiles, walls, and more with the Free-Form Fighting system. Journey through non-linear environments and engage in soul-shattering boss battles. [Ubisoft]

…

Expand
Developer:

Pipeworks Software, Inc.

Genre(s):

Action Adventure

,

Fantasy

,

Fantasy

,

Linear

# of players:

1 Player

Cheats:

On GameFAQs

Rating:

M
Please enter your birth date to watch this video:
You are not allowed to view this material at this time.
Prince of Persia: Warrior Within Official Trailer 9
The gameplay is a little tricky to get used to on the PSP, but once you get adjusted, you'll find yourself getting into the game's beautiful combat quite easily.

A missed opportunity, but fun for anyone not familiar with "Warrior Within."

As standalone PSP games go, Revelations is still among the most enjoyable you can buy, but those technical issues don't do any favours for a game that may already be too confusing and challenging for total newcomers.

The same incredible acrobatic moves and puzzles are included with this little bundle of joy, as is the story line that continues from the "Prince of Persia: Sands of Time."

While the scope and impressive design of the game remains intact, there's a myriad of technical issues that rob much of the enjoyment. Everything from the visual presentation down to the core gameplay has been adversely affected in the transition from consoles to a portable system.

Official Playstation 2 Magazine UK

Abundant faults make it impossible to recommend this over the original. Save your money and get "Warrior Within" second-hand on PS2 instead. [Feb 2006, p.98]

People wanting a game to get their teeth into will certainly find it a challenge although many will also be tearing their hair out by the handful. The one question on many people's lips is why port Warrior Within, of all the games in the Prince of Persia trilogy? Why not simply begin with Sands of Time and start at the beginning.
one of the best games ever played on pc that was greatly converted on psp with no mistakes
want a good hack and slash action game this is theone of the best games ever played on pc that was greatly converted on psp with no mistakes
want a good hack and slash action game this is the one for you

…

Expand

It is a good game in the most good for the pop fans especially if u like pop2 because its practically the same, one of the best games out for

It is a good game in the most good for the pop fans especially if u like pop2 because its practically the same, one of the best games out for the psp now

…

Expand

Prince of Persia: Revelations is a third-person action-adventure puzzle game developed by Pipeworks and published by Ubisoft. Released on

Prince of Persia: Revelations is a third-person action-adventure puzzle game developed by Pipeworks and published by Ubisoft. Released on December 6, 2005 for Sony's PlayStation Portable.

…

Expand

Finally a reason to play my PSP! I haven't played it since Coded Arms came out (which I didn't play for very long because it pretty

Finally a reason to play my PSP! I haven't played it since Coded Arms came out (which I didn't play for very long because it pretty much sucked). I have not beat this game yet but it plays well and looks pretty good. They did the best job with the camera they possibly could. If you mute the voice overs in your option screen you will enjoy this game about 100% better (the Prince constantly whines "I don't have time for this" during battles which is painfully annoying). Also the soundtrack is buggy (sometimes it doesn't play at all), which isn't a bad thing because it is a little too Neu-metal. Under all the over-marketed "Poochie" attitude of the prince there is a cool POP game in there. Also, why has this game been out a week and no one has reviewed it yet?

…

Expand

This gane came so close to being great. However, there were way too many glitches. The sound cuts off every minute or two, which is the worst

This gane came so close to being great. However, there were way too many glitches. The sound cuts off every minute or two, which is the worst glitch, but not the most frustrating. My problem was that in the middle of a fight, the prince would float or the game would load. You can;t deny how fun the game is though. It's so visually impressive and is really hard to put down. IF you can ignore the glitches, you will have a great time playing this game. It is one of the most enjoyable games I have played on PSP, even with the glitches.

…

Expand

God of War would have been a better port (hopefully). Sound is busted, and there isnt a good storyline. This was my first PoP game played,

God of War would have been a better port (hopefully). Sound is busted, and there isnt a good storyline. This was my first PoP game played, odd story at the begining had me wondering around with no clue why I could turn back time. Some of the environments are too tricky for the little psp controls, spent more time trying to make difficult run-on-walls to jumps, than fighting enemies. There is some satisfaction in the fighting combos. I really wanted this game to be great, but after 6 hours, I was glad I rented it.

…

Expand

Far, far too much combat. There has never been a satisfactory combat control system in any kind of platform game and this one is no

Far, far too much combat. There has never been a satisfactory combat control system in any kind of platform game and this one is no exception. Sadly, puzzle solving takes a back seat to repetitive and tedious button mashing in this less than Princely offering.

…

Expand
| | |
| --- | --- |
| 53 | |
| 27 | #27 Most Discussed PSP Game of 2005 |
| 7 | #7 Most Shared PSP Game of 2005 |