Publisher:

Ubisoft

Release Date:

Apr 3, 2007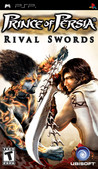 Summary:

In Prince of Persia Rival Swords, the Prince makes his way home to Babylon, bearing with him Kaileena, the enigmatic Empress of Time, and unspeakable scars from the Island of Time. But instead of the peace he longs for, he finds his kingdom ravaged by war and Kaileena the target of a brutal

In Prince of Persia Rival Swords, the Prince makes his way home to Babylon, bearing with him Kaileena, the enigmatic Empress of Time, and unspeakable scars from the Island of Time. But instead of the peace he longs for, he finds his kingdom ravaged by war and Kaileena the target of a brutal plot. When she is kidnapped, the Prince tracks her to the palace – only to see her murdered by a powerful enemy. Her death unleashes the Sands of Time, which strike the Prince and threaten to destroy everything he holds dear. Cast out on the streets, hunted as a fugitive, the Prince soon discovers that the Sands have tainted him, too. They have given rise to a deadly Dark Prince, whose spirit gradually possesses him. Versus play in timed races as either the Prince or Dark Prince. Interrupt and impede your opponent's progress by activating switches in your own level that will trigger traps and obstacles in their level. Play and master two distinct characters: Wield the powers and weapons of two master warriors with different combat styles, attitudes and histories. Choose your way to kill: Master the expanded Free-Form Fighting system to destroy enemies in your own style, strangle them from afar with the deadly Daggertail, or surprise them with crafty Speed Kills – the choice is yours. Battle freely through Babylon: Dominate enemies on perilous rooftops, dodge through chaotic streets and ambush pursuers in dark underground passageways. Brand-new chariot combat levels: Seize the reins of a chariot and battle through brand-new levels that are immediately available in the Main Menu for a quick adrenaline rush. [Ubisoft]

…

Expand
Please enter your birth date to watch this video:
You are not allowed to view this material at this time.
Prince of Persia Rival Swords Official Trailer 1
A top platformer and classy send off for the prince, even if he is hamstrung by the PSP. [Jan 2007, p.77]

If it weren't for the host of visual and audio glitches that scream "rush job," this would rank as one of the best PS2-to-PSP ports ever. [July 2007, p.83]

Offers a great slice of stylish platforming and combat for those new to the title, while adding some fresh content to keep "Two Thrones" fans happy enough to get it again from some portable Prince action. [Jan 2007, p.66]

The graphics look very good on the PSP, particularly with the enormous level layouts and smooth animations of the Prince and his dark side. However, the game has bugs, the most notable being flickering and poor looking textures. The audio has its problems as well.

Official Playstation 2 Magazine UK

At times sublime, but sadly it's the frantic and frustrating Dark Prince sections that linger longest in the memory. [Jan 2007, p.78]

The key syllable is port. Prince of Persia: Rival Swords sits alongside games like "Star Wars Battlefront 2" and "Tony Hawk's Project 8" as ambitious versions of great console games that still come up short.

The addition of a few extra areas does not make up for the massive amount of flaws, both gameplay and graphical, that turns a fun game into a chore.
Well,I just beat this wonderful game today and I think that it is and overall 10/10 for Ubisoft(as usual).

This game has : pros: - BeautifulWell,I just beat this wonderful game today and I think that it is and overall 10/10 for Ubisoft(as usual).

This game has :

pros: - Beautiful graphics, - Nice Storyline - Nice Alter Ego Transition



cons: - The sounds of voices come about 10 seconds after the character's faces move, which gets annoying. -There are very few places to save your game that i found, so you can play for a long time, but then have to stop and lose all your data. -Annoying time limit on Alter ego (sand monster)!

Overall Must have!

10/10

…

Expand

I love the prince of persia games, it is a must have for any one.

This game is beautiful and exceptionally fun. Clocking around 12-15 hours and a big improvement from POP Revelation. A 10 because it is

This game is beautiful and exceptionally fun. Clocking around 12-15 hours and a big improvement from POP Revelation. A 10 because it is essentially the same game as on Xbox with bonus content.

…

Expand

Yippie 1st comment Its like that other PoP game on the PSP but better and worth it, althrough the name is dumb because this is like PoP:TTT

Probably the most Entertaining game That i've played for my PSP and a must have game for PSP game collectors.

This review contains spoilers

, click expand to view

.

I do not have to say anything. But i need to write one hundred and fifty characters. i think my score can describe it.................................

…

Expand

I don't think this game is good at all. For one thing, the sounds of voices come about 10 seconds after the character's faces move,

I don't think this game is good at all. For one thing, the sounds of voices come about 10 seconds after the character's faces move, which gets annoying. Then, there are very few places to save your game that i found, so you can play for a long time, but then have to stop and lose all your data. And it's extremely repetetive, even with all the moves that you can do. The graphics are good, but I've seen better. This game could have been much better.

…

Expand
| | |
| --- | --- |
| 28 | |
| 26 | #26 Most Discussed PSP Game of 2007 |
| 38 | #38 Most Shared PSP Game of 2007 |