Publisher:

SCEA

Release Date:

Mar 7, 2006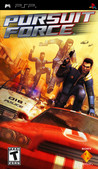 Summary:

Pursuit Force is a driving/combat game that gives you the unique ability to jump between and fight on vehicles. The game follows the adventures of a rookie Police Officer working for Pursuit Force - an elite, vehicle-based crime fighting force chasing down criminal gangs across an entire

Pursuit Force is a driving/combat game that gives you the unique ability to jump between and fight on vehicles. The game follows the adventures of a rookie Police Officer working for Pursuit Force - an elite, vehicle-based crime fighting force chasing down criminal gangs across an entire fictional US state. Engage in deadly gun battles whilst chasing the criminals at top speed. Powerslide round corners, drive the wrong way thorugh traffic and push your vehicle to the max as you ride the enemies' customised cars with bullets. [BigBig]

…

Expand
Developer:

Bigbig Studios

Genre(s):

Simulation

,

Driving

,

Car Combat

,

Car Combat

,

Vehicle

,

Combat

# of players:

No Online Multiplayer

Cheats:

On GameFAQs

Rating:

T
Please enter your birth date to watch this video:
You are not allowed to view this material at this time.
Pursuit Force Gameplay Movie 2
Even by the high standards already set, Pursuit Force is an astonishing title... The best PSP title yet.

The game looks fantastic, controls like a dream and is brilliantly paced, elements that add up to a "must buy" in my book.

It's hard not to like Pursuit Force. Even when you've started the Don the Run mission for the twentieth time you'll still be enjoying it. We fully expect an even better sequel next year. [PSM2]

Pursuit Force isn't an incredibly unique experience, but it is a lot of fun.

Despite some thrills in the early going and the novelty of encountering new gangs, Pursuit Force depends too heavily on the clock to maintain excitement, eventually becoming a casualty of its own simplicity.

More than a gimmick but less than a broad, full-featured experience, Pursuit Force might not be deep or addicting enough to become an actual pursuit, but the satisfying arcade-style gameplay and high marks across the board for audiovisuals make it a great distraction or diversion.

You should buy this game only if you like stabbing your hands with bits of glass like Batman does in Arkham Asylum. Either that, or you're fairly confident the PSP's build quality will ensure it surviving forehead-screen interface.
amazing game everything is cool the gameplay the graphics but its very hard

Really really good game, lots of variety, intense action and a very cool setting and colourful characters Hope a sequel is on the way!

This game is freakin` awesome its sounds and graphics are insane. I hope they make a second one i would be first in line to buy it.

This game contains awesome graphic, excellent concepts (jumping from car to bike to helicopter), great sound, but lacks in the game play. The

This game contains awesome graphic, excellent concepts (jumping from car to bike to helicopter), great sound, but lacks in the game play. The levels are very difficult from the beginning and I would be surprised if the average user will be able to complete the entire game. The game lacks check points with the different locations with a level. I have found that after 60 minutes of playing the game I needed a cheat to proceed any further.

…

Expand

This review contains spoilers

, click expand to view

.

I do not have to say anything more. But i need to write one hundred and fifty characters. i think my score can describe it............................

…

Expand

Actually pretty fun at times. If you're expecting a realistic police simulator (I don't know why you would)
DON'T BUY THIS And I'll tell youActually pretty fun at times. If you're expecting a realistic police simulator (I don't know why you would)
DON'T BUY THIS And I'll tell you why eventually. If you want a police game where you are part badass, maybe. In this game you play as a police that murders EVERYTHING DAMN thing HE COMES IN CONTACT WITH (not civilians and other good people). I know the idea of killing every damn thing that is BAD around you is strange mixed with the concept that this game is about REMOVING CRIME. But this game is this game, and it is pretty damn strange.

…

Expand

This review contains spoilers

, click expand to view

. Maybe, being this game one from my childhood, I might have a skewed memory of it. I recently bought it and oh boy this game is dreadful. The game is ambituous, maybe too much for the hardware it's running on: the framerate is highly inconsistent to the point it seems to play in slowmotion at times. The controls are cheesy, the game demands you to continuously avoid obstacles but sometimes is imposibble due to having to steer a bouder and framerate issues. The game is needlessly hard also, some missions are ridiculously long and if you fail you must replay the whole mission from the start: the Deadeye section is the one that made me abandon this game.

A sniper on a boat that can three-shot you dead, where as you can empty a magazine without scratcing him. You have a little timer before he can actually shoot you and the only way to stop this is by moving out of his sight. He's completely locked onto you (on a boat, while roaming through canals) and the only way is to completely steer away into the walls, losing him in the chase. Ridiculous.

…

Expand
| | |
| --- | --- |
| 42 | |
| 16 | #16 Most Discussed PSP Game of 2006 |
| 26 | #26 Most Shared PSP Game of 2006 |