Publisher:

Namco

Release Date:

Mar 22, 2005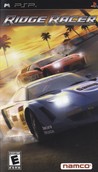 Summary:

(Also known as "Ridge Racers") Featuring the best loved race courses from arcade classic Rave Racer and the entire Ridge Racer series, 24 circuits of breakneck speed and exhilaration stand between you and racing glory. Beat the clock in Time Attack Mode or test your racing skills against up

(Also known as "Ridge Racers") Featuring the best loved race courses from arcade classic Rave Racer and the entire Ridge Racer series, 24 circuits of breakneck speed and exhilaration stand between you and racing glory. Beat the clock in Time Attack Mode or test your racing skills against up to 8 players in WiFi compatible Wireless Battle Mode. Features reworked and enhanced car design, complete with trademark Ridge Racer series drift handling. Drive in style and rise through the ranks to unlock hidden bonuses in World Tour Mode. Featuring 24 breathtaking courses, the most in any Ridge Racer game, including old favourites Seaside Route 765, Crimsonrock Pass and Greenpeak Highlands. [Namco]

…

Expand
Developer:

Namco

Genre(s):

Driving

,

Racing

,

Arcade

,

Arcade

,

Automobile

# of players:

1-8

Cheats:

On GameFAQs

Rating:

E
Please enter your birth date to watch this video:
You are not allowed to view this material at this time.
Offering silky smooth visuals with some of the most frantic gameplay we've seen to date on the diminutive, yet highly capable, machine.

Anyone doubting the power of the handheld will be left eating their words after sampling just one lap of this unbelievably accomplished first effort from Namco.

With just enough simulation style presentation to wow gamers and blending in just enough arcade style gameplay to ensure that everyone can enjoy the title, Ridge Racer is a definite pick.

Everything racing fans could want: solid graphics, tight controls, expansive courses, unlockable secret vehicles, and (of course) the multiplayer option.

One of the flagship titles for the PSP, and it shows the system off beautifully, the graphics and the gameplay combining to make this the greatest Ridge Racer title yet.

Driving the cars has a slight learning curve, mostly with figuring out how to drift through the corners; drifting is really important to this game, with the nitrous boost tied to it.

While for me not quite as addictive overall as another recent PSP racer, "Wipeout Pure," Ridge Racer is more than worth the money. If you are a fan of the series or if you just love arcade racing, you certainly cannot afford to pass this one up.
Incredible. It looks amazing.

This is what the PSP was maded for!

This is my favorite PSP game. Everything about this game is great (i.e. Sound, Graphics, gameplay, etc). Though I do wish the game had more

This is my favorite PSP game. Everything about this game is great (i.e. Sound, Graphics, gameplay, etc). Though I do wish the game had more race tracks. Playing the same tracks over and over again, even with diferent cars, gets a little old. Otherwise, I would have given this game a "10".

…

Expand

I picked up this at the same time I bought my PSP 1000, and at the first glance... this game is IMMENSE! Since the PS1 release of the first

I picked up this at the same time I bought my PSP 1000, and at the first glance... this game is IMMENSE! Since the PS1 release of the first Ridge racer, I have been a fan of the series and it is always interesting at how each newer version of the game changes radically from the last.
The main talking point at the release of the PSP / and this game was its graphics and the speed that this small portable system can put out - and rightly so... no problems at all in that court.
Being an arcade game, there are little to no instructions- race, drift around the corners to increase your boost bar, and then use the turbo to go ... faster....
Controls are fairly decent, until you drift around a corner. The most remarkable thing in the RR world is when you can drift around a left corner... whilst TURNING RIGHT! ... I dont mean like that scene in the pixar movie, "Cars"- but... you can, drift around a left corner, skidding to the right?!? - the drifting in the game unfortunately seems to be based on a "roller coaster" so little to no feeling is apparent. - until you actually realise this, the game is damn fun though! - it is a shame though, and it looses points for some race-lovers who like to race normally by using brakes and a grippy tire system (as done in the early RR series)
There are many stages in the game, or "series of races". each comprising of around 3-5 races. There is only a small number of tracks, taken from other versions (from PS1, PS2, Xbox360 etc) and they are flipped, reversed, and so on.
As soon as you complete a stage you automatically get awarded a set of cars... which seem to be almost identical to the car you were just racing. It ended up becoming a chore just watching these segments in the end (similar to a loading screen)

Verdict: On the whole, this is a very entertaining game, until you realise that you are just repeating yourself by playing the same tracks over and over. - oh and until you see the "rollercoaster" drifting system at work...
...Oh, and ... If you have a choice between this and the PS3 version... GET THE PS3 ONE!!!

Pros:
Fast
Nice graphics
A lot stages to beat!

Cons:
Lack of feeling whilst drifting
Win a car after every race, ... (yawn!)
Feels like its stretched out too thin, game pace issues

…

Expand

An impressive launch title and a fun game to boot. What else could a gamer on the go ask for?

Yes this had good graphics for a handheld but this is no classic. It brings no originality to the genre so in 5 years time this will be a

Yes this had good graphics for a handheld but this is no classic. It brings no originality to the genre so in 5 years time this will be a forgotten title. There is no thrill here that can't be bought for budget price on the home consoles.

…

Expand
| | |
| --- | --- |
| 4 | |
| 8 | #8 Most Discussed PSP Game of 2005 |
| 5 | #5 Most Shared PSP Game of 2005 |