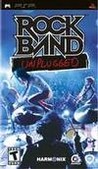 Summary:

Rock Band Unplugged creates a full band experience in the palm of your hand by combining traditional beat match gameplay with key elements from both Rock Band and Rock Band 2, such as overdrive and chords. Your hands are the "peripherals" in Rock Band Unplugged allowing you to take direct

Rock Band Unplugged creates a full band experience in the palm of your hand by combining traditional beat match gameplay with key elements from both Rock Band and Rock Band 2, such as overdrive and chords. Your hands are the "peripherals" in Rock Band Unplugged allowing you to take direct control of the lead/bass guitars, drums and vocals. In addition, players can expect a rich Rock Band experience with fully functional modes like World Tour, Band Survival and Warm Up and a robust character creator for full customization! Rock Band Unplugged features over 40 master-recordings including nine brand new, exclusive songs for the PSP system for a limited time! Plus, Rock Band Unplugged includes the first fully-featured in-game store for downloadable content on the PSP system in the North American and European markets, leveraging the PSP system's wireless capabilities. The in-game store is powered by PlayStation Network, and players can to use their existing PlayStation Network account to purchase tracks, similar to the Rock Band console experience. PSP system owners also have the option of purchasing tracks via PlayStation Store on the PC. [MTV Games]

…

Expand
Developer:

Harmonix Music Systems, Backbone Entertainment

Genre(s):

Action

,

Miscellaneous

,

Rhythm

,

Music

,

Music

Cheats:

On GameFAQs

Rating:

T
There are few better rhythm-action games on the handheld. [Issue#181, p.81]

There are few things to object to this Rock Band Unplugged. This portable version respects the gameplay of its elder brothers, but adding a new gameplay approach that we consider a hands down achievement.

Though playing individual instruments may not be quite as challenging, the overall level of difficulty can be even more trying. Thankfully, for the rhythmically-challenged and casual players, four levels of difficulty mean you will be able to gradually improve your skill set and still jam on to great tunes.

For anyone wanting a portable Rock Band, this might be a bit abstract, but it mostly ticks all the right boxes.

A lovely-looking, unique and tightly designed rhythm-action game built of equal parts FreQuency and Rock Band. The track selection's good, it's far from a lazy port, and its similarity to Harmonix games past makes playing it an unexpectedly nostalgic pleasure.

A good rhythm game that definitely exceeded my expectations. It's fun and addictive, with plenty of venues, and though I would have liked to see less repetition in the tracklist, I still found myself saying "Just one more song" repeatedly.

Rock Band Unplugged may look and sound like Rock Band but without instruments to hold and friends to join in the fun, all that's left is a solitary and miserable experience with intolerable load times that had me rushing back to my console version of Rock Band 2 to wash the bitter taste from my mouth.
Best button mashing game on psp for sure. Button layout is just the best, otherwise like on Guitar hero on xbox. Song list is great, there are

Best button mashing game on psp for sure. Button layout is just the best, otherwise like on Guitar hero on xbox. Song list is great, there are blink 182, Franz Ferdinand, System of a down, which are my favorites. Recommend it.

…

Expand

When you take something so massive and substantial as Rock Band and release it onto a handheld game, customers couldn't help but be a

When you take something so massive and substantial as Rock Band and release it onto a handheld game, customers couldn't help but be a bit skeptical of the resulting product. However, redoctane has certainly done it right with this addition. The whole Rock Band experience is there exactly as you remember it, with full customization of every one of your band members, their names, everything. You also tour around the world as you gain or lose your money/fans just like the original. But the question that still stands is: How are you going to conduct a whole band with just two hands? I don't want to say much about the game play, as it is a fresh and very rewarding experience, but it does handle it well, and you WILL feel like you're controlling the entire band. Many of the original Rock Band formula still stands and you'll find yourself easily immersed in its world just like its predecessors. With this, and the revamped game play, you'll be finding yourself playing this for hours on end.

…

Expand

A fun Rock Band spin-off for the Playstation Portable. The graphics are pretty impressive for the band, equipment and the crowd. The

A fun Rock Band spin-off for the Playstation Portable. The graphics are pretty impressive for the band, equipment and the crowd. The soundtrack is good but gets even better when you download some other classic songs from the Playstation Store for the game. The sound is great too. The gameplay is the same as Rock Band and Rock Band 2 and its fun to control all the band members at separate times. The controls are very easy to use and very responsive. I would use the first Control Style. There are other modes to play apart from Tour Mode such as Band Survival Mode and Warm Up mode to practice your skills.

I would say that the purchasing of dlc songs does take away from the game and that some of them should have been included on the disc as the list of the dlc songs is near perfect.

A fun game overall.

…

Expand

its a pretty good game. i got it with my psp and i cant stop playing it. its really fun the only thing that stops it from being a 10 is that

its a pretty good game. i got it with my psp and i cant stop playing it. its really fun the only thing that stops it from being a 10 is that you don't get the fun of playing with your friends.

…

Expand

A fair well made game if you expect a full " Rock Band " experience . For PSP users suffering for not having to many things in the device , RB

A fair well made game if you expect a full " Rock Band " experience . For PSP users suffering for not having to many things in the device , RB does a little to entertain and be good time killer .

…

Expand

Playing four instruments with regular buttons simultaneously sounds like a crazy idea but Rock Band Unplugged makes it work. Transitioning

Playing four instruments with regular buttons simultaneously sounds like a crazy idea but Rock Band Unplugged makes it work. Transitioning between instruments feels natural and as for the rest of the gameplay, its classic Rock Band. If you can't get enough of the series, then you shouldn't pass up the chance to play it on the go.

…

Expand

To be quite honest, I was expecting a low budget branch-off, money making franchise add-on. But what I got was a Moderate branch-off, with

To be quite honest, I was expecting a low budget branch-off, money making franchise add-on. But what I got was a Moderate branch-off, with some great rockband characteristics. Sure its not "Rockband" but in some ways, it stays true to the franchise with Psn song downloads, and unique game modes. I cant really compare it to the console version, but if your looking for a music-based. button-mashing game, than dont hesitate to pick this one up.

…

Expand
| | |
| --- | --- |
| 17 | |
| 16 | #16 Most Discussed PSP Game of 2009 |
| 27 | #27 Most Shared PSP Game of 2009 |