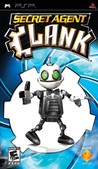 Summary:

Clank's on a mission. His best buddy, Ratchet, has been framed by a ruthless enemy and jailed for a crime he did not commit. Not only that, but Ratchet's maximum security prison is full of the universe's most dangerous criminals most of whom are lining up to personally 'welcome' Ratchet into

Clank's on a mission. His best buddy, Ratchet, has been framed by a ruthless enemy and jailed for a crime he did not commit. Not only that, but Ratchet's maximum security prison is full of the universe's most dangerous criminals most of whom are lining up to personally 'welcome' Ratchet into his new cell. Luckily for Ratchet he's got Clank on the outside, and luckily for Clank he's the kind of brainy little robot who is cool under pressure and knows a thing or two about tracking down a mysterious enemy. That's why, as Secret Agent Clank, he's hot on the trail of clues to unravel the mystery and secure Ratchet's release from jail. Unleash Clank's cutting edge array of weapons and gadgets, such as Cufflink Bombs, Tie-a-Rangs, Spy Sunglasses and the ever helpful Holo-Disguise Monocle. Launch into a variety of gameplay styles from all-out action to cunning stealth and brain-busting puzzle solving. Drive state-of-the-art super spy vehicles including speedboats, snowboards and sports cars. Play as Clank, Ratchet and even Captain Qwark to gather enough evidence to set Ratchet free and discover who framed the innocent Lombax. [SCEA]

…

Expand
Developer:

High Impact Games

Genre(s):

Action

,

Platformer

,

Platformer

,

3D

,

3D

# of players:

1 Player

Cheats:

On GameFAQs

Rating:

E10+
With tongue planted firmly in-cheek, this wacky platformer serves up some insanely original action that's definitely worth checking out.

Secret Agent Clank gives the series' tried and true gameplay a suave undercover twist and keeps the action moving with a wide variety of characters, vehicles, and objectives.

This action game doesn't reinvent the wheel, but brings an entertaining adventure to the PSP.

Secret Agent Clank is a fun diversion for fans of the franchise looking for something else to sink their teeth into.

Far and away the most humour is found with Captain Quark's levels, which almost makes me wish SCEA would green-light a game focusing purely on Captain Quark.

Considering a game featuring Clank as its main character I had my hopes high for lots of action with even more cool gadgets. We got the gadgets but the action kind of lacks: The sneaking may be fun at the beginning but with time you wished for more direct fights instead of avoiding enemies or killing them from behind (with the the same move) for the hundredth time.

A subpar entry in a normally solid franchise. Lousy story, terrible audio, and inconsistent design combine to make what is, in my opinion, the weakest game under the Ratchet and Clank banner.
I hate how this game got so many bad reveiws by the 'Critics' worthy of any ratchet and clank fan's collection so they should go out and buy

I hate how this game got so many bad reveiws by the 'Critics' worthy of any ratchet and clank fan's collection so they should go out and buy it now!!!!!!!!!!!!!!

…

Expand

This game is sweet it brings on a new way to play clank and unlike other r and c's you have to be sneaky. Plus you get a sweet sports

This game is sweet it brings on a new way to play clank and unlike other r and c's you have to be sneaky. Plus you get a sweet sports car. P.S High Impact games this is the best r and c yet I give it a 10.

…

Expand

Secret Agent Clank is not as bad as people make it out to be. Sure it relies on quicktime button mashes which can be annoying and Clank is a

Secret Agent Clank is not as bad as people make it out to be. Sure it relies on quicktime button mashes which can be annoying and Clank is a bit annoying as a protagonist but it's just a fun game for all who are interested. The Bond theme makes for some relatively fun experiences and the challenge is robust. There is no reason to avoid this game if you love Ratchet & Clank

…

Expand

Uneven but overall fun. There are far too many QTEs and the story isn't all that good, but the rest of the gameplay is fun and competently put

Uneven but overall fun. There are far too many QTEs and the story isn't all that good, but the rest of the gameplay is fun and competently put together, and of course there are lots of cool weapons to mess around with.

…

Expand

Now this version of SAC is better, but still not great. I do like how they tried to change it up from the normal way of playing and Ratchet &

Now this version of SAC is better, but still not great. I do like how they tried to change it up from the normal way of playing and Ratchet & Clank game, while still having some of it in it, but it's still overall an ok experience. This one is better than the PS2 version, because it feels like it was meant for the PSP only.

…

Expand

Secret Agent Clank does enough things differently to hold your attention. A slew of minigames, Gadgebot Challenges, Ratchet Arenas and Quark

Secret Agent Clank does enough things differently to hold your attention. A slew of minigames, Gadgebot Challenges, Ratchet Arenas and Quark side missions break up the core game, which sees Clank work to get to the bottom of a plot which has landed Ratchet in prison for a crime he didn't commit. Clanks gameplay has had an overhaul since he was last played. He has his own gadgets and weapons, and utilizes a stealth mechanic to infiltrate areas without alerting the patrols inside. The game itself is relatively short, and most of the challenges are repetitive (and thankfully mostly optional, even though they make up the bulk of the games longevity), but Secret Agent Clank is still good for a romp, and is a fun little semi-canon foray into the world of Clank. Final Score: 6.4/10

…

Expand

Worst game I have ever played. Period! It gets ridiculously repetitive and the only fun parts, the Clank parts, are few and far between. The

Worst game I have ever played. Period! It gets ridiculously repetitive and the only fun parts, the Clank parts, are few and far between. The stupid difficulty of the final boss just made me throw this away. This game is the perfect example to show why Insomniac should only be allowed to make R&C games

…

Expand
| | |
| --- | --- |
| 22 | |
| 5 | #5 Most Discussed PSP Game of 2008 |
| 32 | #32 Most Shared PSP Game of 2008 |