Publisher:

Atlus

Release Date:

Jul 5, 2010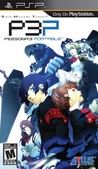 Summary:
Terrible creatures lurk in the dark, preying on those who wander into the hidden hour between one day and the next. As a member of a secret school club, you must wield your inner power--Persona--and protect humanity from impending doom. Will you live to see the light of day? Maximum Persona 3--The RPG that captured critics and fans alike achieves a new level of excellence. Built upon an enhanced version of the game, players will find numerous significant improvements, including the addition of Skill Cards, part-time jobs, a total of five difficulty settings (ranging from the newcomer-friendly "beginner" to the ultra-hardcore "maniac"), and most importantly, the ability to directly control your teammates in battle. Gain a whole new perspective--The choice of your protagonist's sex at the start of the game has a dramatic impact on the game's intricate social dynamics. Persona 3 veterans will get a kick out of playing through the story from a new female perspective, gaining new Social Links, special events, and unique romantic opportunities. Slick system enhancements--Improved playability permeates every aspect of the gameplay experience. One-button menu shortcuts, streamlined team equipment changes, incredibly short load times, and other tweaks and enhancements create an ideal pace for portable gaming. [Atlus USA]
| | |
| --- | --- |
| Rating: | M |
| Official Site: | http://www.atlus.com/p3p |
| Developer: | Atlus |
| Genre(s): | Role-Playing, Console-style RPG, Console-style RPG, Japanese-Style |
| ESRB Descriptors: | Blood Language Partial Nudity Sexual Themes Violence |
| Number of Online Players: | No Online Multiplayer |
Designer/Producer/Programmer credits provided by
GameFAQs
.
If you contributed to this game and feel you should be credited, please read our
FAQ
.
| | |
| --- | --- |
| 1 | |
| 2 | #2 Most Discussed PSP Game of 2010 |