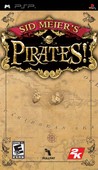 Summary:

In Sid Meier's Pirates!, a strategy/adventure game, players take the role of a Pirate Captain in the 17th century Caribbean – amassing fortune and fame in an attempt to seize a rightful place as one of the most revered and feared pirates in history. Players test their skills as a sea captain

In Sid Meier's Pirates!, a strategy/adventure game, players take the role of a Pirate Captain in the 17th century Caribbean – amassing fortune and fame in an attempt to seize a rightful place as one of the most revered and feared pirates in history. Players test their skills as a sea captain exploring the high seas and dueling in land and sea battles in a richly detailed 3D world. Additional features for the PSP system include wireless Ad-Hoc multiplayer for up to four players, widescreen graphics, new treasure hunts and more. [2K Games]

…

Expand
Developer:

Full Fat

Genre(s):

Strategy

,

Real-Time

,

General

,

Historic

# of players:

1-4

Cheats:

On GameFAQs

Rating:

E10+
Please enter your birth date to watch this video:
You are not allowed to view this material at this time.
Sid Meier's Pirates! Gameplay Movie 9
If you have never played the game, then absolutely, Pirates is a must have for your PSP.

It's a port of a damn fine game - losing very little in translation and lending itself perfectly to a handheld frame of mind. Additionally, it retails for quite a bit less than your typical PSP release.

The combination of varied mini-games, relatively short and highly replayable campaigns, a save anywhere feature and an addictive 4-player ship battling mode make it a near-perfect fit for the system.

Play takes a fair amount of dedication, but thanks to well balanced difficulty levels (and a higher share of the plunder being given to you to tempt you to try them) makes the game feel welcoming and deep, and it feels like the complete antithesis of many PSP games.

The complexity of the game may not be quite where it needs to be but all in all this is a solid title that will transport you to world full of adventure.

Sid Meier's Pirates is a shining example of how a game can be ported and made enjoyable for the PSP.

A charming, refreshing change of pace for all PSP owners.
Brilliant game flowed really well on psp.

Bought this game and popped it in, intending to play for an hour or so, and ended up putting it down when my PSP's battery died several

Bought this game and popped it in, intending to play for an hour or so, and ended up putting it down when my PSP's battery died several hours later. This is a very catchy game - easy to pick up, hard to put down.

…

Expand

Excellent title. Loading times are short, game play is tight, game is easy to navigate, and it has even more to do than in the previous

Excellent title. Loading times are short, game play is tight, game is easy to navigate, and it has even more to do than in the previous versions. Totally worth picking up.

…

Expand

Pure genius, Pirates! Ranks next to GTA as one fo the must-own PSP games ou there. The PC version's play is essentially intact in what I

Pure genius, Pirates! Ranks next to GTA as one fo the must-own PSP games ou there. The PC version's play is essentially intact in what I would describe as a deceptively simple game of pirate-building that can become insanely addictive, especially in this portable format.

…

Expand

It's even better, than it's larger predecessors, because now you can take your swashbuckling, sacking, fencing and general pirating

It's even better, than it's larger predecessors, because now you can take your swashbuckling, sacking, fencing and general pirating with you, wherever you go. And the gameplay formula works surprisingly well as a handheld game foundation too.

…

Expand

My favorite PC game about pirates. Of course, I've tried it on PSP too.
So, game is really cool and catchy but IMHO it's very short.
Btw,My favorite PC game about pirates. Of course, I've tried it on PSP too.
So, game is really cool and catchy but IMHO it's very short.
Btw, PSP-Port is good to play too.

…

Expand

This game seems to be nothing more than a half completed version of uncharted waters or uncharted waters 2 with modern graphics. It offers no

This game seems to be nothing more than a half completed version of uncharted waters or uncharted waters 2 with modern graphics. It offers no real addition to gameplay. Overall it has less ships only a portion of the map and almost no true depth in the plot. The only thing that this game has that Uncharted Waters did not is the different types of ammo, and that realy has very little impact on its overall makeup. I give this game a 3 because it is a pad remake of a much better game.

…

Expand
| | |
| --- | --- |
| 9 | |
| 15 | #15 Most Discussed PSP Game of 2007 |
| 13 | #13 Most Shared PSP Game of 2007 |