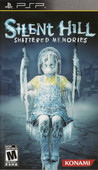 Summary:

While the game shares its twisting plot with the original PlayStation game, Silent Hill: Shattered Memories takes a different path in many, many ways. Characters can be approached but offer different responses and be found in different places, while new clues and gameplay paths can be

While the game shares its twisting plot with the original PlayStation game, Silent Hill: Shattered Memories takes a different path in many, many ways. Characters can be approached but offer different responses and be found in different places, while new clues and gameplay paths can be followed. The title follows Harry Mason, as he attempts to unravel the mystery of his missing daughter, Cheryl. A broken man, Mason's investigations lead him to the mist-shrouded, snowy streets of Silent Hill: a malevolent town where the shadows play host to a wealth of evil, misshapen creatures. Also new to Shattered Memories is a psyche profile element, which monitors every aspect of player's reactions - from where they explore first, items that have been examined, and their reaction to those they meet. Small visual elements will also be altered slightly, adding to the oppressing atmosphere where nothing is what it seems. The psyche profile will adapt Harry's actions as and when he meets normal-looking people or the game's many inhuman denizens. [Konami]

…

Expand
Developer:

Climax Group, Climax Studios

Genre(s):

Action Adventure

,

Horror

,

Horror

,

Survival

# of players:

No Online Multiplayer

Cheats:

On GameFAQs

Rating:

M
It's an unorthodox approach to Silent Hill, but Shattered Memories is certainly intriguing. Just be prepared for a more methodically paced, cerebral experience.

Some fans may be disappointed with the lack of weapons at first, but the developers have managed to create an excellent alternative. The loneliness and the nightmares create a sensation of fright, increased by the game toying with you psychologically. It does so by using information you give it, whether consciously or not. Combining that with a strong storyline, wonderful graphics and entertaining puzzles, makes this game come highly recommended for every horror-survival fan looking for a change.

This isn't going to do much for you if you're not already a fan of horror games, but longtime Silent Hill fans should really appreciate this particular release.

Silent Hill Shattered Memories will probably feel like a shallow version of the series to veteran players. But as a standalone title it represents a niche that is intelligent, thoughtful and meaningful.

New chapter to the horror series returns to its roots and brings a slight change in visual style. Next time we ask for less ice and more rot and fear please. [Feb 2010]

If you're interested in a solid, nerve-shredding jaunt through familiar territory with a few curve-balls thrown in to make the experience somewhat novel, however, Silent Hill: Shattered Memories delivers all the chills and uneasiness the series is renown for.

Silent Hill: Shattered Memories is frankly, one of the better PSP games I've played. It's certainly not the best on the system, but it's certainly pretty and the sound design is through the roof with proper headphones.
Best Silent Hill game I played. I wonder how they managed to port it to psp, because it looks sooooooo good. These casting shadows are

Best Silent Hill game I played. I wonder how they managed to port it to psp, because it looks sooooooo good. These casting shadows are magnificent. I like the fact that you don't have to use guns just running away from freaks.

…

Expand

Best Silent Hill game for me, fantastic story, fantastic atmosphere, its just brilliant! SOmetimes I wish it would somehow be transferred to a movie..

Эта самая лучшая игра на PSP!!! Лучшая часть Silent Hill. Потрясающий сюжет. Афигеная концовка! Много крутых и интересных локаций.

Эта самая лучшая игра на PSP!!! Лучшая часть Silent Hill. Потрясающий сюжет. Афигеная концовка! Много крутых и интересных локаций. Запоминающиеся герои. Потрясающая музыка! Много деталей. Пугающая атмосфера. Это самый, лучший, психологический хоррор, из всех на свете!

…

Expand

I am not a fan of Silent Hill game series, but i like this one. Nice gameplay features and really intriguing plot.
Also, this game willI am not a fan of Silent Hill game series, but i like this one. Nice gameplay features and really intriguing plot.
Also, this game will evaluate you psychologically, and use this information against you. My advice - play it yourself (desirable in headphones) and enjoy!

…

Expand

This game has good ending. I can be sure about that is the greatest silent hill game.

Silent Hill Shattered Memories is a pretty well done reimagining, I really loved this one specifically because of the story, the gameplay, the

Silent Hill Shattered Memories is a pretty well done reimagining, I really loved this one specifically because of the story, the gameplay, the controls, I really didn't have problems with it, and that is a very good thing! Love this game, and wish Silent Hill games can be more like this.

…

Expand

The most creepy Silent Hill game for sure, the point of running from the monsters and do not have weapons make it a great horror game. The

The most creepy Silent Hill game for sure, the point of running from the monsters and do not have weapons make it a great horror game. The phone was great and the graphics aren't bad. Not a 9 because this game puzzles were just too hard for my mind.

…

Expand
| | |
| --- | --- |
| 25 | |
| 8 | #8 Most Discussed PSP Game of 2010 |
| 21 | #21 Most Shared PSP Game of 2010 |