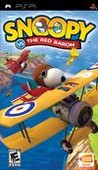 Summary:

Play as WWI Flying Ace Snoopy in an adventure that includes cameo appearance from 12 characters such as Charlie Brown, Woodstock, Linus, Lucy, Marcie and Sally. Barnstorm your way across six vividly rendered worlds and collect clues to reveal the whereabouts of the Red Baron's top secret

Play as WWI Flying Ace Snoopy in an adventure that includes cameo appearance from 12 characters such as Charlie Brown, Woodstock, Linus, Lucy, Marcie and Sally. Barnstorm your way across six vividly rendered worlds and collect clues to reveal the whereabouts of the Red Baron's top secret hideout. Pilot Snoopy's famous Sopwith Camel and other unique aircraft in perilous sky-high dogfights, no-holds-barred air races and heart-pounding missions behind enemy lines. Upgrade your craft with a comical collection of 25 weapons and gadgets, including the lightning fast, player-guided Woodstock missile, the Bee-Shooter and the Potato Cannon. Fight your way through 50+ single-player and co-op missions in a heroic attempt to foil the plans of the Red Baron. Play in any of five modes: Single-player, Cooperative, Team Multiplayer, Versus Multiplayer and Battle. [Namco]

…

Expand
Developer:

Smart Bomb Interactive

Genre(s):

Action Adventure

,

Fantasy

,

General

,

Fantasy

# of players:

1-6

Cheats:

On GameFAQs

Rating:

E10+
The controls work – and with my experience on the PSP that's saying a lot! The UI is simple and clean. And it's fun. What more can you ask for?

One of those rare games that was certainly designed to appeal to younger games, but can capture the attention of anyone. It has solid gameplay, a good presentation and a nice ranking system that makes you want to replay levels.

With all the exciting flight-action-combat of Crimson Skies combined with the endearing charm of Snoopy and the rest of the Peanuts gang, this is one game you don't want to miss. It's great on the PS2 and even better on the PSP.

Surprisingly entertaining. [Jan 2007, p.88]

Official U.S. Playstation Magazine

The game is much too hard for a younger player to get through, but still doesn't offer the challenge required for an older gamer to enjoy the entire experience. [Jan. 2007, p.89]

Don't let the license fool you. Snoopy's game is loaded with intense air combat that players of any age can appreciate.

It would make a great game for a younger gamer in your life. The simple gameplay and relatively low difficulty serve as a great introduction to the genre.
Excellent gameplay, long enough to make it challenging. A good mix of nice, easy levels and those levels that may take you a few tries to get

Excellent gameplay, long enough to make it challenging. A good mix of nice, easy levels and those levels that may take you a few tries to get it right! Perfect all around! Very easy to pick up and play, harder to master, just the way it should be! Very addicting, too, just a warning! Don't miss this title! One of thee best flying/dogfight games I've ever played!

…

Expand

Good but not great. The bombing missions and dogfighting are fairly routine for a flight sim game, but the Peanuts characters and setting

Good but not great. The bombing missions and dogfighting are fairly routine for a flight sim game, but the Peanuts characters and setting help put a smile on your face while playing it.

…

Expand
| | |
| --- | --- |
| 37 | |
| 83 | #83 Most Discussed PSP Game of 2006 |
| 81 | #81 Most Shared PSP Game of 2006 |