Publisher:

SCEA

Release Date:

Feb 16, 2010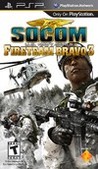 Summary:

Lead a fireteam of friends on an action-packed military hunt for weapons of mass destruction and an ex-KGB agent in SOCOM U.S. Navy SEALs: Fireteam Bravo 3. SOCOM: Fireteam Bravo 3 lets you join forces with like-minded players to tackle an adventure of realistic military action, tactics and

Lead a fireteam of friends on an action-packed military hunt for weapons of mass destruction and an ex-KGB agent in SOCOM U.S. Navy SEALs: Fireteam Bravo 3. SOCOM: Fireteam Bravo 3 lets you join forces with like-minded players to tackle an adventure of realistic military action, tactics and teamwork wherever and whenever you want. Created with the support of the U.S. Naval Special Warfare Command, the SOCOM series is renowned for its real-world situations and attention to detail. Join the ominous world of ex-secret operatives as you lead a special operation to track and interrogate former KGB agent, Alexander Gozorov who is believed to be withholding information on a forthcoming attack with weapons of mass destruction. It's up to you and your squad to track Gozorov in a series of customisable missions, using your skills, stealth and swift thinking. While the SOCOM name has long been synonymous with multiplayer tactical gaming, SOCOM U.S. Navy SEALs: Fireteam Bravo 3 takes it a step further allowing players to choose which mission to attempt and tackle with teamwork and firepower. Players can also compete online, communicate via voice chat, battling for Medals and a place on SOCOM's online leaderboards. With an extensive and realistic single-player mode as well, the action in SOCOM U.S. Navy Seals: Fireteam Bravo 3 never ends. [SCEA]

…

Expand
Developer:

Slant Six

Genre(s):

Action

,

Shooter

,

Shooter

,

Third-Person

,

Tactical

,

Modern

,

Modern

Cheats:

On GameFAQs

Rating:

T
Fireteam Bravo 3 is definitely not a flawless portable experience, however that doesn't mean that it's not a ton of fun to let your team breach and clear rooms full of terrorists.

This is hands down the best Socom to date, despite not being revolutionary, but it does improve the Fireteam Bravo series. It is a must boy for every series fan with friends nearby and ready for action.

Playstation: The Official Magazine (US)

Equity is also earned via a cool custom-mission creator. [Apr 2010, p.78]

Few titles on the PSP can match its online content. [Apr 2010, p.96]

It's humourless, but functional and quite fun. [Issue#190, p.76]

SOCOM Fireteam Bravo 3 has surprisingly managed to keep alive the essence of this franchise.

A bland and un-engaging tactical shooter with the typical PSP-problem: lousy controls. Gray and boring environments in a fictional ex-soviet state, evil terrorists with weapons of mass destruction and, yes, we have heard it all before.
Easily one of the best PSP shooters out there. With a solid singleplayer mode and unrivaled online play, FTB3 might not be as great as it's

Easily one of the best PSP shooters out there. With a solid singleplayer mode and unrivaled online play, FTB3 might not be as great as it's first 2 outings, but it still offers a great TPS experience for the system.

…

Expand

Fun, with a modicum of re-playability. The campaign isn't anything like long, and though I was a bit disappointed when I finished the game, I

Fun, with a modicum of re-playability. The campaign isn't anything like long, and though I was a bit disappointed when I finished the game, I shrugged my shoulders, and continued to play through every level until Admiral, and the final battle exhausted my interest. The game looks a hell of a lot better than it used to, and team you are given aren't as stupid as in previous games.

…

Expand

It's a good "Call Of Duty" style 3rd person shooter for the PSP and PSV. However, even on the hardest difficulty, the game can be too

It's a good "Call Of Duty" style 3rd person shooter for the PSP and PSV. However, even on the hardest difficulty, the game can be too easy...unless you make your own rules to add some challenge. The way I play single player story mode, is I make it a mandatory goal to complete my missions with 0 seal revivals. This way, I cant just send my team to kill everyone for me; I actually have to make the best use of them without getting them gunned down. Custom missions sound like an added bonus, but contrary to what one might think, the replay value here is almost non existent. Multiplayer was the main appeal of this game, but unfortunately the servers have been taken down since September 2012. A lot of folks claim that the campaign mode was too short, but with the challenging way I was playing it, it took me about 6 to 7 hours to finish on average.

…

Expand

When I bought this game i really had somewhat high expectations, and I was a little disapointed after playing through. The campaign isnt great

When I bought this game i really had somewhat high expectations, and I was a little disapointed after playing through. The campaign isnt great and the online isnt either. Graphicaly this game looks good but the gameplay is painfully slow even on the online mode. The PSP socom series has never really had a good campaign mode, but online has been great, until FTB3. Its not to bad, but its slow and there are only 8 maps to play on. After hours of playing online on Socom FTB1, SocomFTB3 really felt like a step backwards for Socom online multiplayer. All in all Socom FTB3 is decent, but if you are looking for that great socom feel, you will probably be disapointed.

…

Expand
| | |
| --- | --- |
| 22 | |
| 23 | #23 Most Discussed PSP Game of 2010 |