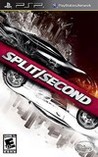 Summary:

Split/Second, an intense action racing game set within the world of a hyper-competitive reality television show. Competitors vie to be the first across the finish line in a made-for-TV city built for destruction, with the ultimate goal of becoming the season champion.
Developer:

Black Rock Studio

Genre(s):

Driving

,

Racing

,

General

,

General

,

Arcade

,

Automobile

Cheats:

On GameFAQs

Rating:

E10+
Please enter your birth date to watch this video:
You are not allowed to view this material at this time.
Split/Second: Survival at the Rock Pack Official Trailer
A good arcade racing game which every console needs that arrives in a great moment, as there hasn't been a decent arcade racing game on the PSP in years.

It does a good job, but you're always aware of its unfulfilled potential. [Issue#200, p.98]

Playstation Official Magazine UK

Feb 16, 2011

It's an endearingly anarchic twist on arcade racing. [Jan 2011, p.119]

The essence of the console version, but it doesn't carry over the explosive enjoyment.

PSM3 Magazine UK

Jan 31, 2011

Stripped of the mass destruction, Split/Second: Velocity is just a mediocre arcade racer. [Feb 2011, p.100]

LEVEL (Czech Republic)

Jan 15, 2011

The spirit of game has somehow vanished during the process of conversion from the original console. Crucial problems are PSP controls which can't compare to the comfort of joypad. [Issue#199]

While the game does a solid job of recreating the console tracks and maintaining a steady frame rate, the scaled-down visuals don't always depict how your competitors are wrecked, which sucks away a lot of the appeal of the experience.
All the main reviews for this seem to complain about the controls, and the fact that it just feels unimpressive on the small screen. I

All the main reviews for this seem to complain about the controls, and the fact that it just feels unimpressive on the small screen. I disagree. I don't own a full blown console so can't compare it to the PS3 version, but for a full on arcade racer on the PSP, it plays brilliantly. I think the controls are very good (better when played from the bumper cam mode as opposed to the outside cameras) and the excitement you feel at times when buildings are collapsing around you, and jumbo jets are crashing towards you. It really is brilliant. Plenty of variety in the tracks, lots of unlockables and loads of play time make this one of the best racers on the handheld. Highly recommended.

…

Expand

Such a low score. Not fair. Deserves better. In my opinion it is a 10, no doubt. Graphicaly the game impresses. Loooong draw distances,

Such a low score. Not fair. Deserves better. In my opinion it is a 10, no doubt. Graphicaly the game impresses. Loooong draw distances, fantastic explosions, 8 rivals and solid 30fps.

…

Expand

I have fun with this game and it is first racing arcade on PSP i like! PSP version bring every aspect of a ps3 version in your pocket!

I have fun with this game and it is first racing arcade on PSP i like! PSP version bring every aspect of a ps3 version in your pocket! Destructions are great and graphics are enough!

…

Expand

An great arcade racing game for the psp.Interesting gameplay but it's easy to get used to.One of the great psp games.

I've had fun with this version. It kind of ashamed me that this version of the game wasn't really as exciting as the bigger versions were,

I've had fun with this version. It kind of ashamed me that this version of the game wasn't really as exciting as the bigger versions were, since there's no camera shakes, no slow motion effects, and basically not a single worthwhile special camera effect of any kind, but it was worth my time.

…

Expand
| | |
| --- | --- |
| 45 | |
| 18 | #18 Most Discussed PSP Game of 2010 |