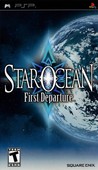 Summary:

Space Date 346: The crew of a Terran Federation ship arrives on the planet Roak. With the help of a stalwart band of local heroes, the crew must work together to unravel a mystery and halt a galactic war.
Developer:

TOSE

Genre(s):

Role-Playing

,

Console-style RPG

,

Action RPG

,

Console-style RPG

,

Japanese-Style

# of players:

No Online Multiplayer

Cheats:

On GameFAQs

Rating:

T
All together, Star Ocean: The First Departure is a great remake of a title that we've never had released here, and it's a welcome addition to anyone's PSP RPG library.

In the end, Star Ocean: First Departure is a wonderful translation of a game Americans were robbed of so long ago. With superb voice acting, phenomenal replayability, and a great translation with new hybrid 2D/3D graphics, Square Enix's remake team did a great job.

Finally we see the critically acclaimed Square Enix's saga Star Ocean on PSP. Tri-ace succesfully recovers one of the best RPG's ever in an interstellar adventure where our main task is finding a cure to avoid Earth's destruction. The creators of Valkyrie Profile show us how a remake is meant to be done.

Star Ocean: The First Departure is a great take on a first Star Ocean entry to the series.

Playstation: The Official Magazine (US)

Even so, First Departure has transitioned so smoothly to the PSP that it's definitely worth playing if you're curious about Star Ocean's origins or if you're itching for a charming and portable classic RPG. [Nov 2008, p.80]

Star Ocean: First Departure is a solid game that has made me want to check out the other installments in the series, but the battle system kept me from really falling in love with it.

But when there are so many better, more interesting RPGs on the PSP, why bother with one that simply drains your system's battery life?
I wasn't expecting much out of this game when I put my reserve on it at GameStop. A two weeks after picking it up, I'm starting to

I wasn't expecting much out of this game when I put my reserve on it at GameStop. A two weeks after picking it up, I'm starting to play it and I am surprised at how much I like it. The gameplay is that of an old classic PS1 RPG, but it adds some nice features like voices for the characters, so you don't have to read everything. The story is very interesting although it is very linear. I can't wait until the next Star Ocean title for the PSP coming out in January, and the Star Ocean that's coming out for Xbox 360 in March!

…

Expand

I've been a big fan of Star Ocean since I played SO2 on PSX, and I've been waiting for this remake for years...and it didn't

I've been a big fan of Star Ocean since I played SO2 on PSX, and I've been waiting for this remake for years...and it didn't dissapoint me at all! This game is for me the best RPG on PSP released to date...I finished it in 3 days, cuz I couldn't stop playing it everywhere. The story is great and fun, the characters are charismatic and completely different from each other, the battles are quick, easy and entertaining, you can change some parts of the story according to your actions and choices, and the classic graphics are not bad at all! Definetely the best!

…

Expand

Very good game, a lot was put into this game that wasn't in the original, and makes the game feel polished. Surprisingly good voice

Very good game, a lot was put into this game that wasn't in the original, and makes the game feel polished. Surprisingly good voice acting, and anime style cut scenes really help the story telling along. In my opinion the best RPG on the PSP right now.

…

Expand

Absolutely spectacular. I had never played the original game, so this was entirely new to me and I loved every bit of it. The voice work was

Absolutely spectacular. I had never played the original game, so this was entirely new to me and I loved every bit of it. The voice work was above standard, the story was great, and the music was memorable. I wholeheartedly recommend this to PSP owners looking for a good RPG. The Production IG anime cutscenes really add a nice touch to the whole experience too.

…

Expand

A well done remake of the first Star Ocean game. The battle system is great and it makes the game play fun. The story is pretty good and this

A well done remake of the first Star Ocean game. The battle system is great and it makes the game play fun. The story is pretty good and this game even has a multitude of optional characters making it fun to play several times. The only down side of the many optional characters is that it's hard to become emotionally attached to some of the characters. Overall Star Ocean: First Departure is a very enjoyable game.

…

Expand

The battle system and relatively large cast of characters make this game great or replays. I would rate this game higher if the bonus dungeon

The battle system and relatively large cast of characters make this game great or replays. I would rate this game higher if the bonus dungeon were longer and if it had more difficulty levels like other Star Ocean games. The GameDaily reviewer that gives this game a 60 because "turn-based battles are simplistic, repetitive, and random" didn't even bother playing the game. If he played just one battle, he would know that this is an action RPG with a fully active battle system and nowhere near a turn-based RPG.

…

Expand

the games game play is dated with no new refinements unlike its squeal its dated story and simple game play hasn't aged all that well. i would

the games game play is dated with no new refinements unlike its squeal its dated story and simple game play hasn't aged all that well. i would recommend getting its squeal at it is just this game but better .

…

Expand
| | |
| --- | --- |
| 18 | |
| 7 | #7 Most Discussed PSP Game of 2008 |
| 14 | #14 Most Shared PSP Game of 2008 |