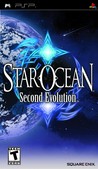 Summary:

Following the exploits of humankind's journey across the stars, the STAR OCEAN saga comes to life in the completely remastered STAR OCEAN: Second Evolution, exclusively for the PSP system. Now with a revised game engine, an improved battle system and fully voiced, all-new animated scenes

Following the exploits of humankind's journey across the stars, the STAR OCEAN saga comes to life in the completely remastered STAR OCEAN: Second Evolution, exclusively for the PSP system. Now with a revised game engine, an improved battle system and fully voiced, all-new animated scenes displayed in 16:9 widescreen, players can experience their journey through the rich STAR OCEAN universe like never before. [Square Enix]

…

Expand
Developer:

TOSE

Genre(s):

Role-Playing

,

Console-style RPG

,

Action RPG

,

Console-style RPG

,

Japanese-Style

# of players:

1 Player

Cheats:

On GameFAQs

Rating:

T
Square Enix has done an admirable job of updating classic titles from its library and Second Evolution is just the latest example of their commitment to its loyal fanbase. [Feb 2009, p.70]

With a story that's worth replaying, a cast of characters that are both fun and unique, and a skill/battle system that just begs to be used and abused, it's easy to see why the original PS1 version is still heralded to this day.

Star Ocean: Second Evolution is clearly a better game than First Departure, despite suffering from some of the same issues.

It's painfully slow for a PSP title at points, but it's as old-school an RPG as you could wish for. The pseudo real-time combat makes things a little more interesting than your usual random battles, though.

Second Evolution is an engaging action role-playing game that's just as enjoyable as its PlayStation forebear.

Second Evolution feels like an anonymous and formalic RPG most of the time, but extraordinary moments occasionally rise to the surface. [Feb 2009, p.87]

Plenty of old-school classics have held up far better, and while there's still fun to be had, the rest of the game's painful pacing and conversations hurt more than the good parts help.
a very good remake of a hidden gem on the ps 1 during the end of its life cycle. a mix of fantasy and sci fi this game was really something

a very good remake of a hidden gem on the ps 1 during the end of its life cycle. a mix of fantasy and sci fi this game was really something special in a time where not many rpgs made unique sci fi settings . i would compare it to xenogears in that respect. the game play is also very satisfying seeing the battle take place in real time was really cool to look out.

…

Expand

This remake of Tri-Ace's Star Ocean the Second Story is very well done. It like the original game is filled with a great story and great

This remake of Tri-Ace's Star Ocean the Second Story is very well done. It like the original game is filled with a great story and great characters. Like in the original story there are many optional characters to choose from and this makes the game fun to play over again. Also this game is an improvement on the original title with the addition of playable characters and the addition of cutscenes. If you are a fan of the original game or a fan of the Star Ocean series you will enjoy this game. If not the battle system enough should be enough to make anyone enjoy this game.

…

Expand

In just less than 6 months apart, Squareenix remakes the Star Ocean 2 game for the PSP. Fans who loved the original will love this new remake

In just less than 6 months apart, Squareenix remakes the Star Ocean 2 game for the PSP. Fans who loved the original will love this new remake as it includes a few new changes, new graphic interface and more fluid animation than its PS1 version. Other than that nothing much noting other than the new remixed Original sound track and a few new additions such as remade Cutscenes.

…

Expand
| | |
| --- | --- |
| 26 | |
| 37 | #37 Most Discussed PSP Game of 2009 |
| 23 | #23 Most Shared PSP Game of 2009 |