Publisher:

Capcom

Release Date:

Feb 7, 2006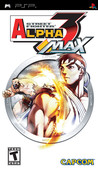 Summary:

A direct conversion of the critically acclaimed arcade fighting game, Street Fighter Alpha 3, Street Fighter Alpha 3 Max is enhanced with additional original content specifically designed for the portable system including Wi-Fi functionality and extra gameplay modes. Adding to an impressive

A direct conversion of the critically acclaimed arcade fighting game, Street Fighter Alpha 3, Street Fighter Alpha 3 Max is enhanced with additional original content specifically designed for the portable system including Wi-Fi functionality and extra gameplay modes. Adding to an impressive roster of more than 30 renowned characters from the world famous Street Fighter universe, four additional fighters are joining the fierce competition. Utilizing the PSP system's superior performance and technology, Street Fighter Alpha 3 Max features new content specifically designed for the system. A gameplay mode new to the Street Fighter Alpha series, Variable Battle Mode, has been implemented to allow real-time tag team brawls. Tag out and the second fighter enters performing a jump attack, a move useful for escaping tight situations. Yun, Maki and Eagle, from Capcom vs. SNK 2, as well as Ingrid from Capcom Fighting Evolution, enter the arena and are perfectly reproduced with all new original storylines. Versus battles heat up with the Wi-Fi League Battle Mode that allow a maximum of eight players to duke it out in round-robin mini tournaments. [Capcom]

…

Expand
Developer:

Capcom

Genre(s):

Action

,

Fighting

,

Fighting

,

2D

,

2D

Cheats:

On GameFAQs

Rating:

T
Please enter your birth date to watch this video:
You are not allowed to view this material at this time.
Street Fighter Zero 3 Double Upper Official Trailer 1
Aside from the system's inherent shortcomings, "Alpha 3 Max" is still the best game ever made for fighting on the go.

The variety of gameplay modes available will keep you playing for ages.

It's hard to believe that so much has been packing into such a small package. What once required a separate computer, monitor and cabinet the size of a refrigerator can now be played on a system the size of the pocketbook.

In Japan there's a miniature control pad that slots over PSP and includes 'proper' diagonals, but until it comes out over here, this is simply a slightly-too-tricky version of one of the greatest fighters ever.

Street Fighter Alpha 3 Max tales everything the PS version of "Street Fighter Alpha 3" had, miniaturizes it, and adds a couple of new features. [Mar 2006,p.86]

There may be nothing revolutionary here, but putting an arcade classic in the palm off your hands is never something to scoff at, especially when you consider the less-than-glowing history of handheld fighters. [Mar 2006, p.115]

Even putting the d-pad issues aside, the console's button layout does not lend itself to Capcom's ever-present 'six button' system. Fighting games are all about split-second timing and fluid control, and any sacrifice in these areas is going to impact on the player's enjoyment of the game.
Best fighting game in the PSP beter than tekken... Anyway I have both and I like the great arcade feel of the game, the controls are perfect

Best fighting game in the PSP beter than tekken... Anyway I have both and I like the great arcade feel of the game, the controls are perfect I can execute the commands perfectly using the analog cause I've been using my analog for every single game that has that option so it's quite loose. Control wise definetely better than tekken.

…

Expand

As of June 2011 this is probably the best fighting game on PSP. I would say it is comfortably better than T5DR (which is still an amazing game

As of June 2011 this is probably the best fighting game on PSP. I would say it is comfortably better than T5DR (which is still an amazing game - maybe a 9), and much better than Tekken 6 which was a let down.

The range of modes is by far and away the most comprehensive on the system for this genre.

Also, the addition on Yun means we can get training for SFIVAE while we wait for the disk to be released :D

…

Expand

I voted it from a 6 to a 9 to a 10 cause I thought about it for a second.....tried to think of all of the problems with the game,

I voted it from a 6 to a 9 to a 10 cause I thought about it for a second.....tried to think of all of the problems with the game, couldn't find any! This game is for anyone, but if u really had lower gen. Games its not for you.

…

Expand

I have a fight stick for my ps3 and 360. However, there is no fighting game that I've played as much as this one. Being able to grab it

I have a fight stick for my ps3 and 360. However, there is no fighting game that I've played as much as this one. Being able to grab it anywhere and play, and the amount of options and characters, the classic street fighter depth, the controls (although tough coming from sf4, great once learned)..... just everything. The only personal issue is that I find Sagat to difficult to play, and he's my main. I've gone on to Ryu but sometimes I feel like I'm spinning my wheels. Oh well, that's just me. Pointless to mention it really. Anyways, here is my easy 10.

…

Expand

Good game, wrong console. The PSP does not have the ergonomic design needed for a fighting game. The game itself is great, albeit old, but on

Good game, wrong console. The PSP does not have the ergonomic design needed for a fighting game. The game itself is great, albeit old, but on the PSP you wouldn't know it unless you played it in the arcade.

…

Expand
| | |
| --- | --- |
| 18 | |
| 62 | #62 Most Discussed PSP Game of 2006 |
| 43 | #43 Most Shared PSP Game of 2006 |