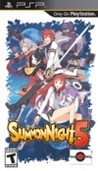 Summary:

When worlds collide and everything is turned upside-down, a new order must be created to keep chaos at bay.

BandaiNamcos Summon Night 5 is the continuing story of that order-keeping society, the Eucross, and the adventures their Summoners have keeping their world and the disparate racesWhen worlds collide and everything is turned upside-down, a new order must be created to keep chaos at bay.

BandaiNamcos Summon Night 5 is the continuing story of that order-keeping society, the Eucross, and the adventures their Summoners have keeping their world and the disparate races from the Otherworlds in balance. Players can choose to experience the story as rookie Summoners Folth or Arca, and one of four possible partners (their Cross), giving the games dialogue and feel a unique flavor on up to eight different playthroughs. What players see, and how the characters react depends on what characters are chosen at the beginning of each playthrough. But whatever choices a player makes, theyre in for a charming and sometimes tense Strategy-RPG adventure as they gradually unravel a plot that threatens the balance the Eucross is sworn to protect.

The game features beautiful 2D and 3D art with battles presented in user-adjustable isometric perspective, and gorgeous animation that is a hallmark of BandaiNamco productions.

…

Expand
Developer:

Felistella

Genre(s):

Strategy

,

Turn-Based

,

Tactics

Cheats:

On GameFAQs

Rating:

T
A good clean fun, no nonsense, SRPG.

Summon Night 5 is an SRPG that needs to be played by anyone who likes the genre. It's a love letter to fans of a somewhat bygone era of Japanese roleplaying games and manages to deliver on nearly all fronts, be it story, characterization, gameplay or presentation.

I didn't think I would like this at first but the game soon grabbed me and pulled me into a wonderful story and well thought out characters.

A laidback RPG that is geared more towards the visual novel crowd. It has a charming group of characters trying to save the world, and a story that can pull on the heartstrings. Tedious combat design severely hampers the pacing of an otherwise fine story, and a lack of exploration and side-quests reduces the want of additional playthroughs.

While not all that unique or different, it is still an experience that strategy RPG fans will appreciate – localisation issues and all.

While Summon Night 5 might be a novelty by being playable on a deader than dead system, it only gets a halfhearted recommendation from me.

Summon Night 5 is a very enjoyable experience. Even if the story segments can be tedious, I still found myself playing for hours on end. If you have an old PSP, or better yet, a Vita hanging around, you should consider giving Summon Night 5 a try.
If you like lots of narrative, colorful enemies and animations with SRPG with its own twist, I would recommend this game.
Your partner variesIf you like lots of narrative, colorful enemies and animations with SRPG with its own twist, I would recommend this game.
Your partner varies on what choice you make from the start of the game, so its now always the Robot you see on the main portrait!
Game also has a fire emblem fates dating system in it somewhat, so go ahead and look into that!
FOR A PSP GAME, it does look pretty AMAZING!
I wish there was a valid PS Vita version, but PSP version is all we get.
Fights can be long but also rewarding, level up that waifu my friends :)

…

Expand

DISAPPOINTING! I thought it would be a good PSP RPG Game like God Eater but no. Its like a gameboy game with next gen graphics. Click

DISAPPOINTING! I thought it would be a good PSP RPG Game like God Eater but no. Its like a gameboy game with next gen graphics. Click yourself, click a option, click the enemy, lackluster attack animation, rinse and repeat. This game in a nutshell.

…

Expand
| | |
| --- | --- |
| 2 | |
| 1 | #1 Most Discussed PSP Game of 2015 |
| 1 | #1 Most Shared PSP Game of 2015 |