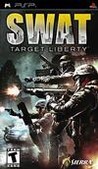 Summary:

SWAT: Target Liberty captures the heart-pumping action of real-life close quarters combat of specialized police units. With the help of Ken Thatcher, a 29-year Los Angeles S.W.A.T. veteran enlisted as the game's consultant, SWAT: Target Liberty for the PSP system captures the same

SWAT: Target Liberty captures the heart-pumping action of real-life close quarters combat of specialized police units. With the help of Ken Thatcher, a 29-year Los Angeles S.W.A.T. veteran enlisted as the game's consultant, SWAT: Target Liberty for the PSP system captures the same authenticity as previous titles. Penned by script writer Scott Rosenbaum ("The Shield"), the SWAT: Target Liberty game action is set in New York City where a special weapons and tactics team is tasked with thwarting an ever increasing number of international terrorist threats. Each officer in the unit has a specialty and using a unique skill system, the player can upgrade their individual combat expertise to increase their chances of success. The game also features an ad-hoc multiplayer system which allows gamers to play in a variety of game modes. [Sierra]

…

Expand
Developer:

3G Studios

Genre(s):

Action

,

Shooter

,

Shooter

,

Third-Person

,

Modern

,

Modern

,

Arcade

# of players:

4 Online

Cheats:

On GameFAQs

Rating:

T
Please enter your birth date to watch this video:
You are not allowed to view this material at this time.
SWAT: Target Liberty Official Trailer 2
Official Playstation 2 Magazine UK

With 45 hours of missions to do and its PSP-specific design, this is one of the best games on the handheld. [Nov 2007, p.122]

The slow plodding existence of a SWAT team member isn't ffor everyone. [Nov 2007, p.78]

Target Liberty is too short, too tedious, and too absurd to take seriously.

The story, characters and control system are all lacklustre, and even the sniper mode that regularly pops up for you to save a hostage from the grips of a terrorist is badly designed, as the times are too quick to clear the area and you end up with innocent blood on your hands.

Regardless of whether or not it was a good idea to make SWAT: Target Liberty for the PSP, it's quite a poor game either way.

Playing against a pal or three isn't truly any less repetitive and tiresome than the endless sequence of door breaches and fire-and-forget gun battles that define the single-player experience, but it's at least different enough to add some middling interest to a game with little in reserve.

This game is quite clearly meant to be a celebration of how "kick-ass" the SWAT teams are, and will probably provide a smattering of enjoyment for the more jingoistic out there. But it really has nothing to offer anyone else - it's just a poor version of Killzone on the PSP. Purchase at your own risk.
Lots of little squad command button combos. After I completed the tutorials it got a lot better. The first level is slow, but the later

Lots of little squad command button combos. After I completed the tutorials it got a lot better. The first level is slow, but the later levels are really nice and very hard.

…

Expand

This review contains spoilers

, click expand to view

. There are 12 missions which are meant to be played with cautious approach. It's repetitive and frustrating.
In the middle of the twelfth level, the protagonist decides to go full-rambo. The game itself destroys all of its established mechanics. A games that requires you to aim while stationary in cover now wants you to move constantly horizontally in order to not get shot by a sniper while neutralising other enemies. Also, the game leaves you with almost no health and no companions.
Add to this bad graphics, bad voice-acting, bad animations, same 15 second long bad "music" loop throughout the whole game; loads of 9/11, North Korea and Iraqi terrorist references. And the game barely makes it to 5/10.

…

Expand
| | |
| --- | --- |
| 95 | |
| 64 | #64 Most Discussed PSP Game of 2007 |